The annual New England Brewfest is just around the corner in June. Now in its 14th season, the event on June 23 attracts beer lovers from around New England who look forward to tasting delicious beers from New England's best craft breweries in the scenic White Mountains. With Loon Mountain in the backdrop, there is plenty of food, music, and fun for all.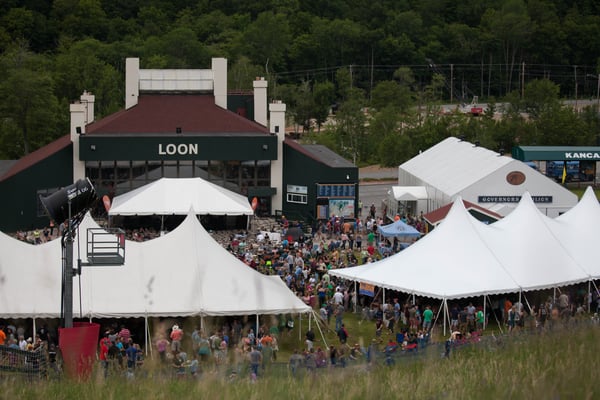 Every year, breweries from across Maine, New Hampshire, Vermont, and Massachusetts come to serve their favorite brews on tap. While you'll see big names, like Samuel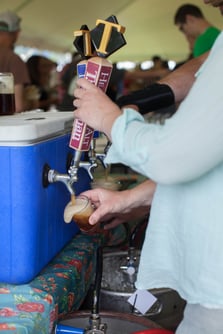 Adams and Angry Orchard, and your favorite local breweries, like the Woodstock Inn Brewery and One Love Brewery, you might not know some of the other breweries on the list.
To prepare you for the big event, here's a mini guide to some of the breweries to try at this year's New England Brewfest!
---
New England Breweries That You Might Not Know (BUT SHOULD)
Backyard Brewery, Manchester, NH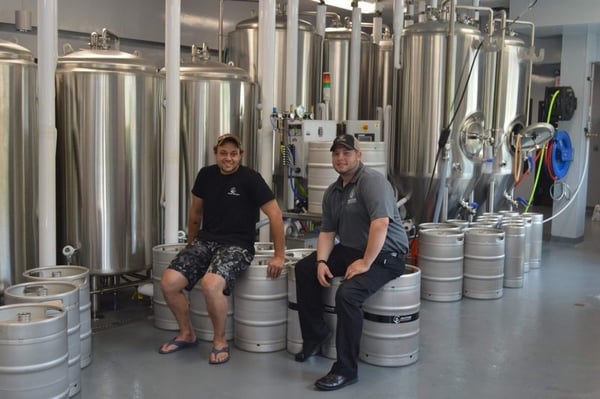 Beer has been in Paul St. Onge's blood since he was helping his father cap home brewed beer at the age of seven. Over the years, his interest and passion for good beer turned into a career. Located in Manchester, New Hampshire, Backyard Brewery is an English Publick House with a focus on European beer styles, like German lagers.
1766 Brewing Co., Plymouth, NH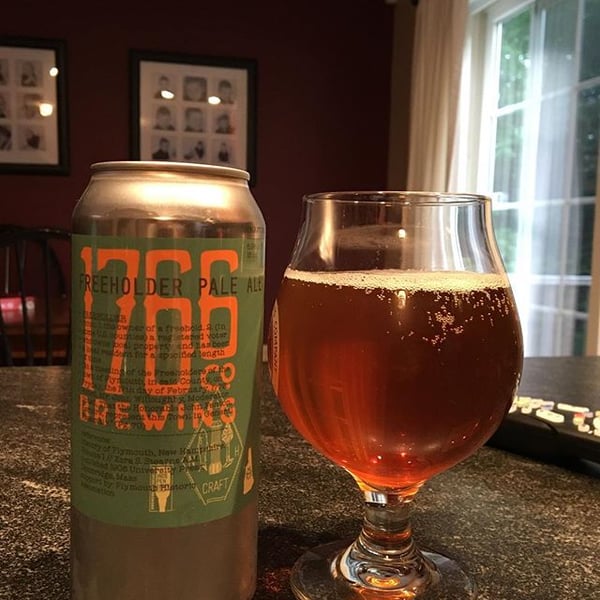 Named after the first town meeting in Plymouth, New Hampshire on July 17, 1766, 1766 Brewing Co. is a small local craft brewery producing some flavorful beers. With names like "Hog Reeve Porter" and "9 Stripe DBL IPA," you'll quickly fall in love with these tasty beers with historical names. Each label also has some facts explaining the name, so you'll get a short history lesson to boot!
Switchback Brewing Co., Burlington, VT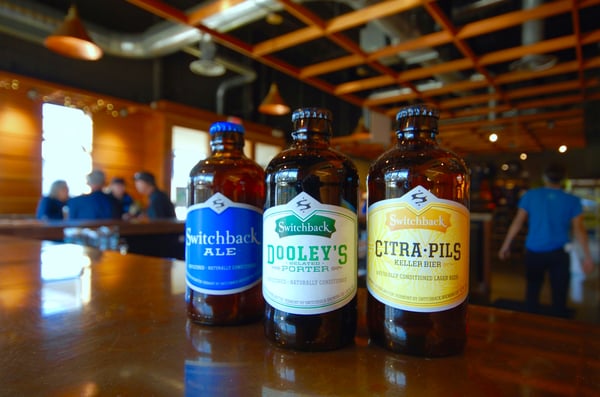 Founded in 2002 by Bill Cherry and his friend, Jeff, Switchback Brewing Co. produced its first pint of Switchback Ale at Ake's Place on October 22, 2002. Since 2002, the brewery has grown immensely and now has a full-time staff, six beers on tap, and another 14 beers on rotation or limited production. Available year-round, Switchback Ale uses traditional ingredients for a well-balanced reddish-amber ale that has a subtle fruity flavor with a pleasing malty finish. For something different, try the Flynn on Fire: Gates of Helles, a smoked golden lager.
Moat Mountain Brewing Co., North Conway, NH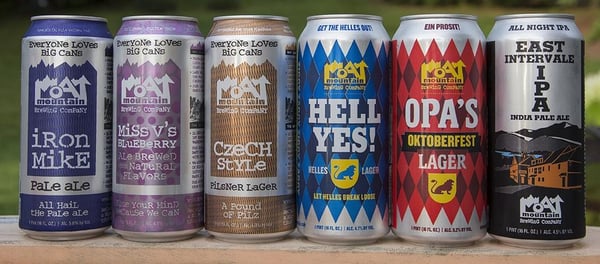 Nestled in a historic inn in North Conway, Moat Mountain Brewing Co. is one of New Hampshire's fastest-growing craft breweries. Moat Mountain focuses mainly on ales and lagers, such as their Czech Pilsner, Iron Mike Pale Ale, and Bone Shaker Brown. Their Miss V's Blueberry is an American-style unfiltered ale made with blueberry juice. It's perfect for summer! The Hoffman Weiss is another summer favorite as this traditional Bavarian-style wheat beer is light and fruity.
The Traveler Beer Co., Burlington, VT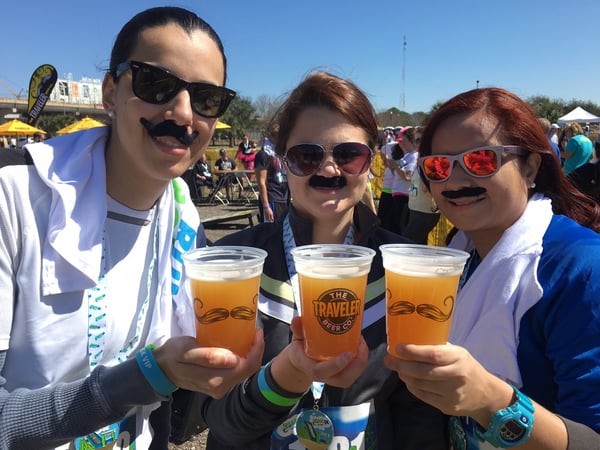 Based in Burlington, VT, The Traveler Beer Co., started in 2012 as the House of Shandy Beer Company. The company was later renamed to The Traveler Beer Co. in 2013 to "allow more freedom for exploration." With a focus on European-style Shandy beer, The Traveler Beer Co. offers several seasonal varieties. The Lucky Traveler Blackberry Shandy combines a wheat ale with blackberries for a purple hue and fruity flavor. For summer, the Aloha Traveler Pineapple Shandy is a winner. This citrusy, light beer is perfect after a long day of hiking.
Tuckerman Brewing Company, Conway, NH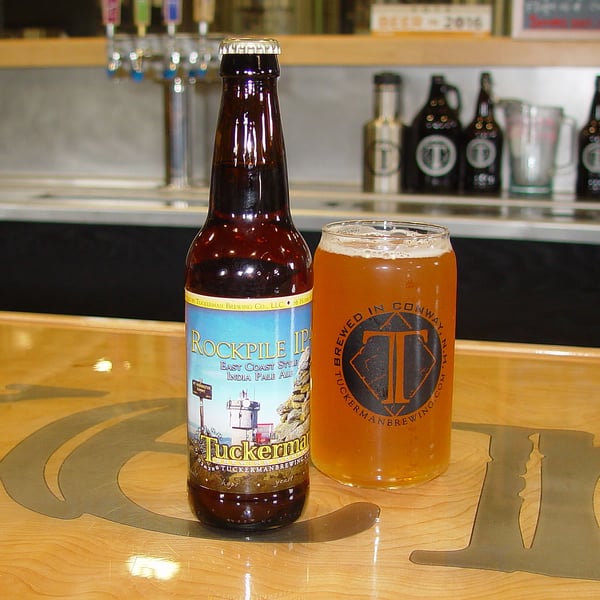 Twenty years ago, Kirsten Neves and Nike Stanciu opened a brewery named after their favorite mountain – Mount Washington. Since the small brewery first opened its doors in 1998, Tuckerman Brewing produces over 8,000 barrels of beer a year. With five core beers, you'll find something that you like on tap. The Pale Ale is the brewery's flagship beer that put them on the map. With a smooth malt finish and just the right about of bitterness, the Pale Ale will quickly become a favorite. The award-winning Headwall Alt is a delicious bottle-conditioned German-style brown ale with a clean and crisp taste.
Earth Eagle Brewing, Portsmouth, NH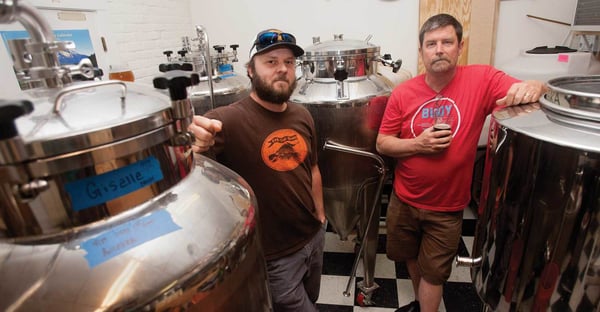 Quickly becoming a popular spot in Portsmouth, Earth Eagle Brewing brews European-style beers and gruit. Gruit dates back to the Medieval times in the Netherlands, Belgium, and western Germany and uses an herb mixture instead of hops to bitter and flavor the beer. The Acer-X is a sour gruit that uses map sap from a local farm to create a delicious and milky beverage. With an extensive list of beers, you'll find something to your liking. Alternatively, you can choose a beer based on its names, like Witching Hour, Woodbooger, and Sour Puss.
Stoneface Brewing Company, Newington, NH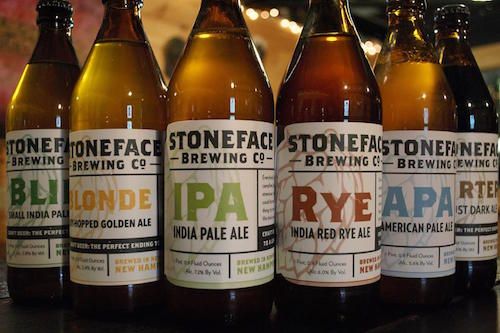 Brewing IPAs, pale ales, and lagers since 2014, Stoneface Brewing Company offers over 12 beers on tap at their brewery in Newington. The tap list changes regularly, but you'll find a mix of European and American-style brews. The Bourbon Barrel Aged RIS is an Imperial Stout with notes of chocolate and vanilla. The Berliner Weisse with Cherry Lime is traditional German-style wheat ale with hints of cherry and lime. Of course, you can't go wrong with a traditional American-style Pale Ale.
Champlain Orchards Cidery, Shoreham, VT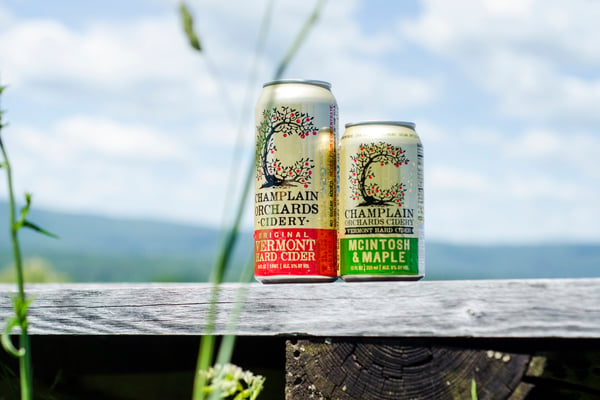 Just because it's a Brewfest doesn't mean you can't enjoy a good hard cider! Champlain Orchards is a family owned and operated orchard growing over 100 varieties of apples as well as other fruit along the shores of Lake Champlain in Vermont. The cidery produces a mixture of canned and bottled ciders using the orchard's homegrown apples. While there are lots of traditional ciders, don't forget to try the Mac & Maple and the Cranberry!
Jack's Abby, Framingham, MA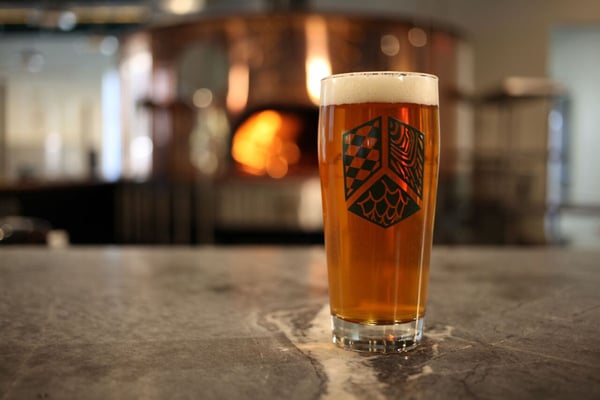 Founded in 2011 by three beer-loving brothers, Jack's Abby only brews lagers. The brewery produces six core beers, like the Hoponius Union and House Lager, and many seasonal, specialty, limited beers. Additionally, the brewery brews a unique series called Kellerbier. On a hot summer day, you'll probably want to cool off with the Sunny Ridge, a smooth pilsner with a hint of herbs.
Enjoy a Cold Brew
Just less than a month away, the New England Brewfest is right around the corner. Tickets are still available, so make sure you get them soon for this fun 21+ event in the White Mountains. If you are planning on coming to the New England Brewfest, make sure to reserve your suite at RiverWalk today before we're booked for the weekend!
Disclaimer: The photos of the beer and cider above is not indicative of the variety that will be offered by each brewery at Brewfest. We'll leave that part a surprise!