Now that the heat and humidity (and the annoying black flies!) of the summer have left us for the year, it's time to hit the road or trails again. Fall is the perfect time of year to hop on your bike for a short or long ride. The leaves are starting to turn or have already fallen, and the temperatures are still warm enough to enjoy a short sleeve jersey (the mornings are cool).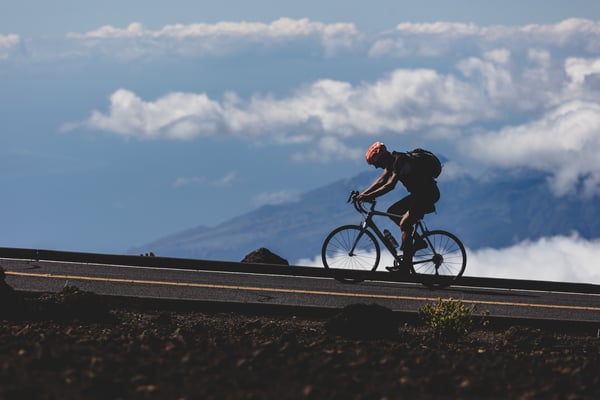 Photo by Patrick Hendry on Unsplash
Road Biking
You don't have to go to the French Pyrenees for epic climbing. The White Mountain region is home to some great roads for climbing and fast downhills. If you're after flats, we have those here as well. With several bike shops around, it's easy to rent a bike or bring your own for a fun road ride.
Tour De Notches
If you're after an all-day epic ride through the mountains, the 77.5-mile Tour de Notches is just for you. The RiverWalk Resort is the perfect place to start your ride, but since it's a loop ride, you could start it anywhere along the route. From Main Street in Lincoln, climb through Franconia Notch on Route 3 and the Franconia Notch Bike Path. Around mile 23, you'll reach Twin Mountain and you'll take a right on to Route 302 where you'll ride past Mount Washington Hotel and down through Crawford Notch. In Bartlett, take a right on to Bear Notch Road. You'll climb for five miles before dropping back down to the Kancamagus Highway. You'll take your final righthand turn onto the infamous Kanc where you'll enjoy the incredible views of the mountains as you climb up the highway. When you reach the RiverWalk Resort again, you'll have climbed over 5,300 feet over the course of 77.5 miles. Celebrate with a pint from One Love Brewery!
Kancamagus Highway
Every spring once the final patch of snow melts, cyclists start to flock to the Kancamagus Highway (Route 112) to ride the scenic 34-mile highway through the White Mountain National Forest. If you choose to ride from the Conway side, the first 16 miles are the easiest but don't let that fool you, you have already started climbing. The last five miles up to the Pass is where the real work begins. The last stretch average about a 7% grade with some short steep section. Once you reach the Kancamagus Pass, it's all downhill from here. The Kancamagus has a nice wide shoulder and will certainly earn you some serious bragging rights with your cycling friends back home. If you feel ambitious, sign up for the Crank the Kanc time trial in May.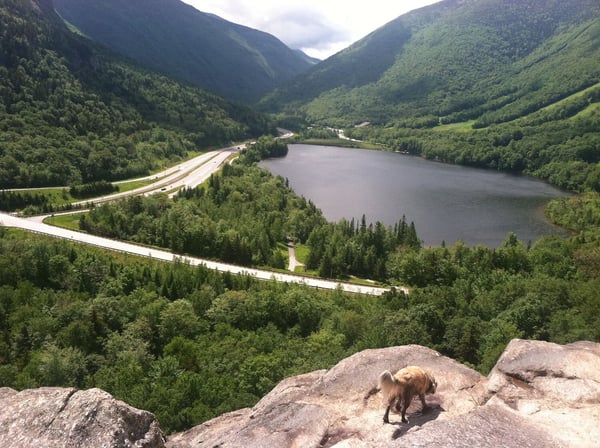 Franconia Notch Bike Path
The Franconia Notch Bike Park, which is also known as the Franconia Notch Recreation Path, runs the length of Franconia Notch State Park. The paved path runs 8.7 miles and passes by some of the park's most popular attractions, including the Flume Gorge, Echo Lake, and the Old Man of the Mountain. For the least amount of climbing, start at the Skookumchuck trailhead and ride south. You'll climb about 340 feet to the base of Cannon Mountain before descending about 750 feet to the Mt. Pemigewasset trailhead. The bike path is open to all cyclists regardless of bicycle type.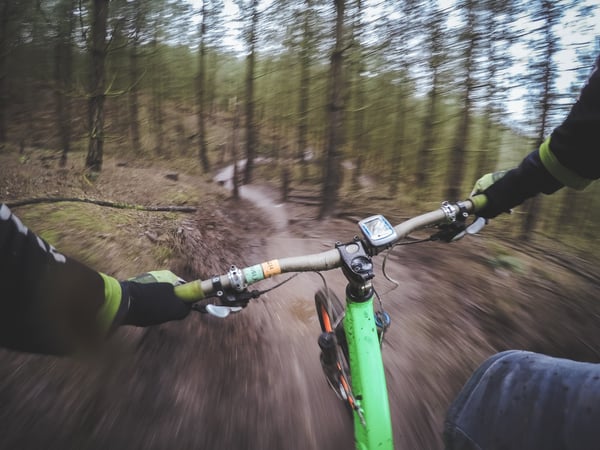 Photo by William Hook on Unsplash
Mountain Biking
The White Mountains are quickly becoming one of the best mountain biking destinations in New England. With several downhill parks and miles of cross-country trails, you could spend all week in the mountains and not get bored with the trails. If by chance you do, Kingdom Trails in East Burke, Vermont is a short drive away.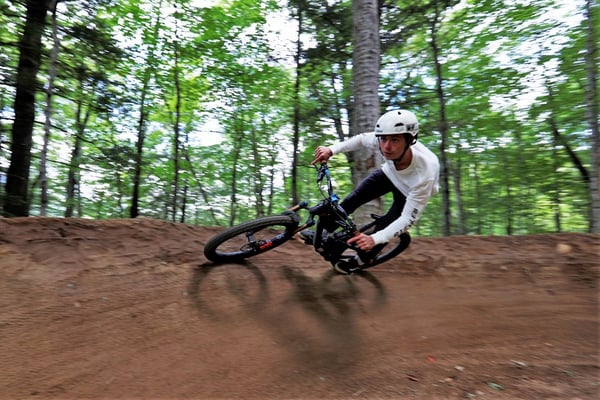 Photo by Loon Mountain
Loon Mountain
With the resurgence of mountain biking, Loon Mountain has opened phase I of its new lift-accessed downhill mountain bike park. Designed by the team at Highland Mountain Bike Park, the Loon Mountain Park has over three miles of purpose-built downhill mountain bike trails. Mainline is a beginner-friendly trail with lots of straightaways and forgiving corners while Bandit is a more technical trail with rollers and sharp curves. No matter what your riding level, you'll have tons of fun on the new trails.
If cross-country mountain biking is more your style, then you can enjoy their six miles of cross-country trails that meander along the Pemigewasset River near the base of Loon Mountain. The network of trails that can be accessed from the Landing Road has a mix of easy to difficult trails. Bikes are available for rent at the Bike Center at Loon Mountain.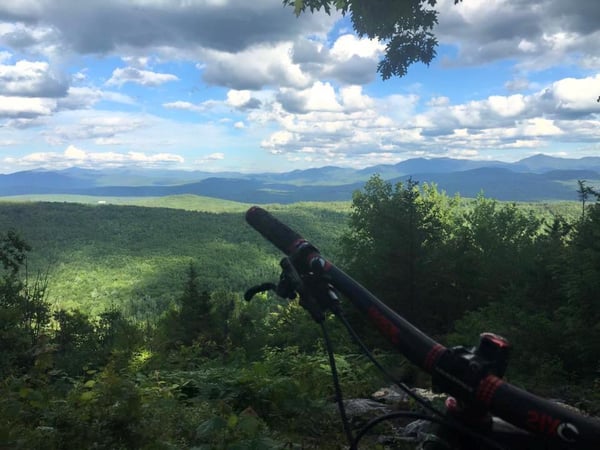 Photo By PRKR Mountain
Located in Littleton, PRKR Mountain is a hand-built community-driven mountain bike park consisting of over 1,00 acres and 23 miles of singletrack and doubletrack trails for all abilities. The trail system is free to use and is maintained through funding and labor by hundreds of volunteers from the community. During the winter months, several miles of trails are groomed for fat biking. Trails are a mix of easy to advanced technical trails. Linda's Lookout is a great place to stop and enjoy the views while refueling for even more riding. From PRKR Mountain, you can also connect to the Pine Hill Trail System for even more exploring. Bikes can be rented throughout the year from Littleton Bike & Fitness.
Moose Brook State Park
Moose Brook State Park in Gorham is home to 774 acres and miles of singletrack and dirt road mountain bike trails. Located just north of the Presidential Range, Moose Brook State Park offers stunning views of the mountains and a great place to bring the whole family. While most of the trails are more technical, there are plenty of easy to moderate trails to enjoy as well. After a morning or sweating, cool off in the park's swimming hole. From the trails at Moose Brook State Park, you can connect to even more miles of mountain bike trails from the Coos Cycling Club.
Attitash Mountain Resort
Open all summer through Columbus Day, Attitash Mountain Resort has 20 miles of downhill and cross-country trails. The 12-mile Thorne Pond Trail System offers easy to moderate singletrack and doubletrack trails for the whole family. The Downhill Mountain Bike Park provides lift access to two high-speed quads and 42 downhill trails. Many of the hand-cut trails offer technical challenges while the brand-new machine-cut offers a great opportunity for beginners to try downhill mountain biking. A variety of mountain bikes can be rented from Dirt Trax Bike Shop in Attitash Main Base Lodge.
Cycling in the White Mountains is a unique experience. Whether you're road cycling or mountain biking, you'll be surrounded by incredible scenery and wonderful views of the nearby mountains. Fill up your water bottles, grab your helmet, and hit the trails or the road today!