We like to pride ourselves up north on the lack of long dinner lines like the ones often seen in southern New Hampshire. Calling ahead, waiting in hour long lines, and crowded waiting areas are not our style up here. That being said, if you've ever traveled north during peak season on a Friday evening, you know about the peak season traffic.
It can be hectic (albeit worth it) to gather up the troops after getting out of work at 5PM to beat the traffic and make it to your destination in time for dinner. Here is RiverWalk Resort's guide to navigating dinner on a busy evening in the White Mountains!
FAMILY FRIENDLY DINING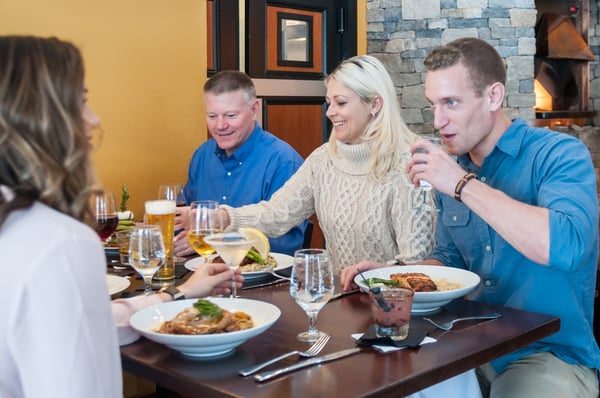 Pictured Above: La Vista Italian Cuisine
Some people may prefer to drive straight to the destination, check into the resort, and unpack. Put away your clothes, turn on the television, and enjoy a glass of Seven Birches wine while you wait for your food to be ready.
If you're staying at RiverWalk Resort, and thinking about ordering a pizza, RiverWalk conveniently has an on-site Italian restaurant for dine-in and take-out named La Vista. La Vista has delicious Italian style pizza, pasta, antipasti, salads, entrees, and authentic Italian desserts. Whether you choose to dine in or pick up the food, this is a fantastic family friendly option.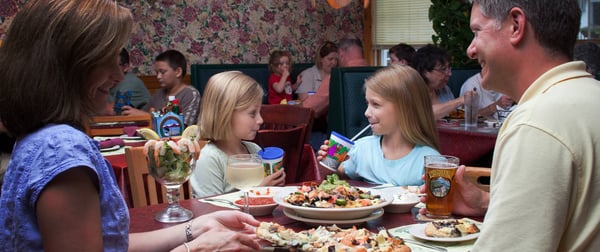 Another local gem is the Woodstock Brewery, which has been in business for 30 years as a prized inn, restaurant, brewery, and event space. Woodstock's brews are known all around the region and their American style cuisine is just as delicious! Woodstock Brewery isn't open very late, but it is an excellent dinner option for two or for the whole family. Call ahead to ask about hours or wait time as you drive north!
Common Man Lincoln is another great family option with both dishes for the parents and options that the kids will like. Known all over New Hampshire, Common Man may be just the perfect balance of familiarity and local flair that your family is looking for. Gordi's Fish and Steak is both kid friendly and adult friendly. For example, they have classics like Bleu Cheese Filet Mignon and Kraft Mac n Cheese. A good balance for all the ages!

Please Note: While most times you don't need reservations, on busy ski weekends it might be a good idea to call and ask for a reservation to secure your seat for dinner.
Night on the Town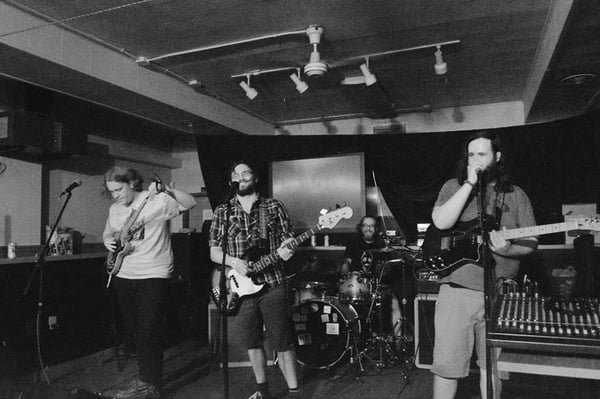 Pictured Above: Live Music at One Love Brewery
After the couple hours drive, checking in, and unpacking, some people may just want to get a pizza and hit the hay. This doesn't sound like you? Awesome. Lincoln-Woodstock has a decent handful of options for night owls who want to get a bite to eat and a nice cold drink. We're not Boston up here, but what we do have are a favorite for visitors and locals alike.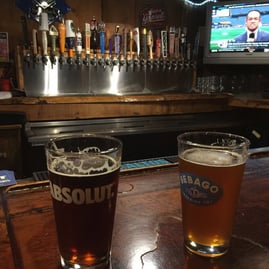 Truant's Taverne (bar pictured right) in Woodstock is open late and they host live music Friday and Saturday nights! Enjoy farm to table, local cuisine, play a round of pool, and listen to some of New Hampshire's best local bands. One Love Brewery is another great, late night restaurant with an impressive list of local and home brews and they regularly host local music too!
"TO GO" DINNER OPTIONS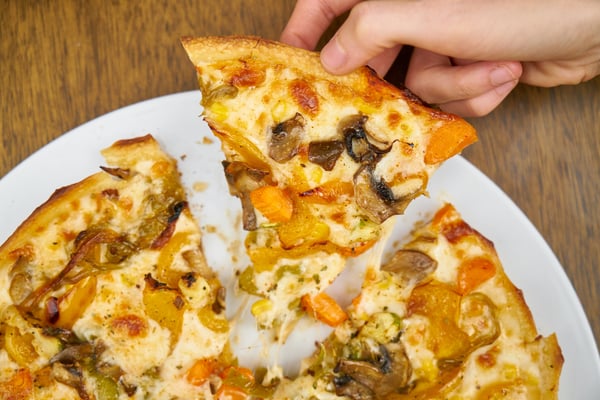 Take-Out: We have plenty of great take-out restaurants throughout Lincoln-Woodstock. A couple examples of dine-in pizza restaurants that have take-out options are GH Pizza, El Greco's Pizza, Enzo's Pizza. Asian food take-out restaurants include Chieng Garden, Imperial Palace Japanese and Chinese, and Thai 9.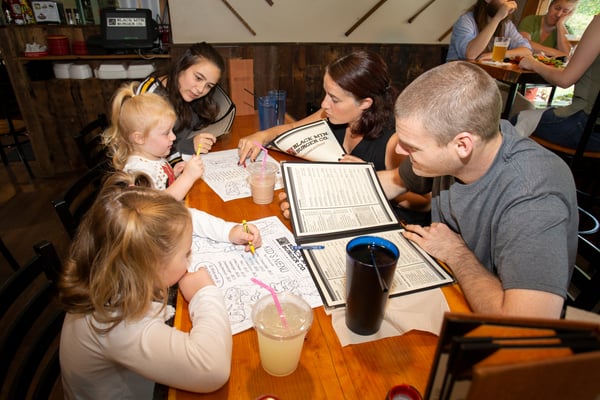 Some local favorite dine in restaurants that offer take out include Black Mountain Burger Co (pictured above), and Gypsy Cafe. If you see another restaurant you'd like to try, give them a call and ask if they'll do take-out for you (I do it all the time). Check out the menu while you drive north and call when you hit around Exit 26 for take-out to get your order made right on time.
Fast Food: Plenty of people will pull off an exit on the way north to grab some quick bites. You'll find fast food classics the whole way up 93N (even in Lincoln). Stop at the 93N NH Liquor Store rest stop in Hooksett for some outstanding Common Man cuisine for a quick but delicious, totally New Hampshire bite.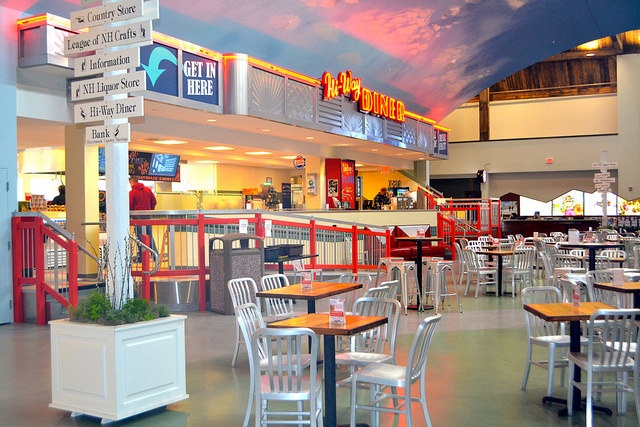 Or, if you just want to get something quick and familiar, there are fast food style options such as McDonald's, Subway, or Dunkin Donuts.
A Home Cooked Family Dinner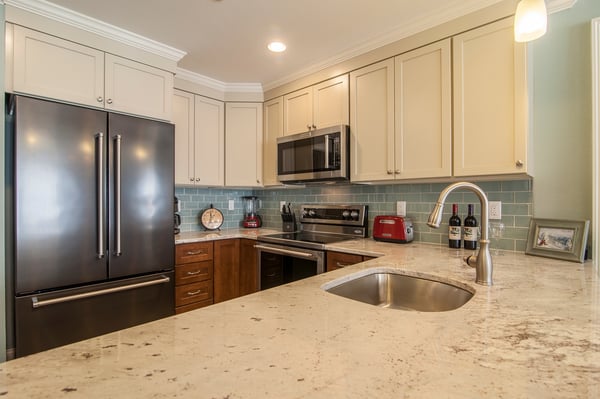 Hear me out! If you have a reservation with RiverWalk Resort with a suite that has a full service kitchen, plan to cook your first meal of vacation at your home away from home. Bring some groceries from your actual home before you leave for the mountains and while one parent helps the kids unpack their bags the other can cook a quick dinner up that everyone knows and loves.
Or you can take advantage of RiverWalk's partnership with Purple Tomato! With 48 hours advance notice to our adventure concierge, you can have groceries delivered from Purple Tomato to your suite so you can check in and the groceries will be ready to be cooked and eaten. Following dinner, order takeout desserts from La Vista and enjoy in front of the fire watching a family favorite film. Sounds like heaven to me!
---
However you do dinner this weekend in the White Mountains, we hope you have the vacation of a lifetime. Lincoln-Woodstock has plenty of fun attractions year round for families and couples alike! Reserve your stay now at RiverWalk Resort and be sure to share this guide on your Facebook page so you won't forget to use it when you're on your way up on a Friday night. Cheers!