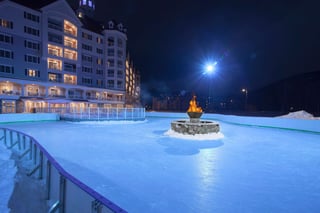 Every winter, RiverWalk Resort at Loon Mountain transforms its outdoor lagoon swimming pool into a state-of-the-art ice skating rink for all ages to enjoy. Nestled under Loon's South Peak overlooking the Pemi, the ice skating rink containing a network of miles of tubes carrying super-cooled glycol that ensures the most extraordinary ice skating experience for guests. Whether you're skating under the stars or watching the stars in one of RiverWalk Resort's many ice skating shows, tons of famous skaters have graced the ice rink with their skates. Some have even landed some technically challenging jumps and twists on the rink! Check out a few of the famous skaters that have enjoyed RiverWalk Resort's ice skating rink over the years.

Kurt Browning
From Alberta, Canada, Kurt Browning is a four-time World Champion and Canadian National Champion figure skater who took a few spins on RiverWalk Resort's ice rink while visiting the resort. Browning also represented Canada in the 1988, 1992, and 1994 Winter Olympics. During the 1988 World Championships in Budapest, Hungry, Browning became the first skater to ever land a quadruple jump in competition. While Browning doesn't compete anymore, he is choreographer and commentator and participates in skating shows across the world with Stars on Ice!
Matt Savoie
Award winning American figure skater, Matt Savoie, was the first Olympian to skate at RiverWalk Resort and land a triple jump on the rink. Savoie gained prominence in the skating world after he won the gold medal for juniors at the 1997 U.S. Championships. He went on to win multiple medals in the U.S. Nationals, which earned him a spot on the 2006 Winter Olympic teams where he finished seventh overall. After retiring in 20016 after the Olympics, Savoie went to law school and worked as a lawyer before becoming a coach at The Skating Club of Boston in 2014.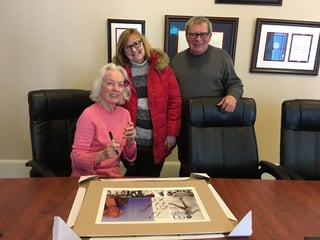 Tenley Albright
Tenley Albright is a skating legend. She is the first American woman to win an Olympic gold medal in figure skating. From Newton, Massachusetts, Albright trained at the famous Skating Club of Boston. After winning the U.S. Eastern Junior Championship, she contracted polio. Thankfully, she only had a mild case and later went on to win multiple medals at the Olympics and World Championships. Albright retired from competitive skating in 1956 and became a surgeon after attending Harvard Medical School. Over the years, she remained involved in the skating world and has visited RiverWalk Resort a few times. She likes to refer to RiverWalk as "MagicLand."

Ross Miner
Another Skating Club of Boston alumni, Ross Miner has skated all over the world. First learning to skate on a backyard skating rink near his family home in Vermont, Miner has won numerous medals as a junior, including a gold medal. He most recently won a silver medal at the 2018 U.S. National Championships.
Heidi Munger
Worcester, Massachusetts native, Heidi Munger is a collegiate figure skating champion and was a skate double for Margot Robbie in the 2017 I, Tonya film. Munger balanced being a full-time pre-med student at Boston University and a competitive figure skater, winning the U.S. Collegiate Figure Skating Championship in 2019.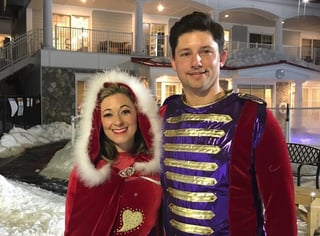 Melanie Lambert and Fred Palascak
Husband and wife figure skating pair began skating together in 1994. During the height of their competitive career, they won the U.S. Eastern Section Championship twice and had two top 10 finishes at the U.S. National Championships. Since retiring from competitions, the pair have become international performers appearing on the UK television series, Dancing on the Ice, and later on the ABC show, Skating with the Stars. Melanie and Fred are also RiverWalk Resort's resident Princess Lafayette and Prince Henry, making special appearance on the rink during the year.

Boston Bruins Greats
Every year, RiverWalk Resort hosts former Boston Bruins players for an annual fundraiser to benefit the Loon Mountain-based New England Disabled Sports. The fundraiser typically includes a skate-around with the Boston Bruins Alumni Team, cocktails and appetizers, and auctions. In previous years, RiverWalk Resort rink has been graced by Rick "Niffy" Middleton, Terry O'Reilly, Bruce Crowder, and Joey Mullen. Mullen was inducted in the Hockey Hall of Fame in 2000.

Randy Gardner
World Champion pairs figure skater, Randy Gardner, has coached two of the Adult Skating camps held every winter at RiverWalk Resort and is a World Champion pairs figure skater with his partner, Tai Babilonia. Gardner is being featured in the upcoming film, Go Figure: The Randy Gardner Story. Gardner is set to come back to another Adult Skating Camp tentatively scheduled for November 2021 and Jean's Playhouse is working on bringing "Go Figure, The Randy Gardner Story" to the stage in the coming years.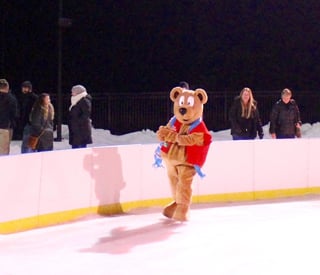 SnowPlow Sam
And we can't forget about SnowPlow Sam, the official mascot for US Figure Skating, who makes an annual trip from his home in Colorado Springs to skate with his fans at RiverWalk Resort.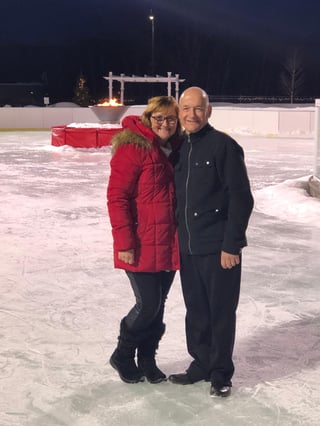 John Mucko
Last, but certainly not least, is John Mucko, who makes all the skating shows at RiverWalk Resort a reality! Mucko is the Creative Director and producer of events at the resort and also one of the skating coaches at RiverWalk Resort's Adult Skating Camps, which attract people from all over the country. For over 30 years, Mucko has coached figure skating and has traveled all over the world skating in shows such as the Ice Follies and Holiday on Ice in Europe. Currently, Mucko co-directs the American Ice Theatre/Boston Division of the National Company and numerous other workshops. Sign up for Adult Skating Camp for a chance to learn from one of the best!

Skate Amongst the Stars
You don't need to be the next Olympic gold medalist to enjoy the beauty of RiverWalk Resort's state-of-the-art ice skating rink. Grab your skates, you friends, and take a twirl under the stars or catch a skating show at your next stay. You may even meet a skating legend!