RiverWalk Resort's ice skating rink is truly one of a kind with its unique design, but, unfortunately, due to a mechanical issue with the chiller system, ice skating at RiverWalk Resort is unavailable this winter. While we're disappointed about the mechanical issue too, we have put together a list of nearby ice skating options that we know you'll love!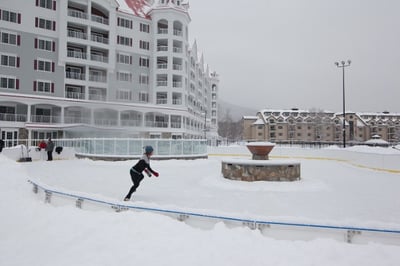 Franconia Village Cross Country Ski Center - Franconia
15.8 miles; 23 minute drive
Known for its extensive cross-country trail network throughout the village of Franconia, the Franconia Inn also has a small outdoor pond perfect for ski skating. There's also snow tubing, snowshoeing, horse-drawn sleigh rides, and more. Come for the ice skating but stay for more winter fun! Ice skates can be rented at the Cross Country Ski Shop.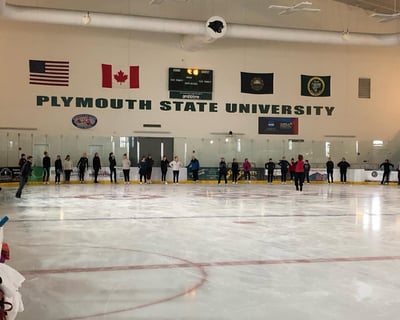 Plymouth State University Ice Arena – Holderness
22.0 miles; 23 minute drive
Plymouth State University is home to an NHL-sized hockey arena complete with multiple locker rooms and seating for 860 fans! The Ice Arena is open to the public on select dates and times for the whole family at affordable prices. Special sessions include Sunday Family Skate which allows up to four members of a family to skate for $12. On most Friday nights, there's a Friday Night House Party where you can skate under the disco ball with music and free pizza and soda. And there is even drop-in curling!
Waterville Valley Ice Arena – Waterville Valley
26.3 miles; 32 minute drive
You don't need to be a hockey player or figure skater to enjoy the ice at the Waterville Valley Ice Arena! The large indoor ice area is open year-round. Public skating times are available throughout the week. Times are dependent on the hockey schedule and are available online. Skate rentals are available as well.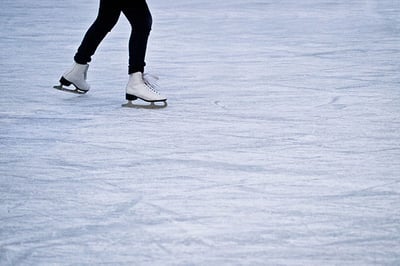 Mountain View Grand Resort & Spa – Whitefield
33.7 miles; 41 minute drive
The Mountain View Grand Resort & Spa offers ice skating on an outdoor rink along with an abundance of other outdoor activities, such as cross-country skiing, snow tubing, snowmobiling, and more. Skate rentals are available on-site as well. Skating is weather-dependent.
Ham Public Ice Arena – Conway
35.0 miles; 48 minute drive
Offering one of the largest sheets of ice in New Hampshire the Ham Public Ice Arena offers year-round ice skating opportunities. Public skating times are dependent upon the ice schedule and vary per day. Rental skates are available.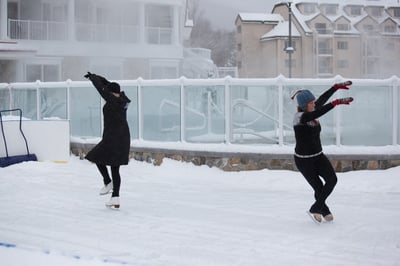 Scholuer Park – North Conway
40.9 miles; 60 minute drive
Nestled in the village of North Conway right on Main Street, Schouler Park is one of the most picturesque parks in New England. You can't beat the incredible view year-round with the White Mountains overlooking the historic train station. During the winter months, there is an outdoor skating rink open to the public. Spend the morning shopping at the outlet stores and practice your twirls in the afternoon!
King Pine Ice Rink – Madison
45.0 miles; 63 minute drive
King Pine at Purity Spring Resort in Madison has a skating rink among the many other outdoor winter activities. The Tohko Dome skating rink located near the King Pine base lodge is an outdoor covered skating rink that is typically opened to the public on weekends and holidays. The $10 Uphill Access ticket provides access to the cross-country, snowshoe, fat bike trail network, and ice skating.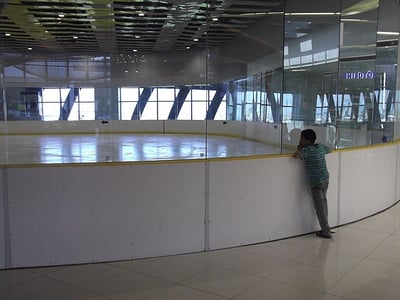 Merrill Fay Arena – Laconia
48.1 miles; 56 minute drive
Merrill Fay Arena, formerly known as the Laconia Ice Arena, is an outdoor skating rink open to the public for ice skating. In addition to public ice skating, there is also stick & puck and freestyle figure skating times as well. Skate and helmet rentals are available onsite as well.
Nestlenook Farm – Jackson
54.5 miles; 66 minute drive
Located in Jackson, Nestlenook Farm is home to the largest outdoor skate park in the Mount Washington Valley. The large skating rink is built on a natural pond that surrounds a picturesque warming hut with a wood-burning fireplace and you can even skate under a footbridge. Ice skating is available seven days a week and during the evenings under the lights. Rentals are available as well. Make sure you have your photo with you as Nestlenook Farm ice skating rink is truly Instagram-worthy!
Throughout the White Mountains, there are plenty of places to lace up your skates and enjoy one of winter's best activities. And come back next year to enjoy RiverWalk Resort's ice skating rink.