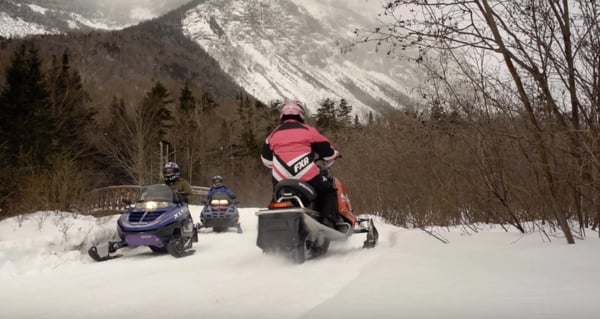 Whether you have been coming to the White Mountains since you were a young child or this will be your first (of hopefully many) visit, the White Mountains of New Hampshire is home to tons of outdoor winter fun. Usually, the only things you have to be concerned about is the weather and if your favorite ski trail will be open, but since we're still in the middle of a global pandemic, we all have a little bit more on your minds these days. But, rest assure, the White Mountains is open for all your outdoor winter activities and doing everything possible to keep you safe.
The ski mountains, hiking trails, snowshoeing, ice castle and more are all open for your winter fun. Just bundle up, wear your mask, and practice social distancing and enjoy the beauty of the White Mountains. Even without COVID-19, you would probably be wearing a face mask due to the cold, so it'll feel close to normal as possible!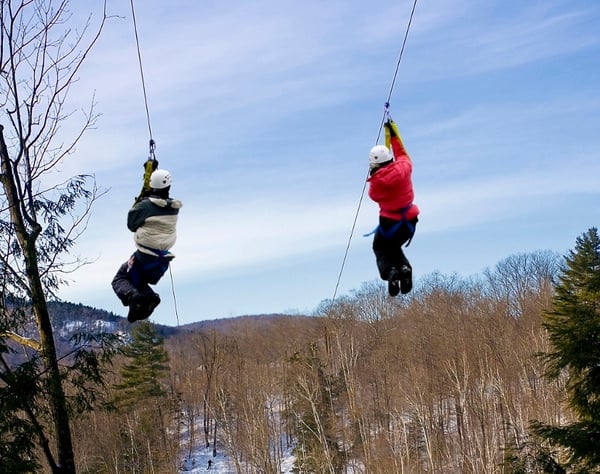 Safety First!
All the White Mountain attractions take safety seriously even during the best of times. It's why many of the ski mountains, water parks, and zipline businesses have invested in the best equipment and maintenance available because they know that people's safety comes first no matter what. Loon Mountain and Cannon Mountain have been prepping all summer long for opening day. Both mountains are open to the public, but with reduced capacity.
Face coverings are required from the time you leave your car to the time you return to your car at the end of the day. Loon Mountain has closed its lodges to dressing. You'll be required to boot up at your car, but you may access the lodges to use the restrooms and restaurants. Season pass holders must make reservations and only a limited number of daily lift tickets are available for sale online. Cannon Mountain is taking a similar approach along with other ski resorts in the White Mountains.
Ice Castles will once again be opening this winter in North Woodstock! This family-friendly activity is not to be missed even during a pandemic. Like every year, you'll need to book timestamp tickets ahead of time online and capacity will be limited this year. Face masks are required, and all the tunnels and crawl spaces will be one way to maintain social distancing. Alpine Adventures is open daily with snowshoe tours and ziplining. Reservations and face masks are required.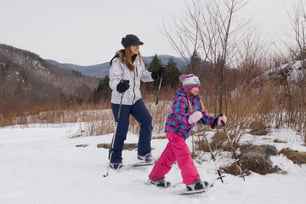 Socially Distance Free Winter Activities
If you're coming to the White Mountains to get away from the crowds then you've come to the right place. Skip the ski resorts in favor for the cross-country, snowshoe, and hiking trails. While the trails might be slightly more trafficked than in years past due to the increased interest in socially distance outdoor activities, there is plenty of space in the White Mountains for everyone.
Bring your own supplies or rent in town from Rodger's Ski and Sport and hit the trails. While Loon Mountain has closed their cross-country ski trails for the year, there are plenty of other trails in the White Mountain National Forest and other resorts in the White Mountains. The Lincoln Woods Trail and the Franconia Notch Recreation Path are both great options for less experienced cross country skiers or snowshoers. For groomed trails, head over to Franconia Village X-C Ski & Outdoor Recreation Center. It's not free, but the fee is minimal.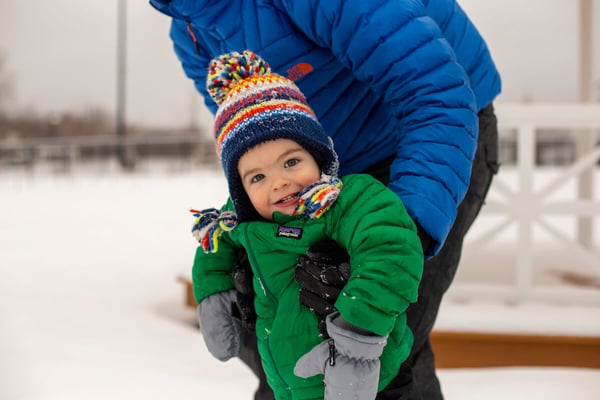 Going the Extra Mile at the RiverWalk
The RiverWalk Resort understands that not everyone is ready to travel, but we're doing everything we can to keep your next visit to the White Mountains safe and fun for you. Winter may look a little different this year, but the RiverWalk Resort has gone out of its way to make all its amenities open to guests so they can enjoy some normalcy during this unprecedented time.
The resort is fully operational with all its amenities open, including the upper deck pool, outdoor hot tub, game room, fitness center, La Vista Italian Cuisine Restaurant, Seven Birches Winery, and the Solstice North Day Spa. All guests are required to wear a face mask while on the RiverWalk property outside of their suite. The RiverWalk Resort staff has elevated its in-room and public area cleaning protocols to ensure the safety of its guests.
Both the outdoor heated pool and hot tub are open to guests with some limitations. The ice skating rink, one of the RiverWalk Resort's unique features, is open this winter to guests only. Reservations are required to maintain social distance, which only means you have more space to practice your triple axel or just not falling on your bottom. With Loon and Cannon Mountain's limited lodge access and shuttle service, the luxury RiverWalk Resort shuttle service is still available to take you right to the lifts in style. Call the front desk ahead of time to schedule your ride time.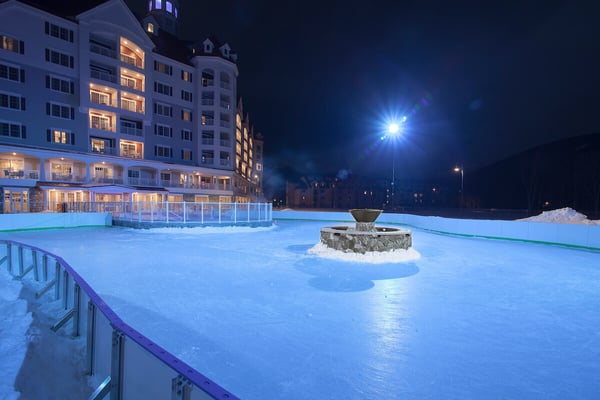 Winter Traditions Continued
While it is important to remain cautious and practice good social distancing behaviors, it's also important to maintain some normal winter traditions, like visiting the White Mountains. All the attractions, accommodations, and restaurants have implemented health and safety policies to help keep you and everyone else safe and healthy this winter.
Hop online today and book your next visit to the White Mountains. The RiverWalk Resort has enhanced its already impressive cleaning procedures to help ease your mind while you're on vacation while keeping all its extraordinary amenities open. Come visit this winter for some winter outdoor fun in the White Mountains!