Have you dreamed of getting married in the white castle at the foot of Loon Mountain? Or maybe you're trying to find the perfect location for a corporate event or fundraiser? This past fall, the RiverWalk Resort and Seven Birches Winery teamed up and opened a brand-new event space next door in the Lincoln Village Shops perfect for a variety of events from weddings to corporate retreats and everything in between.
Phase two of construction at the RiverWalk Resort will include a state-of-the-art large conference center in the coming years, but in the meantime, the demand was so great that the RiverWalk Resort opened a function space for events. The newly remodeled Atrium event space includes 2,376 square feet of open indoor event space with flexible room configuration for up to 150 people.
Once part of the former paper mill, the Lincoln Village Shops has a rustic vibe that plays with its deep logging roots in Lincoln. The design is carried out in the event space where the walls are adorned with wine-theme and White Mountains décor. Of course, you're always welcomed to bring your own décor to create your picture-perfect event.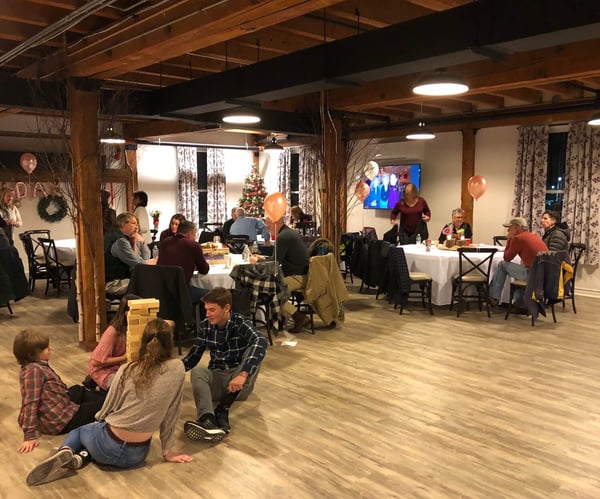 While only opened for a few months, the event space has already been booked for numerous fundraisers, holiday parties, corporate meetings, and weddings in 2019 and 2020. During the 4th Annual White Mountains Crush Festival, the sold-out wine dinner was held in the new event space for over 100 wine lovers as a kickoff to the new space.
Weddings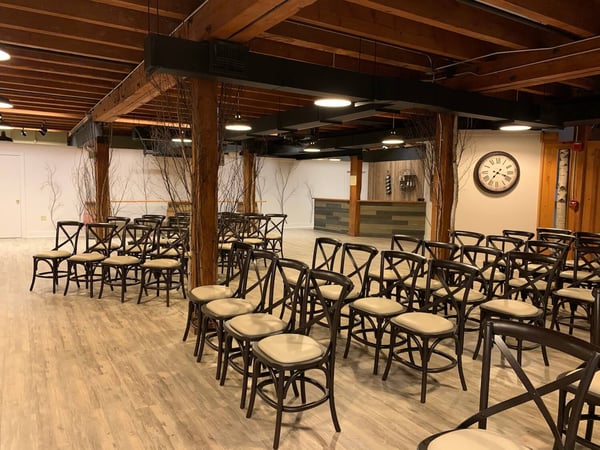 The event space is perfect for small weddings. For a large wedding or an outdoor venue, book a mountaintop wedding at the summit of Loon Mountain and hold your reception at the RiverWalk Resort. The RiverWalk Resort can help you pick out your catering and entertainment so you can focus more on your big day. By booking with the RiverWalk Resort, you also have access to discount rates on group lodging, a complimentary one bedroom suite for the bride and groom, bridal party spa and hair packages at Solstice North Day Spa, Mercedes Benz shuttle transportation for off-site ceremonies, and more. With a flexible seating configuration, the RiverWalk Resort can ensure you have optimal dance floor space so you and your guests can boogie all night long!
Corporate Meetings and Retreats
The RiverWalk Resort is your perfect midweek corporate meeting and retreat destination in the White Mountains. The new event space can fit up to 100 people in multiple seating configurations from classroom to roundtables. With WIFI, a state-of-the-art audio-visual system, and podium, everything will be taken care of so all you have to do is show up and host your meeting. Corporate catering is available so you can be rest assured that everyone is well caffeinated for the day.
Parties and Other Celebrations
Similar to weddings and corporate meetings and retreats, the RiverWalk Resort event space is perfect for a variety of parties and celebrations like anniversaries, family reunions, bridal showers, and fundraisers.
Benefits of Booking Your Next Event at the RiverWalk Resort
The new Atrium event space can host up to 150 people depending on the room configuration for a variety of needs. The location is perfectly aligned in the center of downtown Lincoln and just a two-minute walk across the RiverWalk Resort parking lot. Within a 10-minute walk, you can enjoy tons of great dining and entertainment options. And, the parking is always free!
The RiverWalk Resort has preferred catering partners with excellent menus and pricing, but you are always welcomed to bring your own as well. With Seven Birches Winery next door, you don't have to go far for a delicious glass of wine either!
For more information about booking the event space for your upcoming wedding, party, or corporate event, contact the concierge today. 2020 dates are booking fast! Discover the beauty of the White Mountains and the RiverWalk Resort.