This blog post is part of "The Guide to Fall Activities in The White Mountains" blog series.
Dating back to the days of ancient Rome, grape stomping has been a harvest tradition in Europe. Even today, many small vineyards across the world host grape stomping events every year after the harvest. For centuries, small vineyards would gather all their family and friends and handpick the grapes off the vines. After the vines have been stripped bare of their fruit, a large celebration would be held to celebrate the end of the harvest. Tables would be set with platters upon platters of food, the wine would pour freely, and everyone would gather around the table at sunset and share stories of the day. In some vineyards, the dinner celebration would end in a grape fight.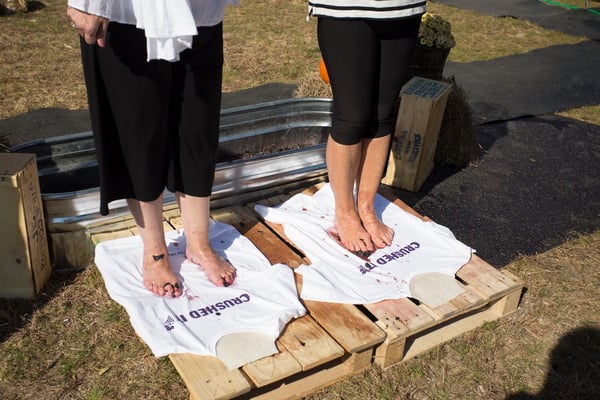 While you might not experience a grape fight (yet) at the 3rd annual White Mountains Crush Festival, you'll be able to participate in a long winemaking tradition. Gather your friends and family and head to the RiverWalk Resort at Loon Mountain and help Seven Birches Winery stomp their grapes. The one-day event features events like barrel tasting, grape stomping, wine tasting, and feasting.
Located within the RiverWalk Resort in Lincoln, New Hampshire, Seven Birches Winery handcrafts classic European grape varietals and locally sourced fruits to create a variety of award-winning wine. Offering a variety of red and white wines, there is a bottle of wine at Seven Birches with your name on it. The Cabernet Sauvignon is a classic choice with big and bold flavors. Pair with gourmet cheese and you've found your perfect match!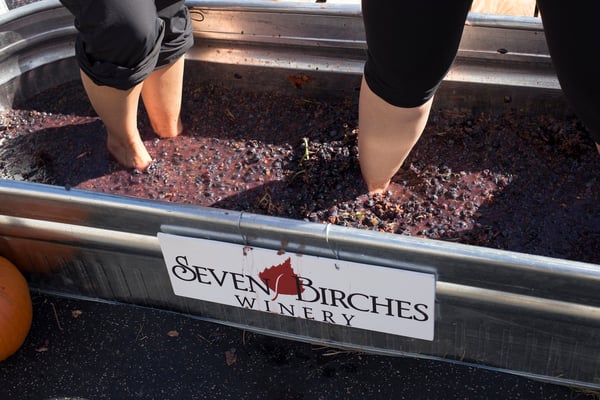 For something sweet and light, the Moscato offers the right amount of citrus flavor for a white wine. If you haven't tried a fruit wine, then you're in luck! The Blueberry Wine is a real show winner. The blueberries are picked locally at Windy Ridge Orchard and crushed the same day, just like the Apple Wine. Brightly colored with a sweet finish, the Strawberry Wine is another delicious choice. We can't wait for this years Ice Apple, made from apples at Windy Ridge Orchard.
You'll have the opportunity to try wines throughout the afternoon with the Winemakers Wine Tasting in the Winery event. While you can try some of your favorites in the tasting room, you'll also have the opportunity to taste six new wines released to the public on this special day. During your tasting, one of the winemakers will walk you through the flavors and notes of each wine.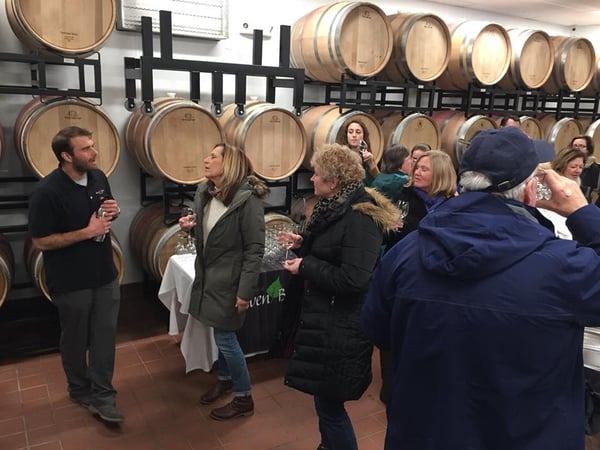 If you're interested in finding out more about the winemaking process, sign up for the Meet the Winemakers Tour & Barrel Tasting. A winemaker will walk you through the winemaking process from the grapes to the bottle. You'll be able to ask all those pesky questions you've been dying to ask someone, and you'll even get to try a wine right from the barrel.
Of course, you'll definitely want to participate in the main event – the "Big Feet" Grape Stomping! You might recall from way back the famous I Love Lucy episode where Lucy stomps grapes in Italy. Dress up in your favorite I Love Lucy era attire and stomp in her footsteps. Grab all your friends and give it a try! Expect to get a little dirty so don't wear your Sunday best. Kids are more than welcomed to give it a try too!
Stomping grapes for 15 minutes will certainly work up an appetite, so make sure you stick around for the Stomper's Picnic under the tent - new this year. There will be music, yard games, and lots of local craft vendors for you to enjoy after you eat your boxed lunch. Wine bottles can be purchased in the tasting room and enjoyed on your picnic blanket.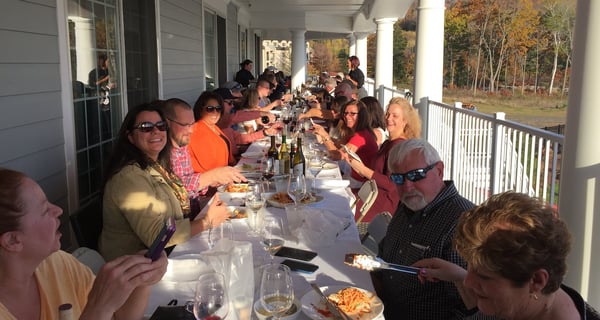 If you're still hungry after a day of grape stomping and wine tasting, book your tickets to the Family-Style Feast. Hosted on the beautiful outdoor veranda overlooking the bustling Pemi River and Loon Mountain by LaVista Italian Cuisine, you'll fill up on all you can eat Italian food and Seven Birches wine! The large tables will be covered with various pasta dishes, meats, salads, calamari, chicken parmesan and more than your eyes (and bellies) can eat.
The 3rd annual White Mountains Crush Festival is one of the best events in New Hampshire this fall. Book your tickets today and enjoy all the delicious wine on Saturday, October 20, 2018. It's a family-friendly event you don't want to miss! Need accommodations for CRUSH? Stay right on location at RiverWalk! Check out our vacation packages for the weekend of the CRUSH Festival.
This blog post is part of "The Guide to Fall Activities in The White Mountains" blog series.