It's 5 pm on Friday and you're shouting to the kids to remember to pack clean socks. Your spouse just arrives home from work and you're quickly trying to get all the skis, snowboards, winter gear, and bags into the back of the SUV before driving two hours out of the city to the mountains for a long weekend of skiing in the White Mountains. The last thing you want to think about is packing breakfast, lunch, and dinner for everyone. While you're on your Friday night commute to the resort, let the RiverWalk shop for you and stock your fridge and cupboards before you even check-in for the night.
We'll Do the Shopping!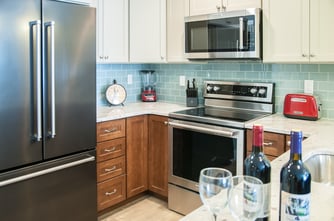 Make the most of the extraordinary amenities of the RiverWalk Resort at Loon Mountain and have the resort do your grocery shopping! All suites in the hotel are equipped with full kitchens stocked full of everything you need to cook a five-course night or just grilled cheese sandwiches. Whether you're short on time or just don't like grocery shopping, the incredible RiverWalk Resort staff will do your shopping for you.
Contact the Adventure Concierge or front desk with your grocery list and they will shop for you. The staff shops at a variety of stores from Plymouth to Littleton to find everything on your grocery list. Whenever possible they try to shop local produce, meats, and cheese, but will search high and low for your favorite products. If you have specific dietary needs, staff will try as hard as possible to find what you need. After they have picked up all your items on your list, they will put them away in your fridge and kitchen, so when you arrive you can begin dinner. Or maybe just order pizza from La Vista the first night.
Shop Locally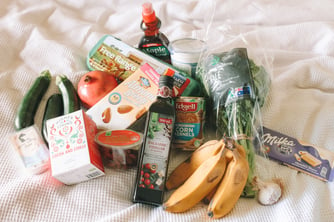 If you prefer to shop locally while you're here, there are several grocery stores within walking distance. The Price Chopper is right next door and open late. The full-service grocery carries a great selection of fresh produce, meats, seafood and packaged food. You can order ahead and pick up as you drive to the RiverWalk or you can online and have Instacart deliver right to the RiverWalk Resort while you relax in the hot tub.
For local produce, specialty meats and cheese, wine, and delicious handcrafted sandwiches, head down the street to the Purple Tomato. Shop online and pick up curbside with their contactless grocery service. If you have special dietary needs, such a gluten-free or vegan, then head up I-93 to Littleton and shop the Littleton Food Co-op. The community-owned market features local produce, hot prepared foods, deli, bulk foods, and a huge grocery and wine selection, including hard-to-get items.
For delicious homemade pastries, head across the parking lot to Moon Café, where all items are made fresh onsite daily. Don't forget to coffee, too!
A Cook's Kitchen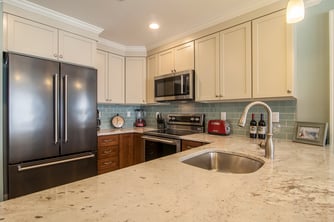 The kitchens in the suites at the RiverWalk Resort are designed with a cook in mind. Featuring luxury KitchenAid appliances and all the tools you need to cook breakfast, lunch, and dinner, you have everything you need to turn your groceries into a gourmet meal. If you're here for a weekend or week of skiing or hiking, then you'll want quick and easy meals. Grab a dozen bagels from White Mountain Bagel Co. and cook them all week in the toaster. Sandwiches from Purple Tomato are a real treat and make your own. For dinner, pasta, chicken, or even homemade pizza would be filling and yummy. Or after a big day of skiing, order take out from La Vista.
Let the RiverWalk Resort Shop for You
Make your stay at the RiverWalk Resort at Loon Mountain as seamless as possible by enjoying all the incredible amenities offered, including grocery shopping! Spend your days on the ski slopes and all your food will be waiting in your fridge when you arrive home to your suite. Bon appetite!