Sometimes you just need a break from your daily life. Between work, family, and other commitments, life can be a delicate balance of punching your timecard in your 9-5, feeding the kids, and watching the latest episode of Game of Thrones. Call grandma and grandpa and tell your boss you need a few days off. It's time to book a midweek getaway to the RiverWalk Resort. There is something for everyone in Lincoln - Woodstock and no matter what midweek getaway style trip you book, you'll leave with incredible memories.

Quiet
If you're looking to escape the everyday grind for some quiet solitude, then you've come to the right place. Midweek is a wonderful time to explore the Greater Lincoln area or just nestle up in your suite near the gas fireplace reading a book while sipping a glass of wine.
The J.E. Henry Trail is a picturesque leisurely walking trail along the south bank of the Pemigewasset River. It's perfect for an early morning walk amongst nature. Listen to the morning songs of the robins and warblers as the pine branches sway in the light mountain breeze. As the sun rises higher in the sky, grab a coffee and a bagel from White Mountain Bagel Co. and enjoy it on your private balcony overlooking the Pemigewasset River.
Pack a picnic and hike the short path up to Artists' Bluff where you'll enjoy incredible views of Cannon Mountain and Franconia Notch. On a warm, clear night sit under the stars on one of the many chaise lounge chairs by the lagoon pool and count the number of shooting stars you see. You'll be surprised how many stars you can see in the mountains! Whatever you choose to do, midweek is the perfect time to come to the White Mountains for a little peace and quiet.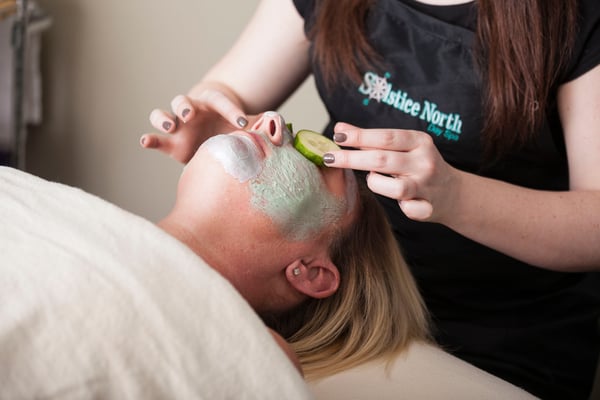 Relax
The RiverWalk Resort is the perfect destination if you've come to the White Mountains to relax. With an in-house spa and winery plus spa tubs in your suite, you'll feel totally relaxed and rejuvenated when you leave at the end of the week. Start your mini R&R vacation by turning the water on and adding bubbles to your private soaker tub in your suite. Grab a book or a glass of wine and just let the stress wash away.
Located in the lobby of the RiverWalk, Solstice North Day Spa is a full-service day spa offering a wide range of services to pamper you from head to toe. Start your spa day off with Riverstone massage. The unique self-heating riverstones will melt away all your tension and soothe your aching muscles. When you wake up from bliss, move down the hallway and try one of the many facial options. The Signature Relaxing Facial includes a massage and steam and is customized to your skin type. For something different, try the Seaweed Facial.
Your feet are some of the hardest working parts of your body, treat them to a foot soak. For 30 minutes, enjoy the pure bliss of soaking your feet in a unique mix of essential oils to leave you even more relaxed than before your massage. Top off your spa day with a manicure and pedicure!
Before heading back to your suite to watch the sunset from your private balcony, pick up a bottle of your favorite wine from Seven Birches Winery. Not sure which bottle to choose? Head to the tasting room within the RiverWalk to sample the best Seven Birches has to offer. You won't be disappointed.
Each suite has a pillow-top king bed with luxury linens, so you'll sleep like a baby all night long. Since you're on vacation, sleep as long as you'd like! Remember to hang the "Do Not Disturb" sign on the door and enjoy a little you time.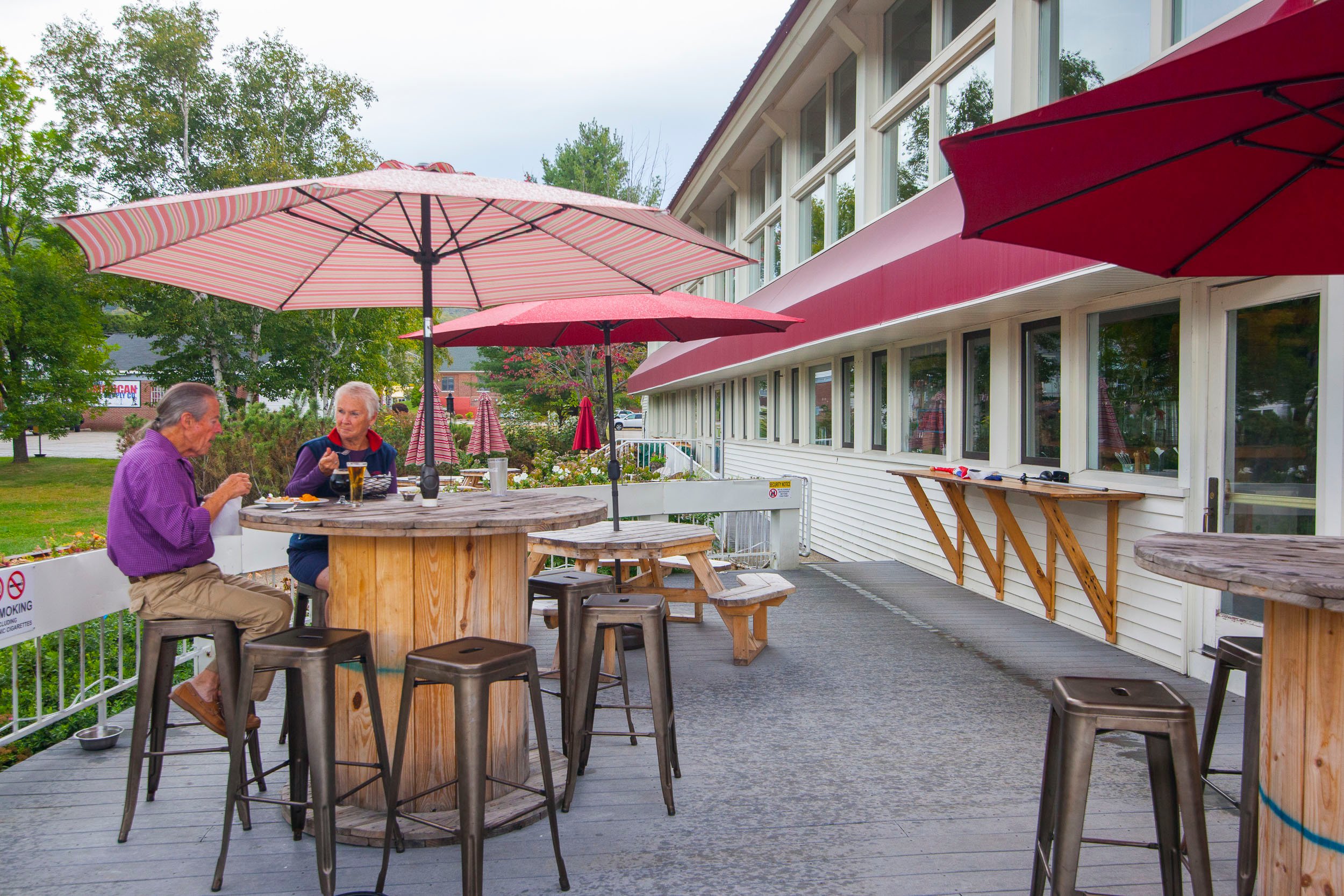 Foodie
For a small mountain town, Lincoln is home to an abundance of good food. If you're willing to adventure a little outside town, you'll find even more culinary options. Across the street from the RiverWalk Resort, you'll find One Love Brewery in the historic Henry Paper Mill. One Love Brewery brews delicious German-style beers from pilsners to lagers. Pair a pint with something from their pub-style menu. Pretzels covered in beer cheese is always a great option along with the Brewery Burger.
The Gypsy Cafe on Main Street is a local favorite. With an extensive worldly menu, you definitely find something tasty to eat. The artwork on the walls of the cafe is just as unique as the menu. Each dish is authentic to its origins and made with locally sourced ingredients whenever possible. A meal at the Gypsy Cafe is a truly unique experience.
Just a few minutes drive away, the Woodstock Inn Brewery is one of New Hampshire's oldest craft breweries. The 30-barrel production facility produces over 25 different beers throughout the year. With a focus on IPA, each beer has a creative name and a distinctive taste. Enjoy pints of the Pemi Pale Ale, 4000 Footer IPA, and Lemon Blueberry Pale Ale among many other favorites. The Woodstock Inn Restuarant has been voted the White Mountains' favorite restaurant for over eight years. Serving breakfast, lunch, and dinner, your food options are limitless. Come for the beer, but stay for the home cooking.
A 30-minute drive north up I-93 to the small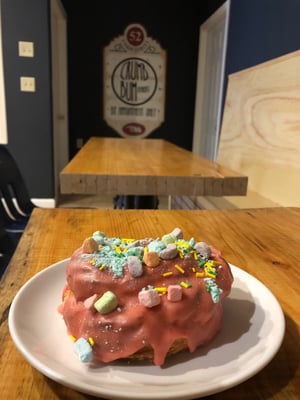 town of Littleton will bring you to a treasure trove of new restaurants and breweries to try. Schilling Beer Co. is a progressive European-style brewery in the historic grist mill on the edge of the Ammonoosuc River. Dine on woodfired pizza while sipping a pint on their deck overlooking the river or taste test a few samples in their new tasting room next door. Head to the Littleton Freehouse for locally-sourced food and wine. Grab pastries and sweet treats from Crumb Bar on Main Street and stop by Chutters, the worlds longest candy counter.
On your way back to Lincoln, you can stop at Rek' Lis Brewing Company in Bethlehem and Iron Furnace Brewing in Franconia. For the best pancakes in New Hampshire, get up early and head to Polly's Pancake Parlor in Sugar Hill. This historic breakfast is always busy so if you want to skip the long lines, get there early. You won't regret the early alarm once you sink your teeth into your first bit of pancake!
While the Greater Lincoln area isn't the same as Boston or New York, you'll find delicious food often made with locally sourced ingredients everywhere you go. Bring your sweatpants as you might gain a few pounds after a midweek foodie adventure!

Outdoors
People have been coming to the White Mountains for centuries for its beautiful landscape and fresh mountain air. Everywhere you look, including outside your suite windows, you'll see mountains. Midweek is the perfect time to hit the trails. The trails are less crowded and you'll easily find parking in many of the trailhead parking lots.
If you're chasing the 4000-footers in New England then you've come to the right place. Make the RiverWalk Resort your home base for the week and see how many peaks you can bag. Moosilauke, Osceolas, Cannon, Kinsman, and many more peaks are just a short drive away.
The Franconia Ridge Loop is ranked as one of the best hikes in the world. Skip the crowds and hike it during midweek. The challenging hike will bring you over three peaks - Little Haystack, Lincoln, and Lafayette - over the course of approximately eight miles. The Old Bridle Path is steep at the beginning, but once you the summit of Lafayette, the trail turns less steep. The panoramic views from the top are absolutely incredible!
If hiking isn't your first choice, there's kayaking, canoeing, mountain biking, and road cycling available in Lincoln. Outback Kayak rents both kayaks and ATVs that will get you off the beaten path. Arts Outdoor Outfitters rents kayaks, SUP, and canoes with daily shuttles to and from the Pemi.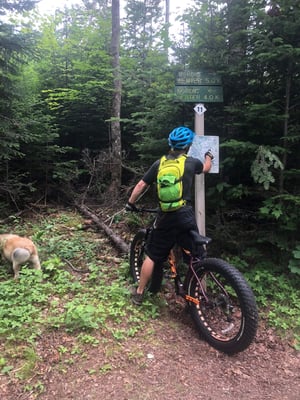 Loon Mountain is home to over 10 miles of cross-country mountain bike trails and they are building a downhill trail system this summer for a total of 25 miles. PRKR Mtn in Littleton is another awesome network of 25 miles of single and double track mountain bike trails. Over the river in Burke, Vermont, you'll find one of New England's best mountain biking trail system, Kingdom Trails. For the road cyclists, The Kancagamus Highway is a way to earn serious bragging rights in your cyclist group at home!
The best part of midweek vacations to the White Mountains is that you can mix and match your getaway style. Enjoy an adventurous day exploring the mountains followed by a relaxing and quiet day at the spa. Book your midweek stay at the RiverWalk Resort today!