Have you ever considered purchasing a vacation home? It's just about everyone's dream to be able to escape the busy day-to-day havoc and run up to their own little place in paradise. Many folks have discovered that purchasing fractional ownership at RiverWalk Resort at Loon Mountain – in the heart of the White Mountains near Lincoln, New Hampshire – is the ideal answer, providing them cost effective ownership in the ultimate vacation home.
As one owner put it, "RiverWalk gives us a mountain escape, a place to entertain friends, and a place to create family memories, all in a place that we love."
This blog post is part of "The Guide to Ownership" blog series.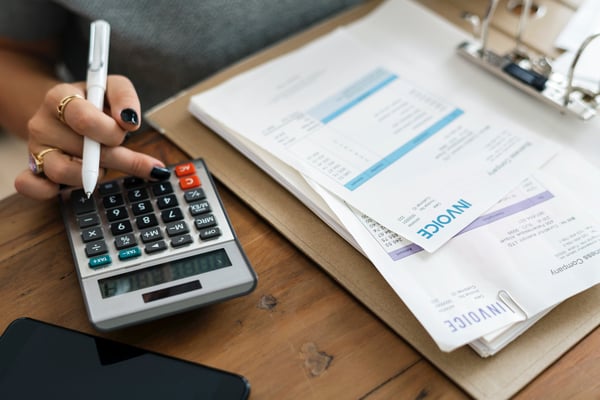 Many RiverWalk owners could afford traditional second home ownership, but who wants the upkeep, maintenance, and housekeeping that comes with being the sole owner of a house or condo! Let's face it: Buying a typical vacation home is expensive, high-risk, and often a time-consuming burden. You'll have to worry about the very same aspects you are responsible for at your regular home, such as the air conditioning/heating unit, the plumbing, and appliances. And then you must pay for the utilities and security systems, whether you are using your unit or not! In summary, a traditional second home requires a significant amount of your time at a substantial expense.
RiverWalk Resort offers a much more reasonable and logical alternative to owning a vacation home called, "fractional ownership." Perhaps we need to clarify what we mean by that and explain how RiverWalk is so very different from any other type of home or vacation ownership you may have experienced. That's why we decided to create a series of articles to explain this in greater detail. And, of course, you can request additional information at any time by contacting us or calling 603-728-6205.
The Essence of Fractional Ownership
Fractional Ownership was created back in the early '80's out of a need. Friends or family members for years would group together to purchase a summer home or ski condo to share the time, expense and upkeep. All members/owners, being on the same deed, in many instances experienced problems as the years ticked by. Loss of income, divorce, or lack of interest forced people to want out or even worse, stopped their share of the payments, creating a burden on the remaining members and straining the relationships. Fractional ownership took away all of these problems by providing the division up front. Each owner would have separate deeds, mortgages, maintenance fees, and time schedules. They could trade their time with the others but at the end of the day, each party had no financial co-entanglement with the other party…NONE. Problems solved.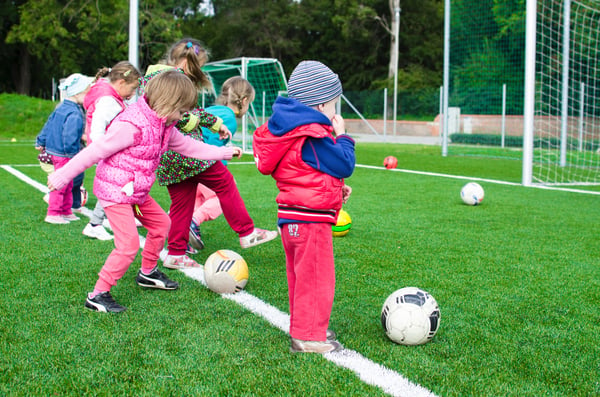 Many families are just too busy with their children in sports or other activities to come every weekend and really can't justify traditional ownership. With the cost of fractional ownership being so much less in terms of purchase price and monthly carrying cost, a missed weekend or two is no big deal. Many fractional owners have found that with some rental return on the weeks they don't use, plus the tax benefits that they receive annually, that their out of pocket costs were comparable to or less than what they were paying to rent. They upgraded their level of accommodations significantly while recapturing thousands of rental dollars into a deeded property that can be passed down generation after generation; a truly logical solution for many of today's vacationers.
It's like another owner, Bill J., told us, "Our girls were four and six last season and we wanted to get them skiing early. A friend said Loon was the best area for families and only a two-hour drive from our home. We researched places thinking we would 'try it out' with a seasonal rental. Then we stumbled across the RiverWalk. When we saw it in person, we realized it was perfect for us and we couldn't believe it was cheaper to own than do a seasonal rental for anything comparable! The amenities, service, and most of all, the staff makes it one of the most relaxing and fun parts of our lives all year long."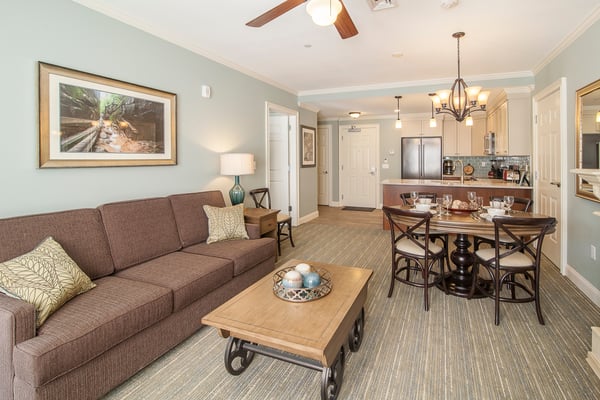 If you've never visited RiverWalk Resort at Loon, but are interested in the concept of partial real estate ownership, we encourage you to investigate further. Perhaps you've stayed at RiverWalk Resort in the past and wondered about our "fractional ownership," but haven't had a chance to find out more. In either case, you will find that RiverWalk Resort at Loon is exceptional and we believe its ownership program is unparalleled by any other resort in the world.
We've created a series of articles called "Understanding Fractional Ownership" to help you get educated on all the nuances.
What's so Special About RiverWalk Resort?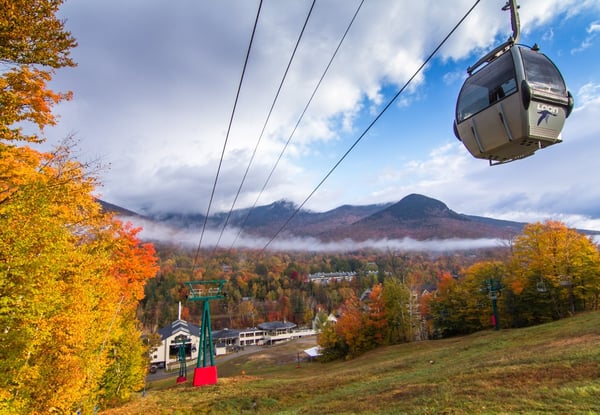 If what they say is true about real estate; it's location, location, location. We're talking about a two-year-old resort located on 25 magnificently landscaped acres surrounded by what is perhaps the most richly wooded, verdant forest in the northern hemisphere, White Mountain National Forest. Think skiing, ice skating, snowmobiling, and snowshoeing in winter; tubing, waterparks, zip-lining, and outdoor music in summer; and fine dining, shopping, breathtaking views, and hiking all year round.
Even more than location, however, is the quality of life experienced here and the greater opportunities you'll have to enjoy the 'good life.' For example, one thing that sets ownership at RiverWalk apart is our state-of-the-art choice of amenities. Owners have permanent access to lockers and custom-built, cherry-wood storage space, capable of holding as many as six pairs of skis.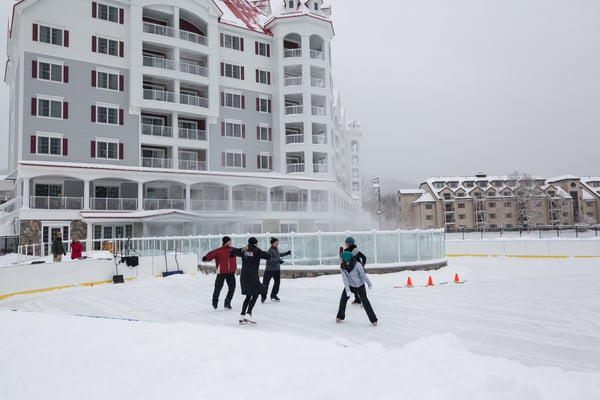 We've got your athletic needs covered with a fully loaded fitness center; two enormous hot tubs to soothe those aching muscles (of course, there are also soaker tubs in your suite to help ease out the kinks); and two pools. Beginning on the upper deck is a huge, heated, all-season indoor-progressing-to-outdoor pool. Here's an added bonus: the outdoor pool turns into a skating rink in winter and our Skating Academy hosts performance companies there throughout the season.
After all this activity, you can begin powering down in a hot tub, visit the resort Spa, and sip on locally made wine from Seven Birches Winery, located on-site. The Owner's Club Room is the perfect space to host a get together; bring a pizza right in from LaVista and share it with friends while watching a football game or shooting a round of pool. Channel your inner child in the game room or walk along the river to enjoy a breath of fresh air.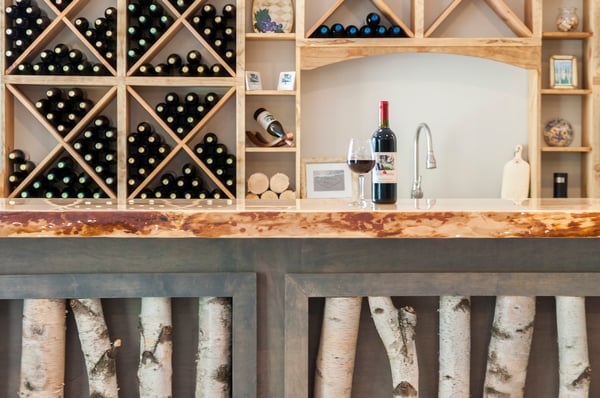 The glory of home ownership is the comfort you feel each evening when you return to your luxury condominium. Whether you own a one-, two-, or three-bedroom unit, your suite is elegantly appointed with a full-sized kitchen, king-sized pillow-top bed in the master bedroom, and an oversized soaker tub. Studios are also available with the same fine KitchenAid appliances and granite counter tops as larger units.
Enjoy a glass of wine on your own private balcony as you gaze at the White Mountains and the picturesque town of Lincoln, NH; or cozy up in front of your fireplace for a relaxing evening at home.
Why Ownership? Why Not Just Rent?
We believe our owners say it best, themselves. One of them, Patricia D, says, "Ownership means vacation is truly a vacation. When we get off Exit 32 at Loon, we are home. No cleaning, fixing, or any of the hassles which come with vacation properties and seasonal rentals." You are welcome to read more comments in our blog.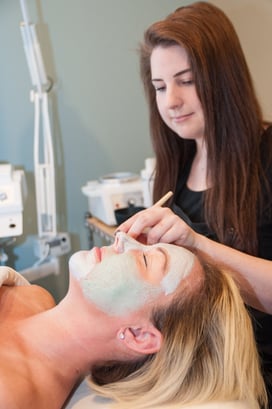 Fractional ownership beats renting a hotel room, condo, or house by removing the hassle of navigating through the process of researching and reserving a place each time you want to escape. You are the owner…. You are not limited to visiting your resort home only once a year. You can go multiple times. In fact, you can call the resort 72 hours in advance to reserve a room for only a nominal cleaning fee. Where else in New Hampshire can that be done? In fact, if you were to call with less than 72 hours or walk right in at any time, we would do our best to accommodate you. Speaking of walking right in, our owners can come in to use the amenities on-site 365 days per year.
Best of all, at RiverWalk Resort you have teams that make it all work for you. You need never concern yourself about who's going to oversee the repair of that broken window or what happens if a water main breaks. Best of all (from my point of view, at any rate), when you're ready to leave, you just walk out the door…no cleaning the kitchen or bathrooms, no clearing out the fridge, and no making the beds for the next guests.
---
We hope this article has helped explain what you get when you own a fractional interest in RiverWalk Resort. Perhaps we've got you thinking. If so, we invite you to start your research with "Understanding Fractional Ownership."
This blog post is part of "The Guide to Ownership" blog series.
In the meantime, in our next article we'll delve into more of the details and answer some of the most commonly asked questions, like "What does it cost?" and "What, exactly, do you get when you purchase a fractional at RiverWalk?" Plus, we'd love to hear your thoughts.
Thank you for your interest; we hope to see you soon!