You've driven all the way to the White Mountains, and you've landed at your resort. With a belly full of road trip gas station snacks, you may be thinking about unpacking your bags and spending the first afternoon of your vacation in the pool. After a few hours of relaxation, the gang goes back to the suite to take showers and get ready for an awesome dinner at one of your favorite dinner spots from last year's getaway. Or maybe you haven't been here yet and you'd like to know where you should get dinner! Either way, you've hit the lottery because you just found RiverWalk's Guide to Dinner in the White Mountains. Bon' Appetit!
Cafe Lafayette Dinner Train: Dinner with an Amazing View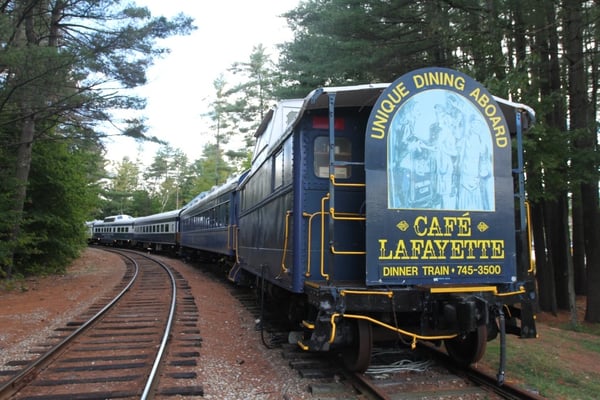 Cafe Lafayette is a dinner train in North Woodstock that is open from 4-9pm Thursday through Sunday during peak season. They serve high quality cuisine and outstanding mixed drinks prepared by an on-board mixologist. All aboard for an extraordinary experience riding through the White Mountains while enjoying some of the best food around! This is the perfect date night idea, addition to a vacation checklist, or a classy night with friends. The interior of the train was recently updated with blue leather booths and a whimsical, retro travel theme, so locals may want to stop in again soon!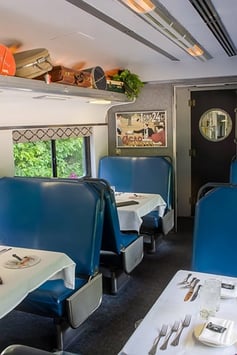 The cost of the train ticket includes a five course dinner and a two hour train ride. Enjoy appetizer options such as chorizo and mascarpone stuffed dates followed by an entree of salmon algonquin, chicken saltimbocca, and much more. You may choose between main level and dome level seating at an additional cost. Going into the fall, this is an excellent idea for dinner with a view! Enjoy the foliage while eating cuisine made fresh with local ingredients in the White Mountains.
La Vista Italian Cuisine: Fine Dining at RiverWalk Resort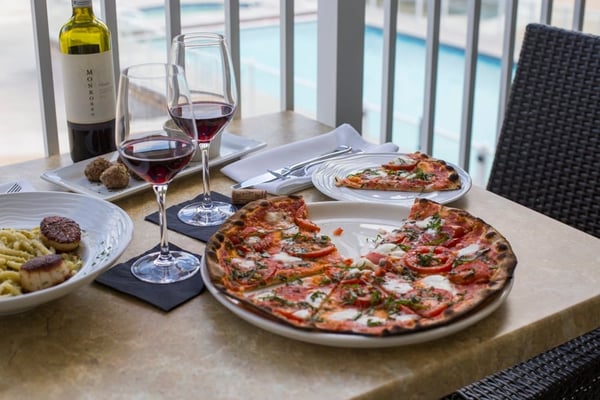 We've got to say it! La Vista has the best Italian cuisine in the White Mountains and it's conveniently located right in RiverWalk Resort. Instead of getting back in the car to drive to a nearby restaurant, you could stay right here at the resort and enjoy a world class dinner with very little hassle. La Vista offers wood fired pizza, fresh pasta dishes, vibrant salads, antipasti choices, and entrees like steak and salmon. Enjoy authentic Italian with a local flair from White Mountains grown ingredients.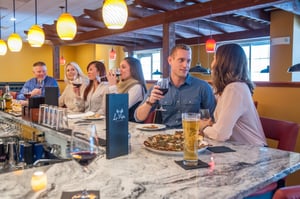 La Vista is openfor dinner nightly from 5-9PM and open later on the
weekends. La Vista has exceptional beer, wine, and alcohol options. Try a glass of Seven Birches' wine or get a specialty whiskey flight! There's something for everyone at La Vista Italian Cuisine.
Woodstock Station: Enjoy Dinner and a Flight of Local Beer!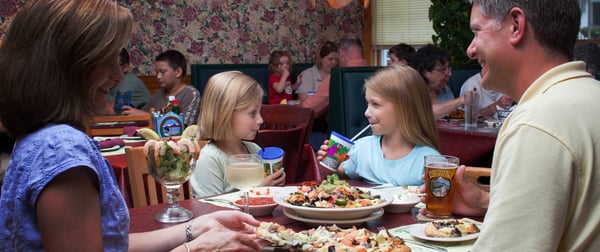 The Woodstock Station, located in downtown Woodstock, is the restaurant of the Woodstock Inn and Brewery. This restaurant is the perfect for choice for groups of all ages and food preferences. They offer your basics like nachos, burgers, fish and chips, ribs, pizza, and more. On the other end, they also feature fine dining options like the rockhead wellington, mahi mahi, scallops, roasted bone marrow, and asian inspired duck wings. Whether you prefer the classics, or like to try new and creative recipes, you'll find a delicious meal at Woodstock Station.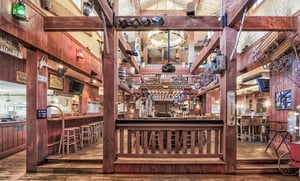 They offer many of their brews from the Woodstock Brewery, which are pretty popular throughout the state and the northeast! The White Mountain Weasel Wheat Ale is a local favorite for a refreshing beer on a hot summer day. Try the Weasel Wheat and their many other brews including stouts, IPA's, red ale, pale ale, and brown ale. If you're looking for something to do one morning on your trip, check out the Woodstock Brewery's beer yoga classes!
Common Man Lincoln: Delicious Cuisine and a Night of Theater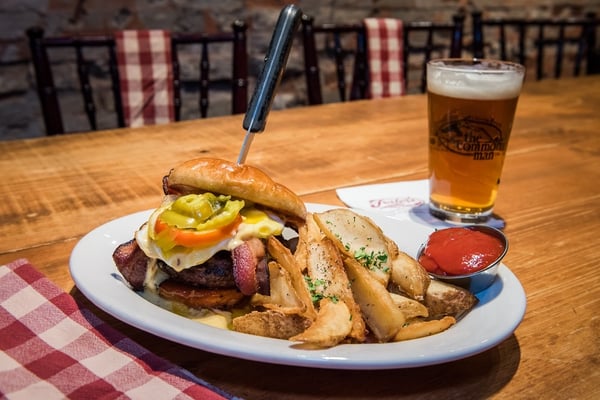 If you're from New Hampshire, you're familiar with the Common Man restaurants. There are over a dozen of them speckled throughout our granite state! With a relaxed atmosphere, friendly staff, and creative takes on the classics, the Common Man is not to be missed. Lincoln's Common Man restaurant is known for the comfortable seating and fireplace in the center of the restaurant. The menu has New England favorites such as mussels, rock crab cake, New England pot roast, clam chowder, meatloaf, chicken pot pie, and Nantucket pie.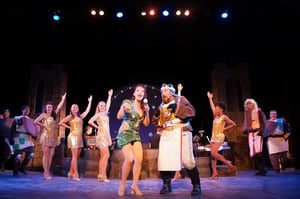 Pro Tip: Make this date a dinner and a show! If you plan on buying tickets to see a show at Jean's Playhouse, buy tickets in advance for dinner discounts at restaurants in the area. When you present your Jean's Playhouse tickets at the Common Man, you get a free appetizer when you purchase two entrees.
Stay In and Cook a Homemade Dish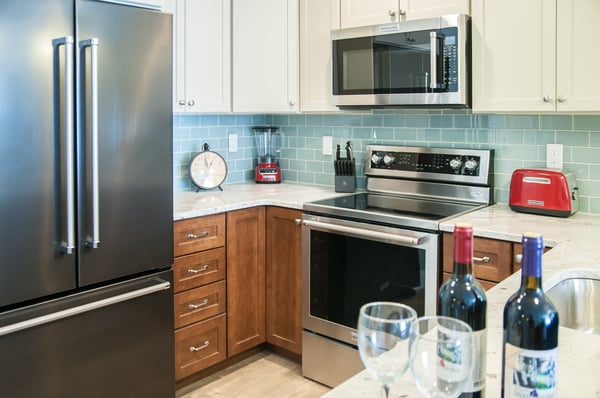 Most RiverWalk suites offer a full size kitchen. If you have a suite with a kitchen, you should put it to good use! Get some ingredients from the farmer's market (or local grocery store) and whip up your favorite family recipe. Cuddle up in the living room and watch a movie with a bottle of wine from Seven Birches winery downstairs! Vacation is all about making memories with the people you love. Make your dinners in the White Mountains memorable with train rides, theater, local brews, and a touch of home.