It's that time of year again! The 4th Annual White Mountains Crush Festival is right around the corner, October 25-27th. Grab your friends and head to the mountains to enjoy a weekend of wine tasting, educational workshops, grape stomping, and a special wine pairing catered multi-course dinner.
For the past four years, Seven Birches Winery, located in the heart of the RiverWalk Resort, has hosted the Crush Festival featuring its infamous grape stomping event! Seven Birches Winery handcrafts classic European grape varietals and locally sourced fruits grown at Windy Ridge Orchard to create a variety of award-winning red and white wine. While Seven Birches does import a majority of their grapes from around the world, this past year they planted their first grape vines in the RiverWalk Resort's backyard. In the coming years, you'll be able to stomp homegrown grapes during the Crush Festival while overlooking beautiful Loon Mountain!
The 4th Annual Crush Festival is now three days long and packed with lots of wine-related fun. Start your weekend with the Atrium Wine Bar Cocktail Welcome Mixer on Friday night in the all new Atrium Tasting Room & Wine Bar at the Lincoln Village Shops. To meet the demands of wine drinkers in the White Mountains, Seven Birches Winery expanded its tasting room with the Atrium Wine Bar. Enjoy all your favorite wines in a mini, rustic version of the main tasting room at the RiverWalk Resort. With your ticket to this special event, you'll receive one glass of Seven Birches' specialty wine cocktails, including Glogg, the heavenly Swedish mulled wine drink.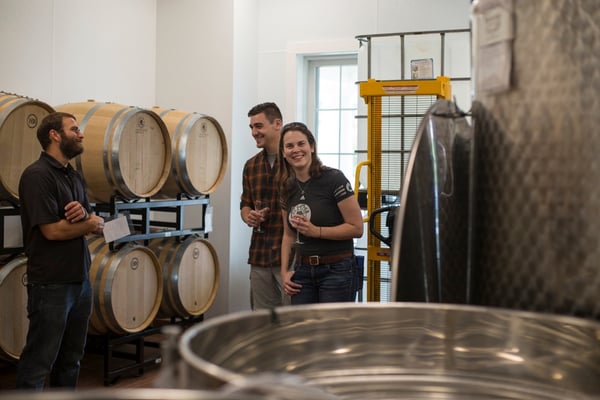 You know what they say, it's 5 o'clock somewhere! Starting at 9 am on Saturday, enjoy a full day of educational workshops, wine tasting, winemaking tours, and more. The educational workshops are new this year and provide you the opportunity to expand your knowledge on all things wine. Three different winemakers from around New Hampshire will be leading fun and informative sessions to satisfy your thirst for wine knowledge. Choose from Varietal Wines vs. Blends presented by Mike Appolo of Appolo Vineyards, Old World Wine, New World Fruit presented by Ken Hardcastle of Hermit Woods Winery and Dispelling the Oldest Wine Myths and Clarifying Their Truths presented by Patrick Tetreault of Seven Birches Winery.
Winemaking tours will occur throughout the day on Saturday at 10 am, 11 am, and 12 pm. Join one of Seven Birches Winery's winemakers to discover how they turn grapes into wine and taste some wine directly from the barrel. During the afternoon hours, you can partake in the Stompers' Picnic outside and under the tent. Just bring some camp chairs and a few blankets and you can enjoy a tasty boxed lunch with music, yard games, and local craft vendors. Wine tasting will be available in both the wine tasting rooms. Seven Birches will unveil six new releases to the public during Crush, so don't miss the chance to taste something new! Rumor has it, it's delicious!
Get to the RiverWalk early and enjoy everyone's favorite event – "Big Feet" Grape Stomping! People of all ages (including kiddos!) can enjoy some laughs and smiles while stomping on squishy grapes. Time slots go fast, so make sure you sign up in advanced for this fun event. For the final celebration of the weekend, the Wine Dinner is an all-inclusive meal featuring local fare and lots of Seven Birches wine in RiverWalk's brand new event space. Purchase a ticket today.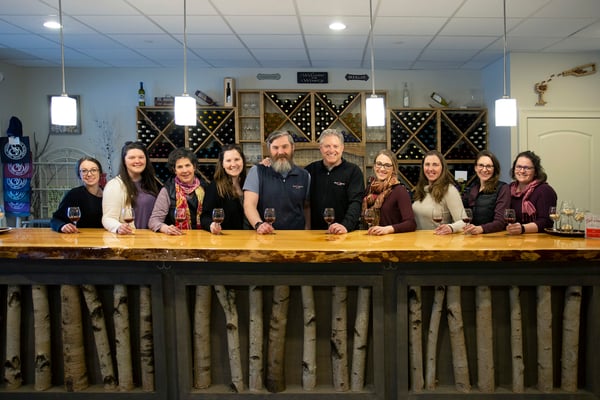 After a few days of drinking delicious wine, you'll want to burn off a few calories or maybe a small hangover. Lace up your running shoes and enjoy a brisk stroll along the Lincoln Woods Trail or J.E. Henry Trail along the Pemigewasset River. If you're looking for a little early Halloween fun, head north up I-93 to the small town of Littleton for the Gathering of the Jack O'Lanterns. Hundreds of pumpkins hand-carved by local residents illuminate the Ammonoosuc River and it's a sight you don't want to miss. Don't forget to stock up on candy at Chutters for all the little trick or treaters back home.
Stay close to all the events at the RiverWalk Resort. Each luxury suite has plush, comfortable beds, state-of-the-art kitchens, and lots of space. The resort is offering special White Mountain Crush Festival packages featuring accommodations and tickets to the event. Book today and enjoy all the fun.