Nestled in theWhite Mountains of New Hampshire, RiverWalk Resort at Loon Mountain is the perfect backdrop for your fairy tale wedding. With the granite peaks overlooking the Pemigewasset River and the luxury accommodations, you can see why so many couples stay at RiverWalk Resort and get married at nearby Loon Mountain.

Mountaintop Weddings at Loon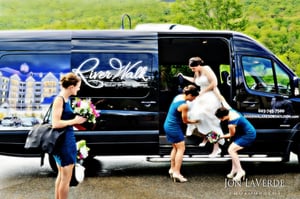 RiverWalk Resort does not currently have a banquet area to host weddings onsite, but it partners with Loon Mountain for gorgeous
mountaintop wedding
s
. The summit amphitheater overlooks the scenic White Mountains offering your guests a panoramic view of your wedding ceremony and the mountains. When staying at RiverWalk Resort, shuttle service is offered for the bride and groom to the ceremony.
Wedding Portraits
Whether you choose to take your wedding photos before or after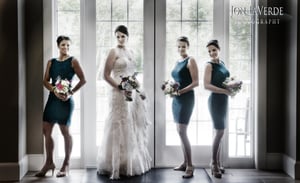 your ceremony, many
couples take photos at RiverWalk where it's quiet and they have a few minutes to enjoy the moment. The banks of the Pemigewasset River with the White Mountains in the background is a picturesque backdrop. If you're planning a Fall mountain wedding, then you'll love when the trees start to turn to fiery reds, oranges, and yellows. They make for some of the best photos!
Often referred to as "The Castle," many couples have a wedding portrait taken in front of the Resort's grand entrance. Need a wedding photographer? RiverWalk Resort can help you find a spectacular local photographer to photograph your big day.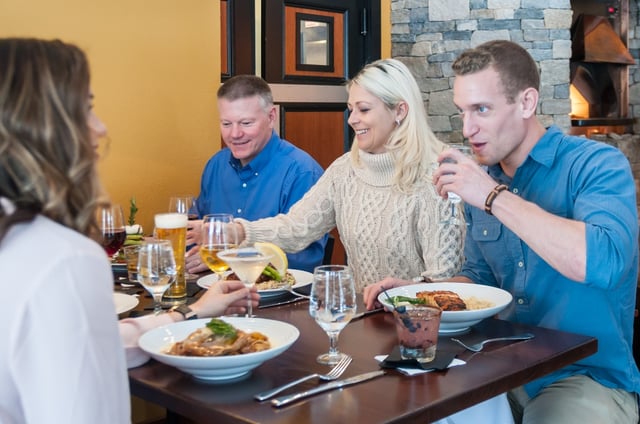 Rehearsal Dinners and Post-Wedding Brunch
With an onsite restaurant and winery, RiverWalk is a great place to host a rehearsal dinner and post-wedding brunch for your wedding party and guests. La Vista Italian Cuisine serves authentic Italian dishes made with fresh local ingredients. The delicious menu has something for everyone to enjoy for even the tiniest Flower Girl to the hungriest Best Man. For a sweet treat before your big day, you definitely don't want to miss dessert. The in-house Bakery Chef, Natalina, will calm any wedding nerves with a bite of her famous Tiramisu!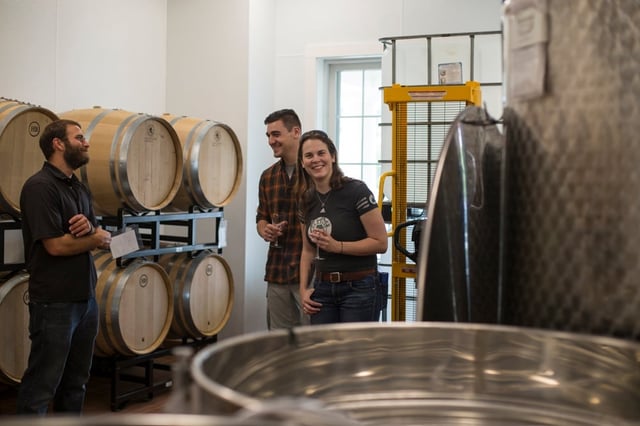 Seven Birches Winery offers wine tastings in their tasting room and can also arrange for private tours and tastings in their production room. Treat your closest friends and family to a unique experience that you can all enjoy together!
Wedding day preparations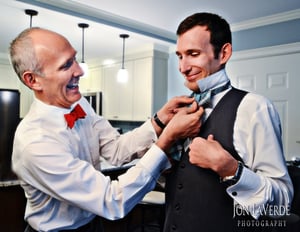 With an onsite day spa and hair salon, the wedding party doesn't have to go far to prep for the big day. Solstice North Day Spa is located in the heart of the RiverWalk Resort and offers all the services you need to look and feel your best.
The spa offers several bridal packages that include the essential wedding hair and makeup all the way up to the ultimate package with massages and facials. If the weather allows, enjoy your manicure and pedicure on the deck of the resort overlooking the mountains.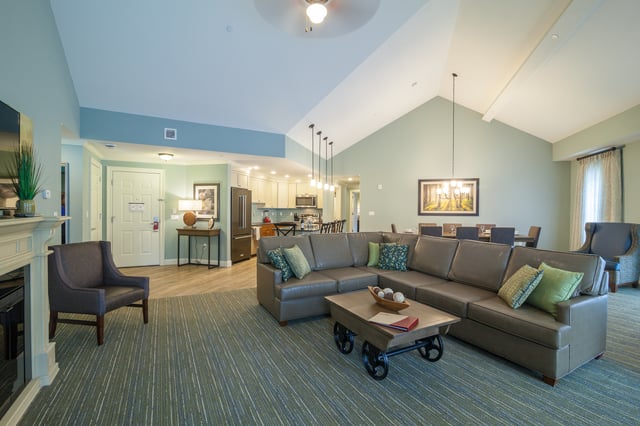 The suites at RiverWalk are the perfect place for the wedding party to get ready. RiverWalk has suites that can accommodate even the largest bridal party in their wedding day preparations. Larger suites are spacious, giving everyone space to move around, multiple bathrooms for showers and makeup and even kitchens to make sure everyone is eating and staying hydrated on the big day. With modern luxury accommodations, your wedding day preparation photos will look like you got ready in a castle! Large windows and patios offer plenty of soft window light - great for photos!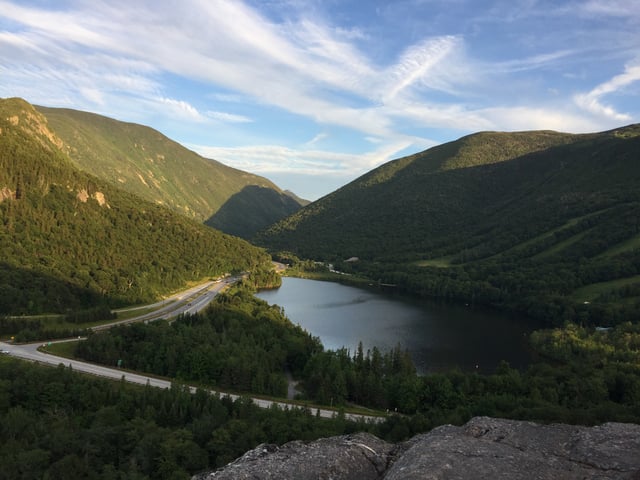 Destination Wedding
Lincoln, New Hampshire is the perfect place to host a destination wedding. Located in the heart of the White Mountains with easy access to hiking trails and several restaurants and bars, your guests can make a whole vacation out of your wedding! RiverWalk Resort provides lodging packages and room blocks for your wedding guests and perks for you. If your guests' book ten rooms or more, they will provide the bride and groom with a special discount code and a complimentary suite to enjoy on your wedding night. Fall is a busy time of year for the Resort, so if you're planning a fall wedding then you'll want to plan well in advance.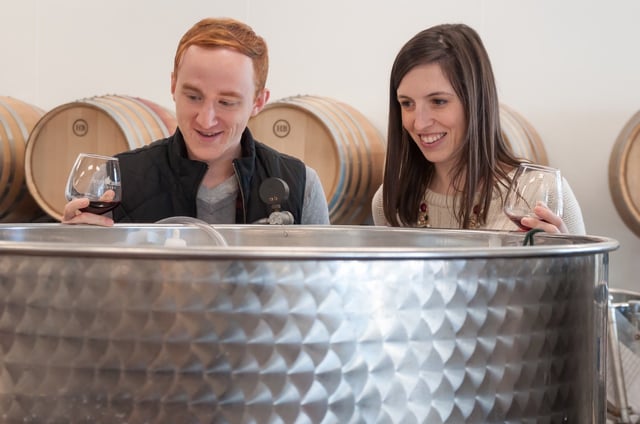 Wedding Wine
Housed in RiverWalk Resort, Seven Birches Winery is an award-winning winery that produces handcrafted wines using locally sourced fruits grown at an apple orchard in North Haverhill and classic European grape varietals from around the world. During your stay, guests can sample some delicious white wines, red wines and fruit wines in their tasting room. Don't forget to take a few bottles home for upcoming anniversaries!
If you're looking for the perfect wedding favor or if you really enjoy handcrafted artisan wine and want a special wine to serve at your wedding, then you'll love the Barrel Club! The Barrel Club is the perfect opportunity to create your own wedding wine with the Seven Birches winemaker. Your wine will be made exclusively for your wedding with your input from harvesting the grapes to bottling your special wine. Cheers!
Get Married in the White Mountains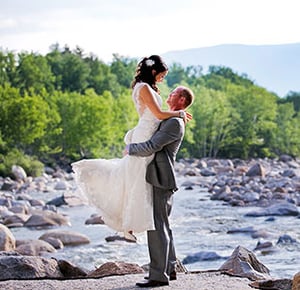 Lincoln, New Hampshire and the White Mountains are an incredible place to wed your sweetheart. With scenic views of the rivers and mountains almost everywhere you look, you'll remember your big day for decades to come.

While RiverWalk Resort might not be able to hold your wedding ceremony onsite just yet, there are plans to build a banquet hall in phase two in upcoming years. In the meantime, you can celebrate your love on top of Loon Mountain and stay at RiverWalk Resort with its many amenities for both you and your guests.