The White Mountains of New Hampshire offer some of the best skiing and snowboarding in the Northeast. With eight ski mountains in the region, there are lots of great trails, glades, and terrain parks to practice your turns. Outside of skiing, there is tons to do. With the White Mountain National Forest just a few minutes away, you can hike, climb, and soar through the sky year-round. Just off of I-95, Lincoln-Woodstock is an easy drive from anywhere in New England making it one of the best ski towns and mountain towns for a weekend away.

This blog post is part of "The Guide to Winter Activities in The White Mountains" blog series.
Skiing and Snowboarding
Obviously, skiing and snowboarding are one of the main reasons that people flock to Lincoln-Woodstock during the winter months. With two world-class ski resorts within 10 minutes of town, you have plenty of great options to search for the perfect powder stash. Loon Mountain is home 370 acres of groomed trails, glades, and terrain parks at varying difficulties. The professional ski school is ideal for young kids just taking their first turns or the high school ski racer looking for the competitive edge or even the adult learning for the very first time.
Cannon Mountain, just up Route 93 from Lincoln, has the longest vertical drop in New Hampshire at 2,180 feet. You'll find lots of locals ripping it up on the 97 trails and glades. The historic 70-passenger Aerial Tramway will not only carry you up to excellent skiing but offers you incredible panoramic views of the White Mountains. If Cannon and Loon aren't enough for you, Bretton Woods, Cranmore, Waterville Valley, and more are all within an hour's drive from Lincoln-Woodstock.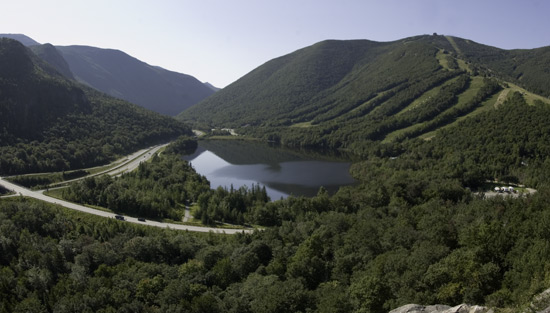 Hiking and Climbing
The White Mountain National is one of the most popular destinations in New England for hiking and climbing year-round. With 48 4000-foot peaks and countless other small peaks, thousands of people flock to the area every year to earn bragging rights. While the Presidential Range and Franconia Ridge are the most heavily visited areas of the White Mountains, there are tons of other local hiking trails near Lincoln that are worth the hike.
Lincoln Woods Trail, just outside of downtown Lincoln, is a wonderful 2.6-mile roundtrip hike on an old logging railroad bed. The trail runs along the east branch of the Pemigewasset River and is a great trail for beginners or those looking for a relaxing walk by the river. Many other trails branch off of the Lincoln Woods Trail, so you can explore more of the National Forest. Lonesome Lake is a moderate 3.5-mile roundtrip hike that ends with picturesque views of Lonesome Lake and Franconia Notch. On a hot summer day, the lake is a great place to cool off!
For the peak baggers, Mt. Lincoln, located on Franconia Ridge between Mt. Lafayette and Little Haystack is the second highest peak outside the Presidential Range at 5,089 feet. The Franconia Ridge Loop is a classic day hike that will take you through the heart of Franconia Notch letting you bag Lafayette, Lincoln, and Haystack in a single day.
The White Mountains are also home to some excellent rock climbing. The Lincoln Crag, located near the Forest Ridge Development, is comprised of four main cliffs with a range of climbing routes. For hardcore climbers, take the Kancamagus Highway to North Conway and enjoy the epicenter of Trad climbing, Cathedral Ledge. During the winter months, you can stay in climbing shape at the indoor climbing wall at the Loon Mountain Adventure Center.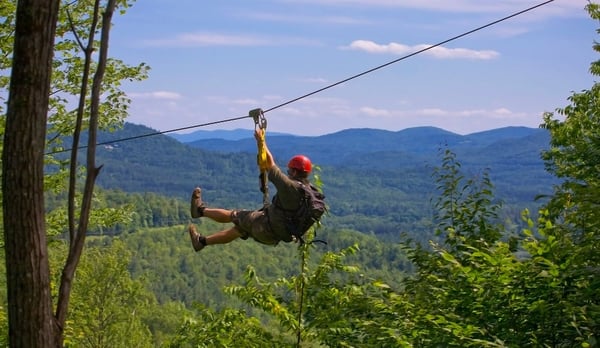 Adventure Activities
Once you're done hiking, climbing, and skiing, there is still plenty of other adventurous activities to do in Lincoln and Woodstock. Alpine Adventures is your one-stop-shop to get your adrenaline pumping. Located in the heart of downtown Lincoln, Alpine Adventures owns 300 private acres on Barron Mountain in Woodstock. Here you can zipline year-round on their three courses or go off-roading! Once you're done zipping through the pine forests, you can test your fear of heights on their newest activity, the Thrillsville Aerial Challenge Course at their headquarters on Main Street.
During the summer months, you can cool off at Whale's Tale Waterpark. Perfect for the whole family, you can ride the waves in the wave pool, speed through 11 waterslides or relax in a tube around the ¼ miles lazy river. Clark's Trading Post, celebrating 90 years in 2018, a family-friendly theme park with trains rides, climbing tower, and bear shows.
During the winter months, the Lincoln Ice Castle draws a big crowd every year. As soon as the temperatures drop, the talented crew goes to work on growing one of the largest ice castles in the world. Dress warmly and enjoy the colorful glow of the lights within the ice, the ice chandelier, and even a slide through an ice tunnel! It's perfect for children, adults, and everyone in between.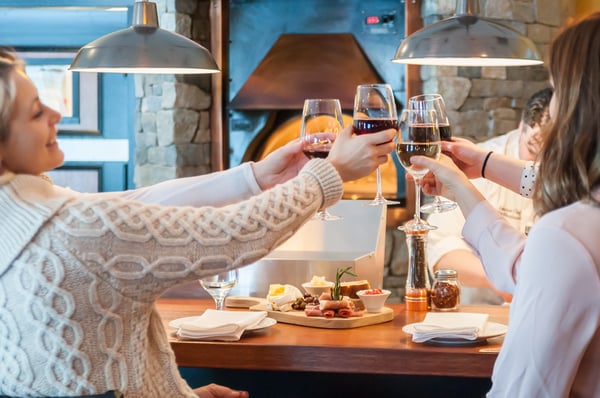 Food and Drink
Lincoln and Woodstock are home to some excellent restaurants, cafes, and pubs. If you like authentic Italian cuisine, visit La Vista at the RiverWalk Resort. After stuffing yourself with delicious pasta, walk next door to Seven Birches Winery and enjoy locally made red and white wine. If you're craving some burgers after a long hike, head straight to Black Mtn. Burger Co. for their tasty gourmet burgers. Don't miss the Mac n' Cheese Balls either!
The Gypsy Café is a local favorite with an extensive menu with food from around the world. Their cocktails and desserts are also fantastic. The Woodstock Inn is home to one of New Hampshire's oldest craft brewery. The large restaurant and brewery are open for breakfast, lunch, and dinner. Make sure you go for all three! For a quick bite to eat before hitting the slopes, grab a homemade bagel at the White Mountain Bagel Co. on Lincoln's Main Street.

Spas and Relaxation
After a weekend or week full of sweat-inducing activities, you'll want to relax a little and enjoy the rest of your time in the western White Mountains. Take a morning yoga class at Live a Little Fitness to stretch your tired muscles. Afterward, treat yourself to a little spa day at Solstice North Day Spa at the RiverWalk Resort. Solstice North Day Spa is a full-service spa offering services to pamper you from head to toe. Start off with a signature massage to relieve all the tension in your shoulders followed by a moisturizing facial. Finish your day off with a mani-pedi. You'll leave feeling like a million bucks!
If you're staying at the RiverWalk Resort, you can also relax in your soaking tub in your Master room with a glass of wine and a good book. It really doesn't get much better than that!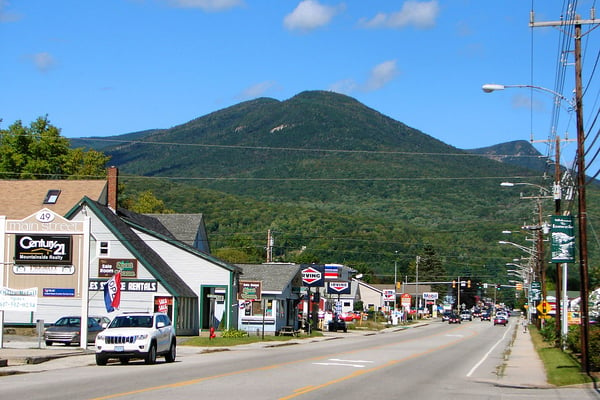 This blog post is part of "The Guide to Winter Activities in The White Mountains" blog series.
Spend the Weekend in Lincoln-Woodstock
Lincoln-Woodstock not only has a lot of things to keep you busy from sun up to sun down, but it's also easy to get to since it's right off I-93. From Boston, it's about a two-hour drive making it the perfect year-round destination for a long weekend away with the family. Or perhaps, you just want a little solo escape from your hectic life to enjoy the quiet solitude of the mountains. Either way, you've come to the right place. And, that's why Lincoln-Woodstock is one of the best ski towns in New England!