This blog post is part of "The Guide to Winter Activities in The White Mountains" blog series.
Did you know that 55% of American workers reported that they did not use all their allotted vacation days at work? It's time to put on your out-of-office replay and head to the mountains for a midweek getaway! Taking a midweek ski trip is a great way to not only save money, but spend more time doing what you love most – ski! Or snowboard if that's your thing.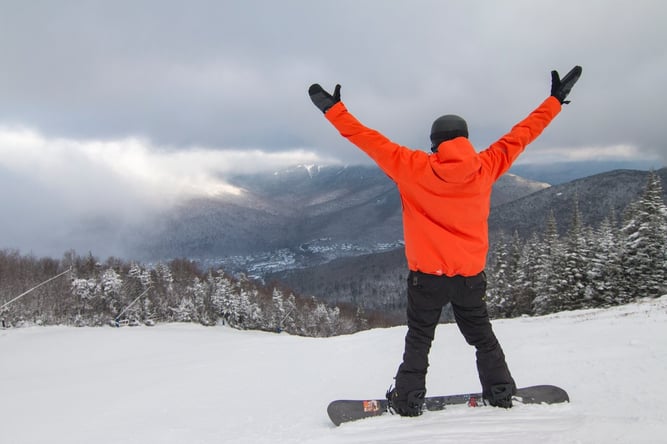 The lift lines are shorter allowing you to ski from the first chair to the last and make the most of every run. Plus, many ski resorts offer incredible ski and stay packages that will save you loads of money. And you don't have to wait for tables at any of the restaurants and pub so you can right from your last run to the bar to celebrate a great day of skiing in the White Mountains.
LIFT TICKET DEALS
Day lift tickets at most ski mountains are priced higher on the weekends and holidays than during the week. For example, a day pass to Loon Mountain costs up to $104 on weekend and holidays and as low as $73 midweek. Good news: Loon is now using RFID technology in all their lift tickets giving you direct-to-lift access. Other ski mountains, like Cannon Mountain, offer exclusive discounts of specific days of the week. On Tuesdays and Thursday, you can get a day pass for two for $82 or one for $55. On Wednesdays, New Hampshire residents can ski for just $29 (and no blackouts)! Other ski mountains in the White Mountains, like Bretton Woods and Cranmore Mountain, offer similar midweek savings. **Please note that due to COVID restrictions, many ski areas and attractions require tickets to be purchased online in advance. In addition, many mountains have temporarily discontinued their discount days for the season. Visit each attraction's website to find current information.
Pro Tip: Buy your lift tickets online and save even more money!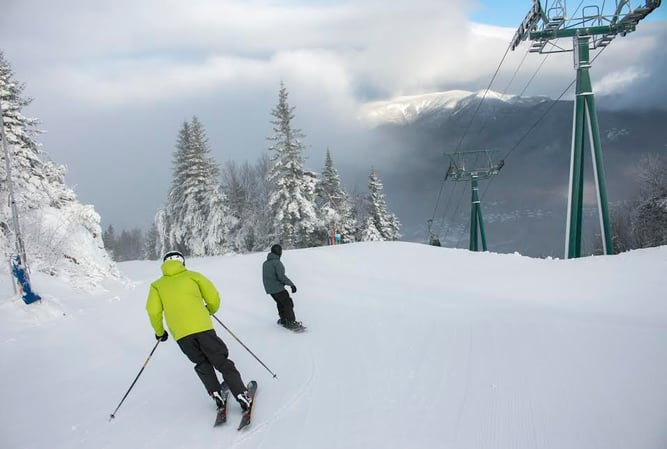 NO LIFT LINES
Waiting in long lift lines is not how you want to spend your ski days, especially if it's a fresh powder day. Ski days are meant to be skied! The lift lines are a whole lot shorter during non-vacation weeks. It's time to see how many runs you can do in a single day!
Pro Tip: Even if there is a short line, you can always get to the top faster if you hop in the singles line. *Please note that for the 2020/2021 season, singles lines may have been eliminated.
BETTER QUALITY TRAILS
Ski mountains might not have the same amount of traffic they have over the weekends or school vacation weeks, but they still groom the same. With fewer skiers and snowboarders laying down lines, the trails will last longer for your enjoyment. You'll be able to carve those fresh corduroy trails longer or find the hidden, untouched powder stashes. Ski and ride happy!
Pro Tip: Ask the lift operators, ski instructors, or ski patrollers what the conditions are like and where to find the best snow.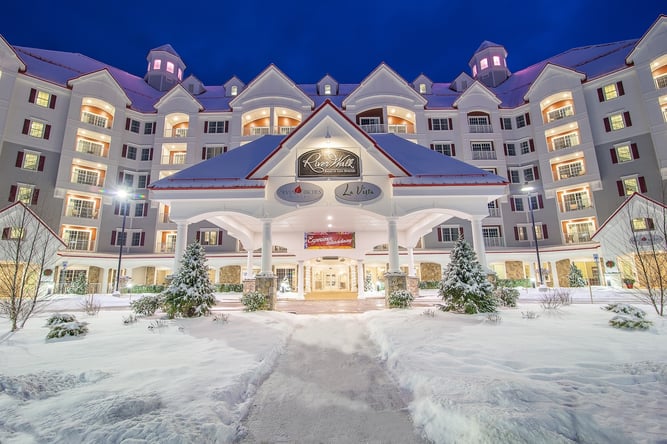 RESORT DISCOUNTS
When Sunday rolls around, hundreds of hotel rooms go empty for the week until Friday when the weekend crowds drive up to the White Mountains after the work week. To fill those empty rooms, many ski resorts and nearby hotels will offer incredible midweek ski and stay packages. The RiverWalk Resort offers midweek ski & stay packages starting at $204 per person a night that includes two nights of lodging, two days of skiing at Loon, transportation in a luxury bus to and from the mountain, and unlimited ice skating.
Pro Tip: Look for special ski & stay packages advertised on social media or sign up for our newsletter. Sometimes you'll score an even better last-minute deal!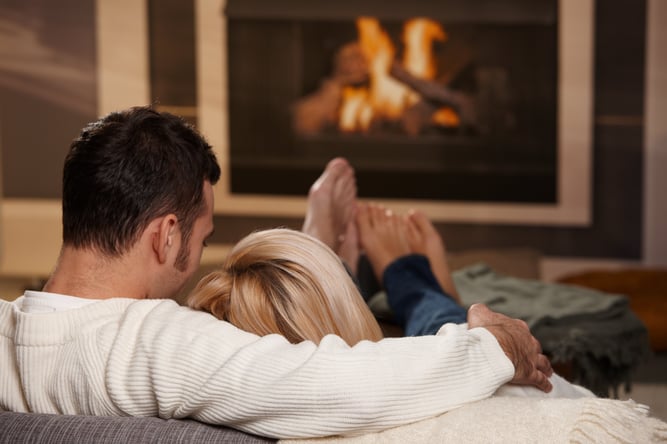 NO RUSH
Do you ever feel like you're rushed on the weekends? After work, you're rushing to pack the kids and all your gear into the car to head to the mountain. On Saturday, you're rushing to feed the kids breakfast and get them to their ski lessons on time. On Sunday, you're rushing to dress everyone for skiing and packing the car to head back home after the last chair.
During the week, you don't need to rush your ski trip. You can take your time getting to the mountain because the trails are still in great shape at 10 am, and there are no lift lines. You don't need to rush to the restaurant after skiing because there is no wait for a table or a sport at the bar. You can relax and see where the snow takes you.
Pro Tip: You can often sleep in on the weekdays because most lifts open an hour later than Saturday and Sunday.
Midweek skiing is one of the industry's best-kept secrets. If you have the vacation days to spare, it's a great way to save some money and enjoy some of the best ski and snowboard trails with no crowds. And if you're lucky, it'll be a bluebird or fresh powder day!
If you're unsure of what skiing and riding will look like for the 2020/2021 season with safety guidelines in place, visit Loon Mountain and Cannon Mountain's "Know Before You Go" pages on their websites.
This blog post is part of "The Guide to Winter Activities in The White Mountains" blog series.