This blog post is part of "The Guide to Spring Activities In The White Mountains" and "The Guide to Summer Activities in the White Mountains" blog series.
---
As a White Mountains local, I find myself passing mountain streams and roadside cascades every day. This is an incredible place to live, and if you aren't jealous of me yet... well, you should be.
Some of these spots are popular swimming holes and can be crowded on a nice summer day. I must stress that if you are thinking about going for a swim, remember that rivers in the White Mountains can be quite dangerous. Don't get in the water if it has recently rained and always go with other people.
And please, pick up your trash! These waterfalls do not come with a maid service.
Silver Cascade
After hiking Ripley Falls, you might as well stop at Silver Cascade, the most impressive roadside flume waterfall in New England. Parking is about five minutes west of the Ripley Falls trailhead on the Twin Mountain/Franconia side of Route 302 in Crawford Notch State Park.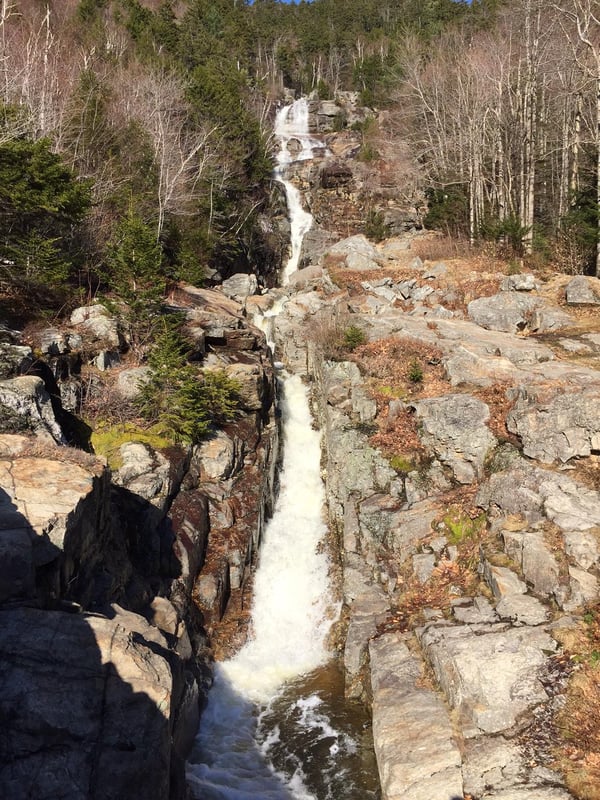 This is a good place to take a break and eat a packed lunch. For being located right alongside a highway, you can very quickly get lost in nature by climbing up a few boulders or following one of the trails going up on either side of the waterfall.
Even the sound of cars driving by is soothing.
Lower Falls Scenic Area
This scenic area is at the bottom of the Kancamagus Highway on the Conway side.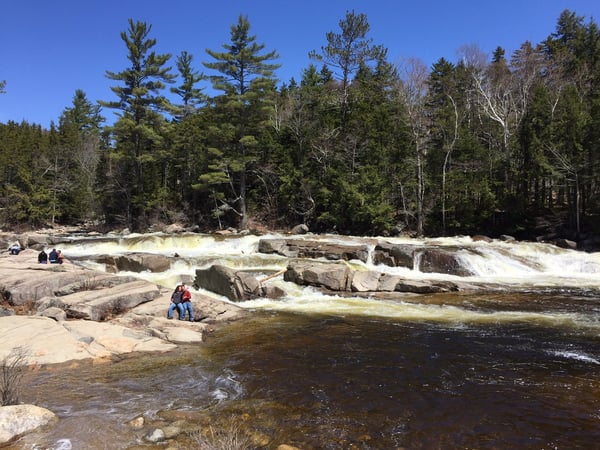 This is a good spot to stop for lunch, especially with a large group of people. There is a covered shelter with picnic benches and a charcoal grill. Additionally, there are on-site maintained bathrooms… which are CLOSED from late October to late May. However, there is a McDonald's in North Conway which suitably serves the same purpose.
Woodstock Cascade Park
This park is easily accessible, located right next to a public parking lot behind Coneheads Ice Cream Shop in North Woodstock. It is a popular swimming hole in the summer – be prepared to scramble over rocks and hack through some brambles to stake your spot!
Dogs are allowed, so watch your step and guard your ice cream cone.
This spot is an interesting mix of natural beauty and town amenities. As always, please remember it is a carry in, carry out area.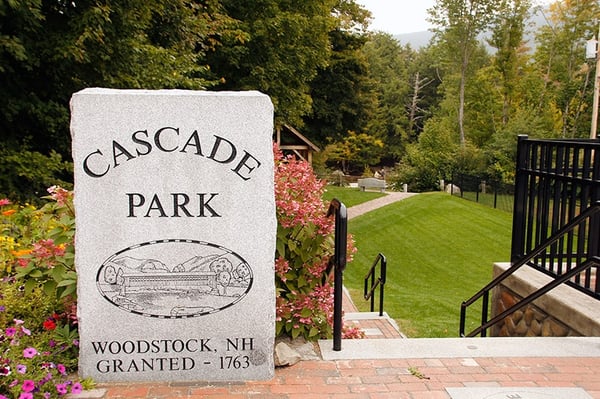 Livermore Falls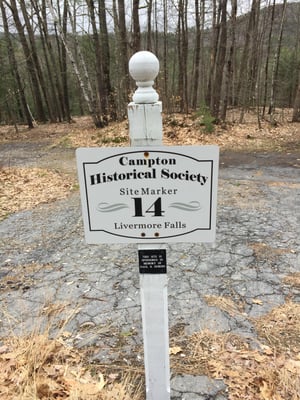 To get to Livermore Falls in Campton, take exit 27 off I-93, head east off the exit ramp, and turn right onto US Route 3. Two miles down the road (keep an eye on your odometer), there are two small dirt lots on the left.
The best viewing of Livermore Falls is not exactly roadside. A 0.2-mile downhill hike brings you to the Pemigewasset River. The path crosses old railroad tracks: follow the trail to the right for a bird's eye view of the falls on the edge of an abandoned truss bridge…
And follow the path to the left to get a small beach area and the abandoned structure of an old paper mill. Climb through the window of the crumbling structure to get to what would have been its ground floor for the best up-close view of the falls.
Unfortunately, the walk down to Livermore Falls is not handicap-accessible and requires walking along a pretty narrow path next to a ledge. So, that being said, I wouldn't recommend this for people afraid of heights either!
The Basin
The Basin has its own exit off I-93 going through Franconia Notch. This is a beautiful natural whirlpool accessible by a 0.1-mile walk along a paved pathway.
It is a very popular attraction, so no matter what time of year you visit, you are unlikely to be the only person there.
The real treat of this spot is the 0.5-mile hike up Kinsman Falls – so if you have the time and physical ability, check out last week's article and plan to get some exercise!
Have you visited one or more of these spots? Is this list missing your favorite roadside waterfall in the White Mountains? Let me know what you think – I can make time to visit a few more cascades this spring!
This blog post is part of the "RiverWalk Guide to Spring" and "Riverwalk Guide to Summer" series.