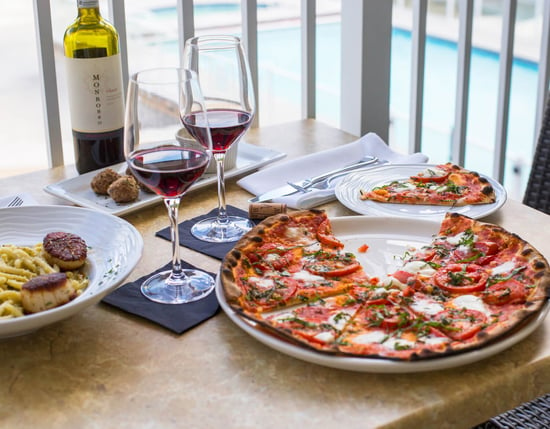 After a long day on the ski hill or hiking trails, nothing tastes better than a delicious wood-fired pizza with your favorite toppings or a plate of hot, buttery pasta and a glass of wine. You don't need a plane ticket to eat authentic Italian cuisine anymore as you'll find La Vista in the heart of RiverWalk Resort.
About La Vista and The Toast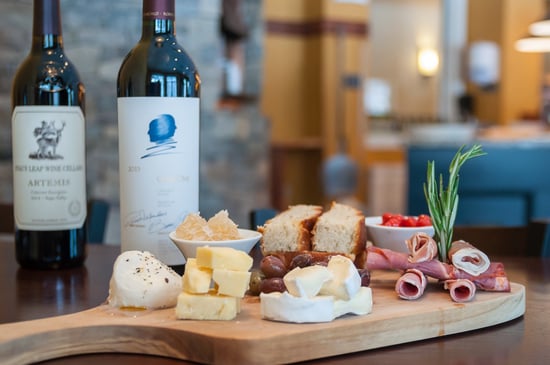 Opening in 2016 with RiverWalk Resort, La Vista, which is Italian for "The View," is an authentic Italian restaurant that can accommodate up to 120 guests with additional seating on the covered veranda overlooking the incredible views of RiverWalk's amenities and Loon Mountain. La Vista can be accessed through the lobby of RiverWalk and is open to resort guests and the public for dinner.
Featuring two bars, the restaurant provides three seating areas with slightly different atmospheres. The main dining area is comprised of mostly booths while the other two areas can accommodate large gatherings. La Vista is well known for its delicious wood-fired pizzas using its in-restaurant wood-fired pizza oven. Please visit their website for current hours of operation.
Last year, due to the interest of RiverWalk guests and the community, La Vista opened The Toast at La Vista for breakfast, serving resort guests and the public. Please visit their website for current hours of operation.
La Vista Menu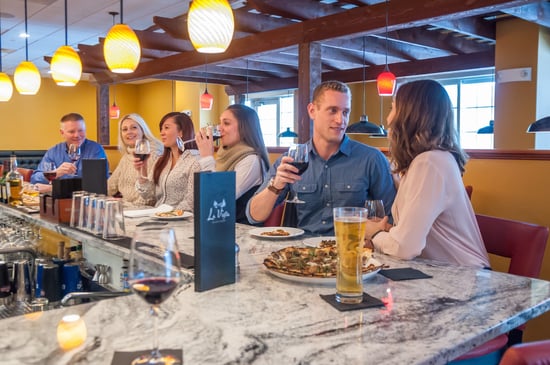 Make sure you come hungry to La Vista because the food is incredible and it's hard just to pick just one dish for your dinner. If you're with your family or friends, you can always order multiple plates and share! Start your meal off with a selection of appetizers from the Antipasti menu. Everyone loves a good Cheese & Charcuterie Plate featuring creamy cheese, fine cut meats, almonds, and even honeycomb. For something a little spicier, try the Deviled Eggs or Calamari Arrabiata.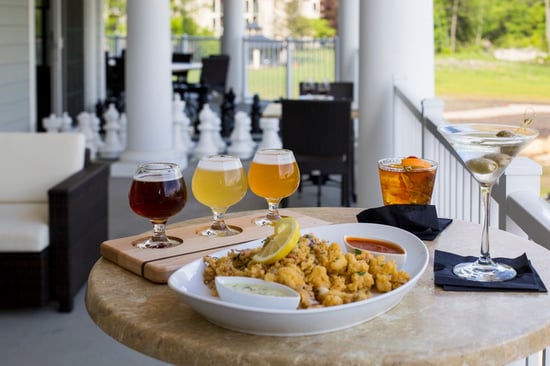 La Vista offers a variety of salads using as many local and seasonal ingredients as possible. The Strawberry Spinach Salad is always a good choice for summer and the Crisp Caesar Salad is a classic choice for any meal. The wood-fired pizzas are perfect for sharing. The Margherita will leave your mouth watering for days. It's just that good! For those that need more protein, La Vista has you covered with the Meat Lovers.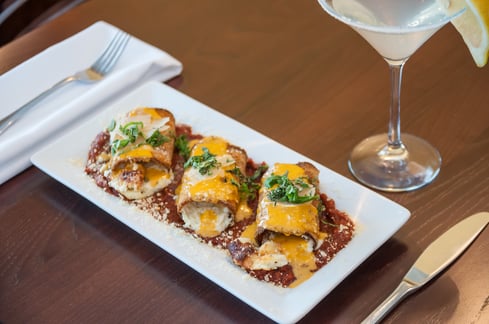 You can't have an Italian restaurant without pasta! You'll find a variety of pasta dishes on the Entrata menu. There's the Pappardelle Pasta alla Bolognese for the red sauce lovers and Shrimp Scampi for those who prefer a creamy white sauce. You'll also find chicken, steak, and other meat dishes on the menu.
Let's hope you left room for dessert because the Tiramisu is legendary at La Vista. All desserts, or Dolce on the menu, are handmade fresh that day. Choose from traditional Italian desserts like Cannoli and Tiramisu or others like Crème Brulee and Chocolate Mousse.
The Toast Menu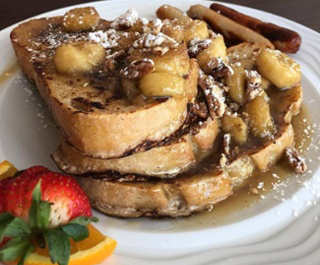 Whether you prefer a hearty breakfast before a big day of hiking or something lighter because you're stuffed from the night before at La Vista, The Toast's menu offers something for everyone. Breakfast specialties are a mix of sweet and savory dishes. If you have a sweet tooth, you'll love the Bananas Foster French Toast, which is made with Texas-style toast topped with candied pecans, and bananas foster drizzle. Yum! There's also buttermilk pancakes and waffles made however you like them – traditional, blueberry, or chocolate chips. The kids will love that.
If you prefer savory over sweet in the morning, the RiverWalk Burrito is delicious and will keep you full all day. There's also the Loaded Skillet and Red Flannel Hash. You can choose from three different types of Eggs Benedict as well. For those who are just looking for something light, there's steel-cut oats, cereal, and yogurt, and granola. And of course the coffee is always flowing.
Dining at RiverWalk Resort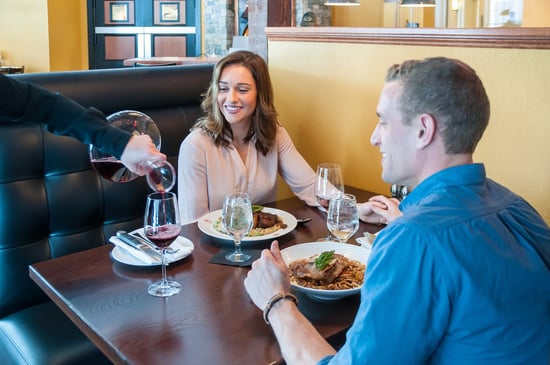 La Vista and The Toast are open for in-restaurant dining and takeout. During busy times, it's best to call ahead to make a reservation at La Vista. There's a special menu for kids and some items can be made gluten-free as well. Dining at RiverWalk Resort has never been easier with La Vista and The Toast. If you're too tired after a big day, you can always order takeout and enjoy the delicious food from the comforts of your resort suite. Buon appetito!