Schools out and it's time to have some fun in the White Mountains! Here's the ultimate family summer bucket list for Lincoln, New Hampshire. There is no shortage of fun and active things to do in the mountains during the hot summer months. If you're looking for something fun on a hot day, head over to Whale's Tale Waterpark to cool off or take the Aerial Tramway to the 4,080-foot summit of Cannon Mountain. Start ticking off mountain peaks for the 4,000-footer club or fly high through the treetops on a zipline. Whatever you choose to do in the western White Mountains, it'll be a summer to remember! Make sure to add these summer bucket list ideas to your vacation must-do list.

Whale's Tale Waterpark
When the mercury creeps towards triple digits, it's tough to do much else other than play in the water. Thankfully you don't have to go far for a little splish splash fun for all ages in the White Mountains. Whale's Tale Waterpark is home to tons of water attractions like Akua Beach and Shipwreck Island. If you've ever dreamed of catching the big wave to hang 10 then head over to Akua Beach where you can surf or boogie board until your heart's content. Shipwreck Island is a state-of-the-art water complex with tons of water slides to keep you busy all day long. For an adrenaline rush, take the plunge on The Plunge slide where you can reach speeds of up to 40 miles per hour! For something a little more relaxing, enjoy the quiet float around Jonah's Escape. The littlest members of your family will have a blast at the kid-friendly Whale Harbor.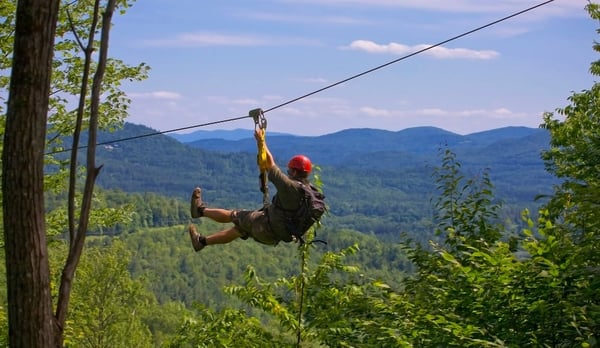 Ziplining
What better way to explore the White Mountains than by air! Lincoln is home to two awesome places to go ziplining – Loon Mountain Adventure Center and Alpine Adventures. At Loon Mountain, you can speed across the bubbling Pemigewasset River and back again for the 1500 feet of the ultimate thrill. Alpine Adventures is home to the first, longest, highest, and fastest zipline canopy tour in New England. With three different zipline courses located on their private 300-acre mountain in Woodstock, you'll have your choice of high flying fun. The Tree Top Canopy Tour is the original zipline tour with six ziplines ranging from 250 to 1,000 feet long. It's the perfect course for newbies and families with little kids.
If you're up for a bit more adventure, book a ride on the Skyrider Tour with five ziplines and five suspension bridges. You'll even have your chance to race your friends and family on the dual racing ziplines! Finish the tour off with the "White Knuckle Pine" where you can reach speeds of up to 50 mph. For the true thrill seeker, the Super Skyrider Tour will challenge your fear or lack of fear of heights! With eight ziplines and six suspension bridges hanging up to 250 feet above the forest floor, you'll be flying as high as the birds on this zipline course. Just like the Skyrider Tour, you'll finish the course with the "White Knuckle Pine."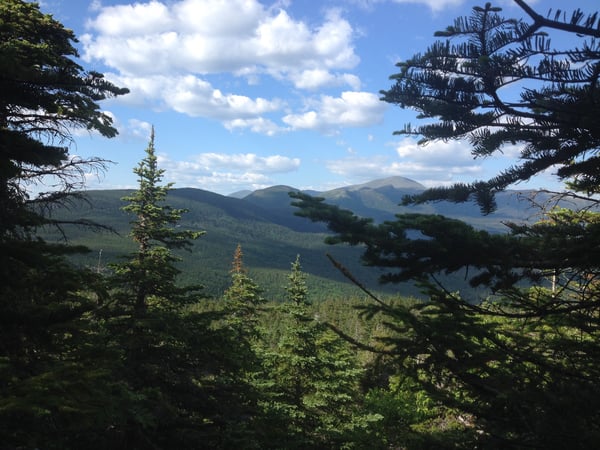 Join the 4000-Footer Club
The Appalachian Mountain Club (AMC) 4000-Footer Club is a badge of honor in the New England hiking world. First introduced by the AMC in 1957 to encourage more hikers to climb some of the White Mountains' lesser-known peaks. There are two different 4000-Footer Clubs you can choose from – the White Mountain Four Thousand Footers and the New England Four Thousand Footers. The White Mountain Four Thousand Footers Club contains 48 peaks in New Hampshire. The Franconia Range is the second highest range of peaks in the White Mountains and contains five 4000-footers to bag. Mount Flume, Lafayette, and Lincoln are all popular peaks to bag in the western White Mountains.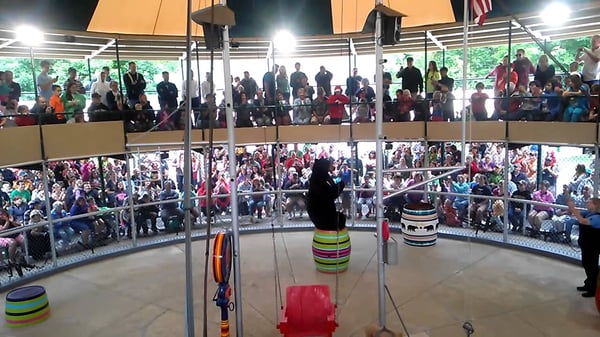 Clark's Trading Post
Celebrating over 90 years of history in the White Mountains, Clark's Trading Post is a mix of old time and modern fun for the whole family. Main Street is whole of incredible museums dedicated to various themes, like Americana, eccentric and unique antiques, and vintage cars and memorabilia. Take a 25-minute 2.5-mile train ride aboard the White Mountain Central Railroad through a 1904 covered bridge across the scenic Pemigewasset River. Keep your eyes peeled for the infamous Wolfman and his antics that will keep you laughing. On a hot day, take a refreshing splash on the 300-foot Anaconda Escape. Don't miss the iconic Bear Show where native black bears will perform impressive tricks for your delight. It's a fun outing for the whole family.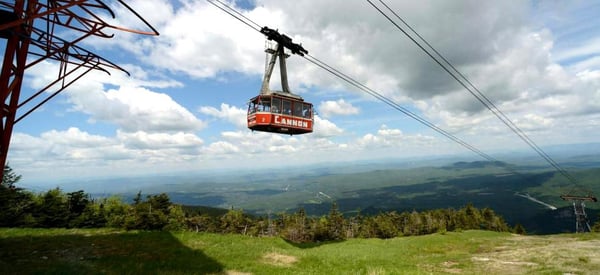 Cannon Mountain Aerial Tramway
Ride America's first aerial tramway to the summit of Cannon Mountain. The 80-passenger cable car carries visitors up to the 4,080-foot summit in under 10 minutes for incredible 360-degree panoramic views of New Hampshire, Vermont, Maine, New York, and Canada. The summit of Cannon Mountain is the highest lift-accessed point in New Hampshire and is home to scenic walking paths, a 360-degree observation deck, a café, and a bar. The Aerial Tramway is an exciting ride for all ages!
Café Lafayette Dinner Train
A trip on the Café Lafayette Dinner Train is a unique experience that you'll only be able to have in the western White Mountains. While tables are available to children six years old and older, the Café Lafayette Dinner Train is probably best reserved for a special occasion like an anniversary or engagement dinner. The scenic two-hour train ride aboard vintage 1950's rail cars includes a gourmet five-course dinner. The ever-changing menu is comprised of seasonally inspired dishes using many local ingredients that will definitely leave you full. Just make sure you leave room for dessert!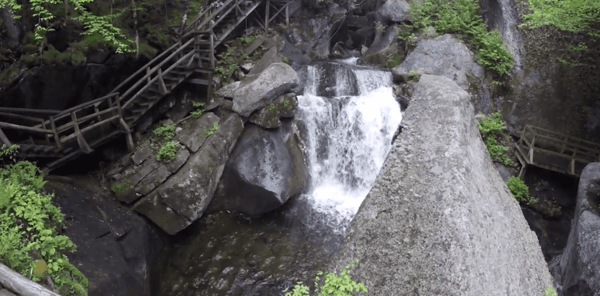 Lost River Gorge & Boulder Caves
Located in Kinsman Notch, the Lost River Gorge & Boulder Caves is a unique geological park with lots of fun activities for the kids to enjoy throughout the summer months. Formed over 300 million years old during an Ice Age, the Lost River Gorge got its names from a brook that disappears below the surface in a narrow, steep-walled glacial gorge in the southeast part of Kinsman Notch. Kids can pan for gemstones and fossils at the Lost Rover Mining Company by placing their bags of mining sluice in a screen-bottom tray and washing it with water. The Guided Lantern Tour is a unique way to experience the natural beauty of the Lost River Gorge. Lit by lanterns and headlamps, your guide will walk you through the boulders and caves finishing at a campfire with s'mores.
Wine Tasting at Seven Birches
You don't get many opportunities to go wine tasting in New Hampshire, so don't miss your chance at Seven Birches Winery. Located within the RiverWalk Resort, Seven Birches handcrafts classic European grape varietals with locally sourced fruits into award-winning wine. This spring, Seven Birches planted its first grape vines on the back lawn of the RiverWalk. Spend the afternoon on the outdoor patio at the Atrium Wine Bar tasting all your favorite wines from white to red. It's family friendly and they offer a variety of food to make your own patio picnic. If you're curious how they make the wine, sign up for a "Meet the Winemakers" Tour to learn how grapes turn into wine.
The Frost Place
Literary nerds unite! Visit the historic home that Robert Frost once lived in during the early 1900s in Franconia. The farmhouse, owned by the town of Franconia, is a museum open to the public. Take in the beautiful view from the wraparound porch that Frost used to write his poetry from or take a meander (on the path less traveled) through the garden and nature trails.
If you're considering a small day trip, considering making it a overnight or weekend getaway and make it a package with our Stay and Play packages to favorite attractions like Whale's Tale Waterpark, Alpine Adventures, Clark's Trading Post, Flume Gorge and Loon Mountain Adventure Center.