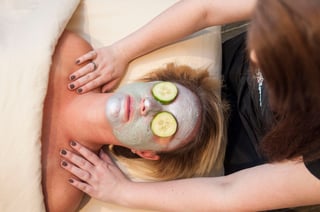 Self-care has never been more important than now. Just because you work from home and don't have to wear real pants doesn't mean you should neglect yourself. All those Zoom meetings may actually be causing your neck pain if you don't have a proper desk and chair at home. It's time for a little TLC and you deserve it after this year!
Maybe you just need a change of scenery from your current basement office or you want to enjoy the fresh powder at the ski resorts, book a weekend or a week away at the RiverWalk Resort. The RiverWalk Resort has been a hot spot for workcations this year or simple family or solo mountain getaways. Whatever your reason, make sure you book an appointment or two at Solstice North Day Spa located in the heart of the RiverWalk Resort lobby.
Open seven days a week during the winter season, Solstice North Day Spa is a full-service day spa offering a variety of services that will pamper you from head to toes. Book an appointment and let the professional massage therapists work out that kink in your neck.
Soothe Your Muscles with a Massage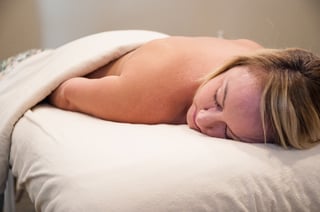 Known for their massages, Solstice North Day Spa has seven professionally trained and licensed massage therapists on staff to help you soothe your aching muscles after a long time of skiing. Choose from over seven different types of massages ranging from 30 minutes all the way up to 90 minutes of pure bliss. If you've never had the opportunity to experience a massage, start with the Signature Massage, which is customized to your unique needs and comfortable level. While it might be tempting to sign up for the 30 minute massage, start with at least 60 minutes as it gives your therapist more time to really get those knots in your back. If you're booking a baby moon this year, all therapists are trained in prenatal massage, too!
The newest massage option will sure leave you feeling ah-mazing. The Cannabliss Massage is a customized 60-minute or 90-minute massage that uses Susan's CBD massage lotion. The high potent lotion will help your muscles relax instantly. The best part is you get to keep the remaining bottle of lotion so you can continue the feeling back home. If you're at the RiverWalk Resort for a romantic getaway, you can still book a couples massage! The couples massage room is big enough to meet New Hampshire's regulations so you'll be safe and relaxed with your partner.
Pamper Your Skin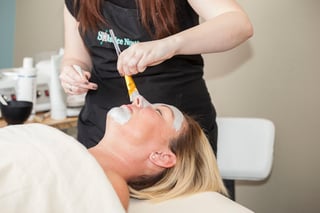 Tired of dry winter skin? Pamper your face and skin with an extensive menu of skincare options, including facials, dermaplane, and more. Choose from several facials based on your skin type and interested. The Solstice North Champagne Facial is designed to make you feel like a million bucks! Start with a lemongrass back scrub and back massage using a delicious smelling vanilla lotion followed by a facial with effervescent champagne bubbles from the spa's Oxygen Mask.
Of course, we've had to introduce a new word none of us would have expected this year – maskne. Thankfully, Solstice North Day Spa has created the perfect Maskne Relief Facial that is designed to help rid your face from breakouts due to mask wearing. If you can't decide between a massage and a facial – try both with the Take Two, a 50-minute body massage combined with a customized facial.
Do you want your face to look amazing on your Zoom meetings? Give dermaplaning a try! Dermaplane is an exfoliation with a specialized tool to remove dry and dull skin and peach fuzz. Your skin will look so good you won't even need to wear makeup. Dermaplaning can be combined with a relaxing facial. Just add some lash and brow tinting or lash lift for the perfect day at the spa.
Don't Forget Your Feet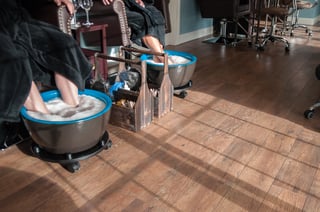 Your feet do a lot of work. They carry you around everywhere, so they certainly deserve a treat every once in a while. The Solstice North Day Spa foot soaks are very popular and the perfect way to let your feet relax after a long day on the hiking trails. Choose from a variety of foot soaks with unique aromatherapy blends and Epsom salt. Spend 30 minutes looking over the river at the mountains towering above you. During the summer months, you can enjoy a foot soak on the veranda in the fresh mountain air. Add in a 15 minute foot and leg massage or a pedicure for the ultimate foot treatment.
Ok, guys! Spas are not just for the ladies. Men need a little self-care love too. Maybe a facial isn't quite your thing (although, your skin will look radiant afterward!), but a foot soak with a sports pedicure is just what the doctor ordered. A sports pedicure is just a bluff with no polish! Unlike a nail salon, you're not on display, so even if you want a little polish, no one but the staff will know!
Wedding Parties and Special Events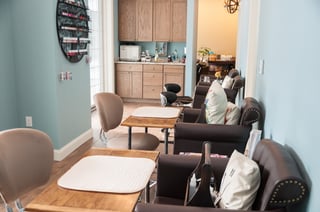 Wedding season will be upon us before you know it. Book a day at the spa before your big day with all your girlfriends. With an impressive veranda overlooking the Pemi and Loon Mountain, you can't beat the location. Bring your own refreshments while the staff pampers you from head to toe. Book early as you don't want to miss your opportunity to relax before all the fun begins.
Everyone Needs a Little TLC
The past year has been tough for many of us and we all need a little tender, loving, care. Solstice North Day Spa, located in the heart of the RiverWalk Resort, is an incredible place to relax and let your hair down for an hour or all day. The professional trained staff will help you relieve the knots in your back and soothe your winter skin, so you leave feeling like a million bucks! So "treat yo' self" and experience a little bit of extraordinary.