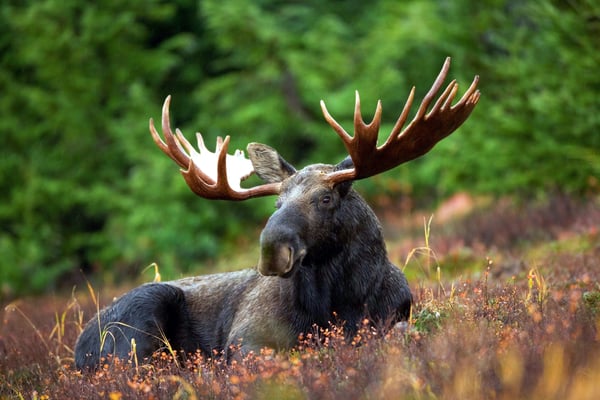 Moose, as funny as they may look, are one of the most majestic animals in North America. Commonly found in New England, Alaska, and Canada, moose are the largest species of the deer family with the average male weighing about 805 pounds. While you can find moose throughout all the New England states, northern New Hampshire is one of the best places to spot them in the wild.
This blog post is part of "The Guide to Spring Activities In The White Mountains" blog series.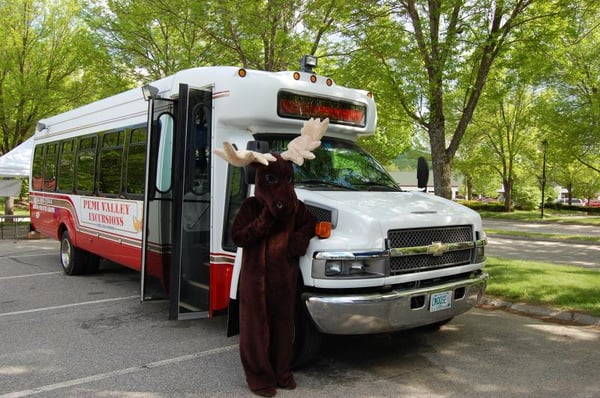 In the White Mountains, spring activities such as moose tours are a favorite for family attractions in New Hampshire. Pemi Valley Moose Tours, based in Lincoln, New Hampshire, offers scenic moose tours from May through Columbus Day. The only hunting you'll do is with your eyes and camera! These 3.5-hour bus tours will take you over 100 miles through the North Country in search of the elusive moose in the White Mountains.
Owner Larry Hartle says that spring is the best time of year to see moose. Apparently, moose love the taste of road salt and can be commonly seen along the roadside during May, June, and July munching on the salty vegetation.
Hartle says,"Your best chance of spotting a moose is around dusk. That's why our tours start at 7:30 pm."
Pemi Valley Moose Tours started 20 years ago and has since become one of the most popular family-friendly seasonal tours in the White Mountains and North Country. The 3.5-hour tour is enjoyed on an air-conditioned bus with a knowledgeable guide who can not only spot a moose from a mile away but provide you with lots of fun and interesting facts about the area!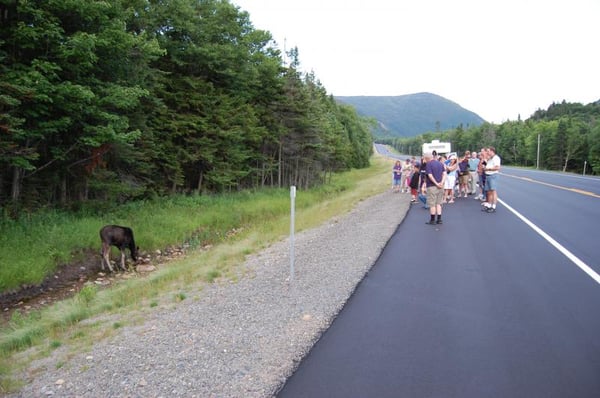 Outside of New England, Alaska, and Canada, moose are commonly found in the Rocky Mountains, Scandinavia, and Russia. Unfortunately, the moose population in North America has declined rapidly since the 1990s. Moose once roamed the length of the eastern seaboard but have been largely extinct for over 150 years due to colonial era hunting and habitat destruction.
Maine has the largest moose population in the continental United States with about 70,000 animals. New Hampshire is home to roughly 3,500 moose throughout the state with the highest populations in the northern part of the state.

Hartle says that male moose, called bulls, average about 1,000 pounds and stand six feet tall at the shoulder. Bulls have darker fur and grow antlers. Antlers begin growing in March and are completed by August when the velvet is shed. Starting in November, antlers will drop. Antlers can weigh up to 40-60 pounds and span several feet wide.
According to moose biologist, Lee Kantar of the Department of Inland Fisheries and Wildlife in Maine, moose shed their antlers to help them store more energy for the long winters. It takes a lot of energy to grow antlers as they can grow up to eight inches in nine days!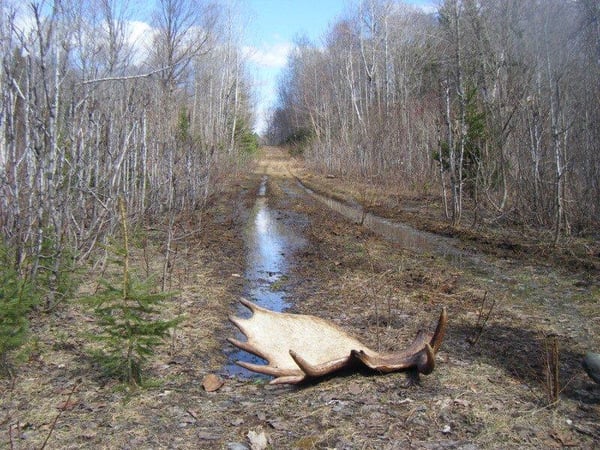 Moose are vegetarians and eat mainly leaves, twigs, and the flower buds of trees and shrubs. They can eat upwards of 40-60 pounds of food daily! According to Hartle, New Hampshire moose prefer living in swampy areas in the remote North Country. Ponds help them escape deer flies and other flying insects we all dislike.
Hartle can't guarantee that you'll see a moose on every tour as moose are not performers but a tour guide knows where to look, knows what to look for and has the lights to allow you to actually see the moose once they've found them. You're more likely to see them during the spring and early summer months versus the fall mating season months. Even if you don't see a moose, your guide can answer all your questions about moose and New Hampshire's North Country. Why do moose only come out in the evenings? How fast can moose run?
Moose tours run on Wednesdays and Saturdays until June 23, 2018, when Pemi Valley Moose Tours switch to their daily summer schedule through Labor Day weekend. Booking is easy online, and the tour is family-friendly, so bring the whole family!
This blog post is part of "The Guide to Spring Activities In The White Mountains" blog series.
And, in case you were wondering, moose can run up to 35 miles per hour!
Want to book your spring getaway in the White Mountains?