Self-care has become a mainstream term and for good reason. It's important to take care of yourself physically, mentally, and emotionally. The past 18 months have been tough for everyone and many of us are feeling burnt out and just over the pandemic. But the good news is that a little self-care can reset your mind and body for a new day. Head to RiverWalk Resort at Loon Mountain in Lincoln and indulge in our self-care bucket list.

Spa Day
Head to Solstice North Day Spa located in the heart of RiverWalk Resort for a relaxing day at the spa. With a full menu of treatment options pampering your whole body from head to toes, a spa day is just what the doctor called for to help you unwind after a long week. Massage therapy dates back to 3,000 BC in India where it is considered a sacred system of natural healing. Over the centuries, massage traveled to China and throughout Southeast Asia where it evolved. Massage therapy made its way to Egypt around 2,500 BC. The Egyptians are credited with developing reflexology, which is still used today.
Between 800 and 700 BC, the Greeks used massage to help prepare their bodies for competition and many doctors used a mix of herbs and oils with massage to treat medical conditions. Massage therapy declined in western cultures during the 17th century but became popular again in the early 1800s when Swedish doctor and gymnast, Per Henrik Ling, developed a method called Swedish Movement Cure to help relieve chronic pain in patients. Over the centuries, modern massage therapy continued to develop and is now a common practice for pain relief, body conditioning, and enjoyment.
Massage has many benefits including reducing stress, increasing relaxation, reducing muscle soreness, tension, and pain, and improving circulation among other benefits. Solstice North Day Spa offers an extensive massage menu. The Signature Massage is the most popular as it can be customized to your unique needs. For a truly unique experience that you won't find anywhere else in the White Mountains, book the Chakra Balancing Massage. The full-body massage uses essential oils to help align your seven chakras. The Himalayan Sea Salt Massage uses warm salt stones to apply pressure on your body using massage to realign your energy pathways and restore balance to the central nervous system. After a massage, don't forget to book a facial, nail care, and other services.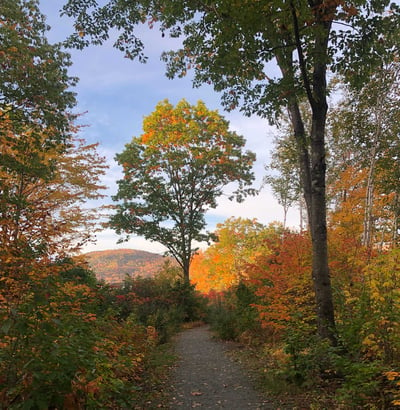 Forest Bathing
Shinrin-yoku, or forest bathing, was developed in the 1980s in Japan. It broadly means "taking in, in all of one's senses, the forest atmosphere." Forest bathing made the jump into North America about five years ago. The goal of forest bathing is to really slow down and become immersed in nature. Use all your senses to take in the smells, sights, textures, and even tastes of the woods.
Forest bathing has many health benefits. A 2011 study found that the physical activity levels of walking in the city and the forest are about the same, however, walking through the forest led to a more significant reduction in blood pressure and stress hormones.
RiverWalk Resort is surrounded by the White Mountain National Forest and the White Mountains. There are plenty of forests to experience the enjoyment and health benefits of forest bathing. The J.E. Henry Trail along the Pemigewasset River is just steps outside of the RiverWalk.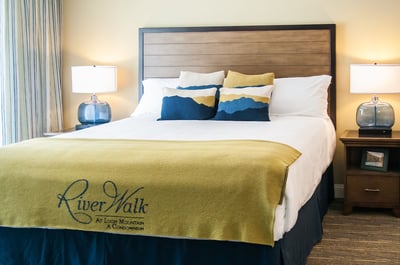 Sleep
Sleep is as critical to the human body as oxygen, water, and food. In the modern world with the daily stress of work, family life, and now a global pandemic, it's important to try to get your eight hours of recommended sleep. During the night while you're sleeping, your body is working hard to restore itself for the next day. Sleep helps you think clearer with quicker reflexes and better focus. Sleep also impacts your mood. How many times have you been cranky after a bad night of sleep? Researchers consider a good night's sleep to be four to five sleep cycles. Each sleep cycle consists of periods of deep sleep and rapid eye movement (REM) sleep, which is when we dream. You'll sleep well at RiverWalk Resort where each suite is outfitted with king-sized pillow-top beds and luxury bedding. Don't set an alarm and enjoy waking up when your body tells you it's ready for the day!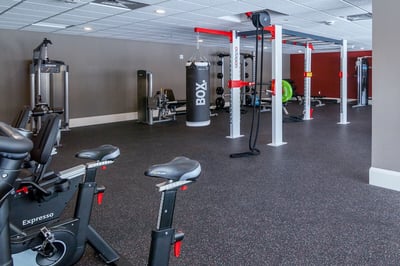 Workout
Not everyone considered exercise a vacation activity. But a good workout, even a short one, can boost your mood all day. Exercise has many health benefits, including the obvious like weight control and reduce chronic diseases. Exercise also promotes better sleep and can be fun!
RiverWalk Resort is home to the state-of-the-art RiverWalk Health Club. The Health Club is not your normal hotel gym. As soon as you step through the door, you'll think you've walked into a fancy boutique gym in New York City. With kettlebells, battle ropes, monkey bars, and more, you can easily get a full-body workout in. Alternatively, you'll find yoga, barre, and other fitness classes down the step from RiverWalk Resort at Live a Little Fitness. Namaste!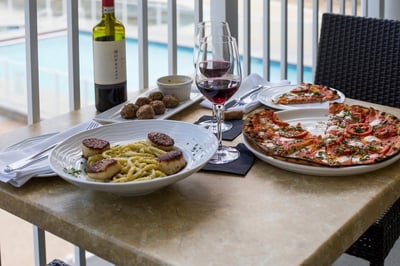 Eat Well
Nourish your body with delicious food and wine. Yes, we said wine! Research has shown that drinking red wine in moderation may help prevent coronary artery disease and increase good cholesterol. Resveratrol, which comes from the skin of grapes used in red wine, may also help prevent damage to blood vessels. You don't need to go far from RiverWalk Resort to find a heart-healthy glass of red wine. Just head downstairs to Seven Birches Winery!
The White Mountain region is home to tons of restaurants serving delicious meals made from fresh and locally sourced ingredients. For hearty Italian food, try La Vista in RiverWalk Resort. For an eccentric world cuisine, head to the Gypsy Café. The Purple Tomato carries organic and locally sourced meats, cheeses, and produce, along with sandwiches and more. You wont have to go far to find good food that will make you say "yum!"

Self-Care is the Best Care
Self-care is important, especially over the past 18 months when the world was turned upside down. RiverWalk Resort at Loon Mountain is the perfect self-care destination as you can take care of yourself from head to toes.