Sometimes you just want to stay in one place on your summer vacation. The weather is too nice to spend hours in the car driving to and from all the things you want to do. Just park your car at the RiverWalk Resort and enjoy all the incredible things you can do at both the resort and nearby in town. From delicious food and drinks to walking along the Pemi to mountain biking at Loon Mountain, here are a few of the best things to do without your car. Just park it and play all vacation long!
Swimming
On a hot and humid summer day, there's nothing better than jumping into a pool to cool off and wash the summer heat away. The RiverWalk Resort is home to two different swimming pools and two hot tubs, so there's lots of water to play in and enjoy.
The lagoon swimming pool is heated and has a gentle slope from the far end in toward the center where it reaches a depth of five feet deep making it the perfect pool for the little ones to splash around. The upper deck pool starts inside of the resort and extends outside. When the sun goes down and the stars come out, the upper pool and hot tub are a great place to relax. Alternatively, walk or bike the short distance to North Woodstock and enjoy the cool rapids of Cascade Park.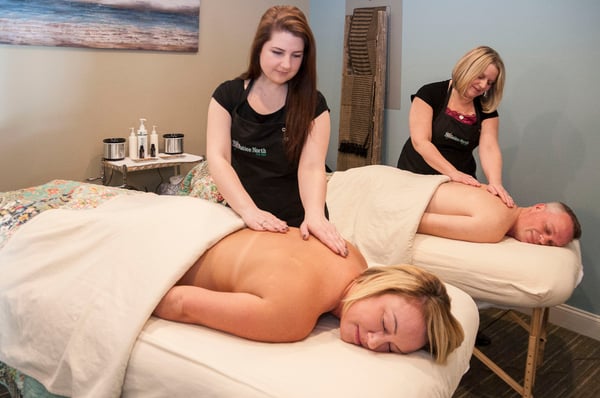 Spa Day
Need a massage after conquering your last 4,000-footer? Head right to Solstice North Day Spa in the lobby of the RiverWalk. The full-service spa will pamper you from head to toe. Choose from a menu of massage options from the Signature Massage to the new Chakra Balancing Massage. Take care of the largest organ in your body with a facial. It's a great way to refresh your skin for summer. If your toes are looking a little weary in your flip-flops, don't forget to get a pedicure!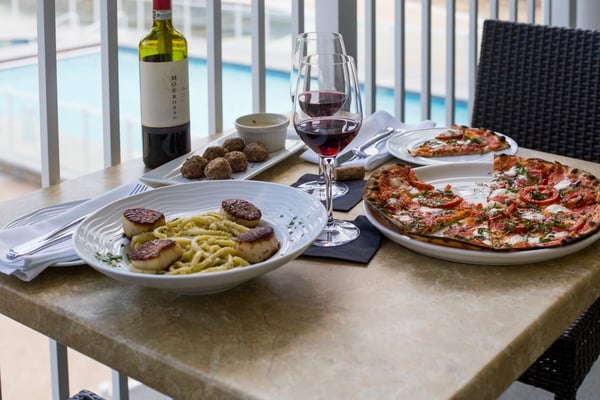 La Vista Italian Cuisine
You don't need to travel to Italy for delicious Italian cuisine. Located in the heart of the RiverWalk, La Vista serves dinner nightly and breakfast Friday through Wednesday. With tons of restaurant seating and an 18-seat main bar, there's plenty of room for the whole family. Just like Italy, you can get wood-fired pizza like the La Vista White and Pear & Goat Cheese. If you're not in the mood for pizza, there's salad, pasta dishes, fish, and more. And don't forget to top your dinner off with a delicious slice of homemade Tiramisu.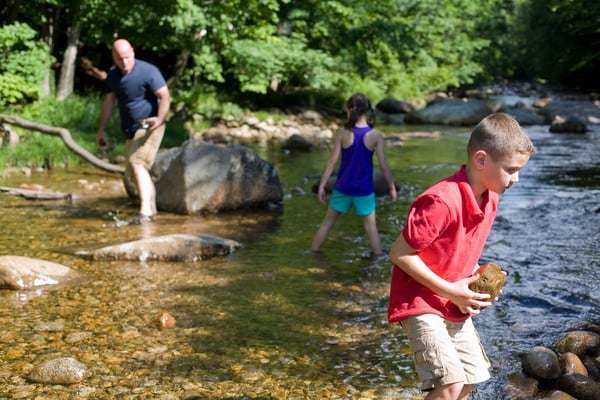 Walks by the River
The RiverWalk Resort overlooks the bubbling east branch of the Pemigewasset River that runs through Lincoln. If you're looking to stretch your legs, walk over the Loon Brook Road bridge to the J.E. Henry Trail. Running along the south bank of the Pemigewasset River, the J.E. Henry Trail is a wide, dirt trail that is great for walking and mountain biking. The trail connects to the Riverfront Park Trail and the South Peak Resort Trail System. All trails are dog-friendly if you keep them on a leash.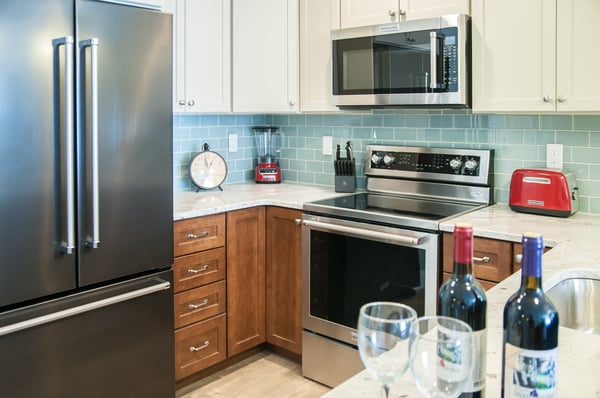 Grocery Shopping
Each suite in the RiverWalk Resort has a full kitchen with granite counter tops and stainless-steel KitchenAid appliances plus all the pots and pans you need to cook up a feast. If you didn't bring food with you, then shop locally. There are two grocery stores within walking distance from the resort. The Price Chopper is just across the parking lot from the RiverWalk and is open 24 hours a day. For organic and locally sourced ingredients, head to the Purple Tomato on Main Street. Not only can you pick up all the ingredients you need for dinner, but you can also grab sandwiches for lunch.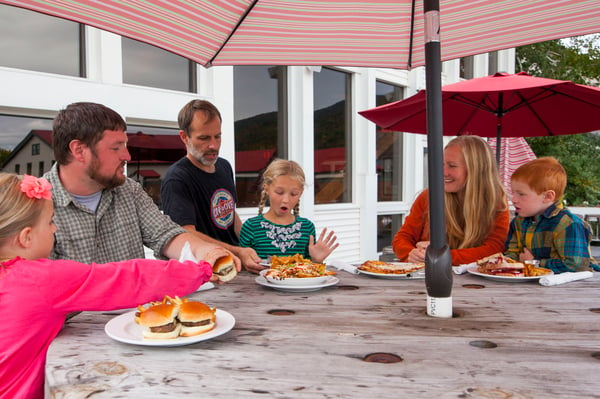 One Love Brewery
Located in the historic Henry Paper Mill across the parking lot from the RiverWalk Resort, One Love Brewery is quickly becoming one of the most popular craft breweries in the North Country. With a focus on German-style beers, you'll find lagers, porters, and pilsners on tap. Pair a tasty pint with something on the extensive pub menu. You can't go wrong with anything on the menu, but the pretzels and the Brewery Burger are not to be missed. Now that the summer sun is out, the dog-friendly patio is now open!
Seven Birches Winery
How many resorts can claim they have a winery inside? Seven Birches Winery is an award-winning winery that pairs European grape varietals with locally sourced fruits. From reds and whites and everything in between, you can taste all or a few of your favorite wines in the tasting room. If you've ever been curious about how they make wine, join the "Meet the Winemaker Tour." Make sure you pick up a bottle or two and take them back to your suite for dinner or while you relax in your soaker tub. Make sure you check out the patio at the Atrium Wine Bar. It's the perfect place to spend an afternoon in the sun or shade!
Gypsy Café
Owned by award-winning chef Dan Duris, the Gypsy Café is a fun, casual restaurant on Main Street in Lincoln. As soon as you walk through the door, you'll see the quirky personality of the Gypsy Café with its eccentric art and wall décor. Inspired by travel, the menu is full of flavorful dishes from around the world, like Malaysian stir fry, enchiladas rojas, and cranberry mac and cheese. You can taste the world without needing your passport at the Gypsy Café.
El Charro
Who doesn't like tacos? Authentic Mexican food can be difficult to find on the East coast let alone a small mountain town in New Hampshire. But you'd be surprised what you find in Lincoln! Own by the Lira family who immigrated to New Hampshire, El Charro serves up authentic Mexican food that will delight your taste buds. You'll find all your favorites from a variety of tacos to tostadas to chimichangas and more.
Go to the Movies
Unfortunately, Mother Nature doesn't always give us beautiful sunny summer days. For those days that may be a little gray or rainy, head across the parking lot to nearby BarnZ's Cinema where tinsel town meets our hometown! With four theaters, you can see all the latest Hollywood blockbusters from kid-friendly Disney movies to rated R.

Catch a Play
Just a short walk down the road, you'll find Jean's Playhouse. For over four decades, Jean's Playhouse has been home to several professional companies, including Papermill Theatre Company, Playhouse Players, and more. The Summer Season is packed with awesome plays and musicals, like The Hound of Baskervilles, Titanic the Musical, and Cinderella. If you have little ones in tow, check out the IMPACT Children's Theatre for a daytime performance of many children's classics.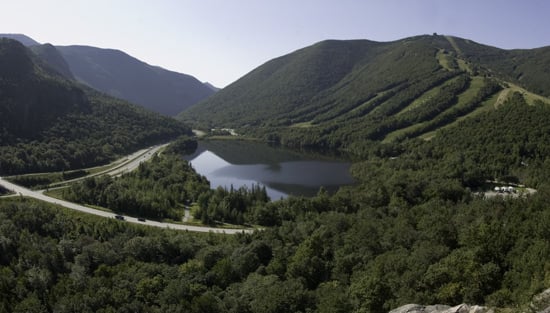 Biking
Whether you're a road cyclist or a mountain biker, the western White Mountains is home to some incredible roads and biking trails. Park your bike in the RiverWalk Resort's bike racks overnight and hop on your bike in the morning for a ride around town or the trails. Loon Mountain is home to a network of cross-country mountain bike trails starting from their Adventure Center that runs along the Pemigewasset River and Black Mountain. Experience the adrenaline rush of a lifetime with Loon Mountain's new downhill mountain biking park with lift access. Rental bikes available!
For road cyclists, riding the Kancamagus Highway all the way to Conway will earn you serious bragging rights with your cycling club. Alternatively, for an easier spin, the paved 8.7-mile Franconia Notch Bike Path is a nice spin passing glacial lakes and waterfalls.
Ice Cream
Top off your summer vacation with a little ice cream! After a delicious dinner at La Vista or any of the other incredible nearby restaurants, take a walk down Main Street and grab an ice cream sundae at Udderly Delicious Ice Cream Shop. With over 24 flavors of soft serve ice cream and tons more for hard ice cream, you'll find something udderly delicious!
There's a ton to do in and around the RiverWalk Resort this summer. Just park your car and bike or walk to wherever you want to go!