This blog post is part of "The Guide to Winter Activities in The White Mountains" blog series.
While the western White Mountains are a major ski destination during the winter months, it's also a great place to strap on a pair of snowshoes or crampons and hit the hiking trails. The trails are way less crowded this time of year!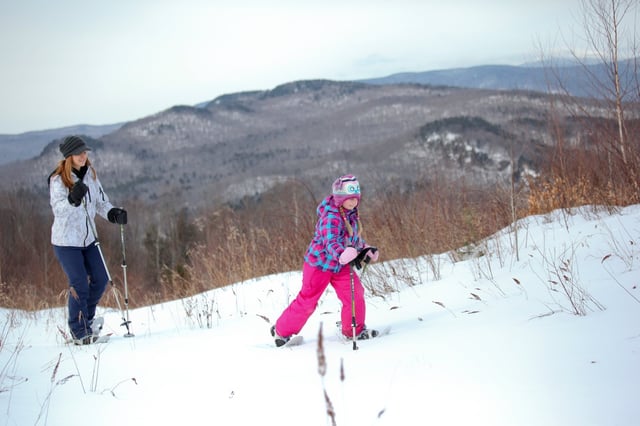 If you're new to snowshoeing, then you can give it a try at the Loon Mountain Adventure Center or Alpine Adventures who both run guided snowshoe tours for beginners and more advanced snowshoers. You can also rent snowshoes at Loon Mountain.
Lincoln and the nearby White Mountain National Forest has tons of great snowshoe trails for all abilities. Just like the three bears, some trails are better than others based on your snowshoe abilities and desired length of trail.
Short and Sweet
These trails are perfect for beginners and small children. With each trail under 2.5 miles roundtrip, you'll be able to hike these in under two hours.
Georgiana and Harvard Falls Trail
Georgiana and Harvard Falls Trail is a 2.4-mile out-and-back trail that features a beautiful waterfall. Unfortunately, that lovely waterfall is frozen in the winter, but it sure does make a beautiful backdrop for photos. Most of the trail is a leisurely stroll, but the trail does get a bit harder towards the end. You'll definitely start to break a sweat!
If you have young kids in tow, just visit Georgiana Falls, which is a 1.6-mile roundtrip snowshoe hike. The trailhead is located on Georgiana Falls Road in Lincoln. Of course, you should definitely come back in the summer and see the roaring water of the waterfall! It's certainly a lovely sight on a hot summer day.
Artists Bluff
Up the street from Lincoln, you'll find Cannon Mountain. While most people will ski the mountain, others will choose to go hiking or snowshoeing on one of the nearby hiking trails. Artists Bluff is a short year-round hike that offers excellent views of Cannon Mountain and Franconia Notch. The 1.5-mile trail starts at the parking area across from the Peabody Base Area on Route 18. After a short and steep climb, you'll reach the open summit of Bald Mountain. From the summit of Bald Mountain, you'll follow the worn trail up to Artists Bluff.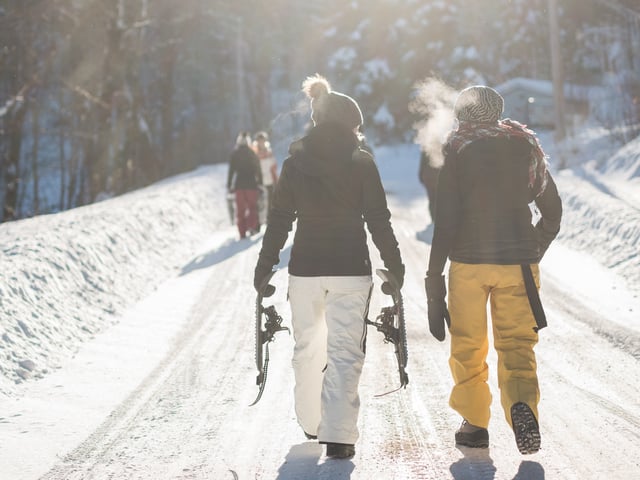 Just Right
You know that feeling when you find a pillow that's just right, these next few trails are those hikes. Between three and four miles in distance, these trails are moderate yet enjoyable for all snowshoers.
Lincoln Woods Trail
If you're looking for a scenic and convenient short hiking trail near the center of town, Lincoln Woods Trails is one of the most popular hiking trails year-round. Even with three feet of snow, the trail is packed down by other snowshoers and hikers. Lincoln Woods Trail runs along the east branch of the Pemigewasset River for 2.6 miles.
Located just inside the White Mountain National Forest, the trail is a former logging railway that runs along the riverbed. Lincoln Woods Trail is perfect for beginner snowshoers as it is wide and gently inclined. If you're looking for a long day hike, you can easily pair the Lincoln Woods Trail with one of its offshoots like Franconia Falls and Black Pond. Both side trails are about a mile in length and offer great views.
The trailhead is conveniently located on SR 112 (Kancamagus Highway) just inside of the National Forest. Look for signs pointing to the parking area for the trail, and there's even a visitor center there as well.
Mount Pemigewasset Trail
Lincoln has a river named Pemigewasset, so it only makes sense to have a mountain named Pemigewasset, too. Also known as Indian Head by some, the Mount Pemigewasset Trail is a 3.3-mile out-and-back trail that is perfect for snowshoeing. There isn't many flats so be prepared to hike up. While the summit of Mount Pemigewasset is not as high (2,557 feet) as some of its neighbors, it has great views of Mount Flume and Liberty.
To get to the trailhead, park in the Flume Visitor Center parking area and look for signs for the bike path. You'll have to walk up the hill a minute and then you'll find the marked trailhead.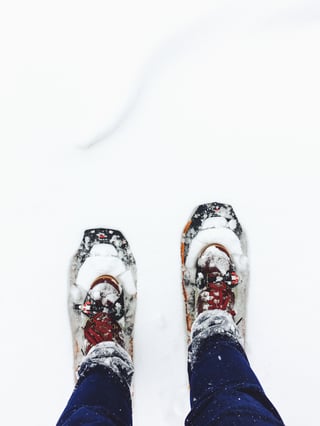 From Dusk to Dawn
Are you ready for a challenge? Perhaps you're training for Mount Everest? These snowshoe hikes are for you.
Lonesome Lake Trail to Kinsman Ridge Trail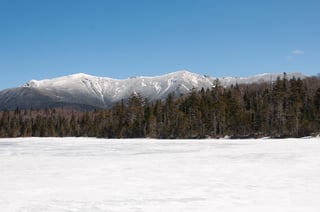 If you're an experienced winter hiker, then you don't want to miss the awesome panoramic views from the top of Cannon Mountain. Plus, you can check Cannon off your list of 4,000-footers! Lonesome Lake Trail is a popular 3.1-mile loop trail that is accessible year-round. The Appalachian Mountain Club has a hut open during the winter months by the shores of the alpine lake. The trail is moderate and a great warm-up for what's to come next.
From Lonesome Lake Trail, you'll connect to the Kinsman Ridge Trail and Hi-Cannon Trails and follow the steep uphill climb to the observation tower at the summit of Cannon Mountain. Roundtrip, you'll cover about 6.2 miles over the course of the day. Bring warm clothes as it gets cold at the top of Cannon!
Mount Lafayette and Franconia Ridge Trail Loop
The 8.5-mile Mount Lafayette and Franconia Ridge Trail Loop is not for the faint of heart. Experienced snowshoers and hikers will enjoy the challenge and scenic views from this hike. On a clear day, you can see for miles across the White Mountains as Mount Lafayette is the highest peak at 5,260 feet outside of the Presidential Range. Due to its elevation, you need to be prepared to handle this tough winter hike. That means having the right cold weather gear.
Of course, you can always strap on a pair of snowshoes and head out the door at the RiverWalk Resort. With lots of fresh snow, you might not see it, but there is a lovely walking trail along the banks of the Pemigewasset River just out the back door.
If the weather isn't quite right, don't hesitate to turn around. You can always spend the day soaking in the hotel pool or hot tub, maybe twirling around on the one of a kind skating rink or staying warm inside. No matter where the trail takes you, Lincoln has something for everyone.
This blog post is part of "The Guide to Winter Activities in The White Mountains" blog series.