This blog post is part of "The Guide to Winter Activities in The White Mountains" blog series.
Every morning we get out of bed and look out our windows and feel blessed to live in this beautiful area of the world. Lincoln and the White Mountains of New Hampshire are indeed Mother Nature's year-round playground. We love the warm summer days that just don't seem to end, but we cannot wait until the snow starts the fall.
RiverWalk Resort is the perfect spot to call home while you explore the beauty and fun of winter in the White Mountains. Whether you're here to ski the slopes of Loon, take a spin on our ice skating rink, or celebrate the New Year in style, there are tons of things to do in Lincoln for the whole family to enjoy.
Snowshoe in the White Mountain National Forest
Winter in the White Mountains is a magical time of year. Why not experience the quiet solitude of the nearby White Mountains National Forest strapped to a pair of snowshoes? While the sport of snowshoeing is rather young, the tradition dates back over 4,000 years. Native Americans and early European settlers used wooden snowshoes as a way to explore new territories and survive in harsh climates.
Using lightweight, modern snowshoes, your whole family can discover the alpine beauty of the mountains. The Lincoln Woods Trail is a 2.9-mile trail that runs along the eastern branch of the Pemigewasset River. Once an old railroad logging operation, the trail is wide and gently sloping making it the perfect trail for first-time snowshoers or young children. For a more challenging and scenic route, try the 3.1-mile Lonesome Lake Trail. The trail is steep in parts but offers terrific views of Franconia Ridge near the summit pond. Warm yourself up by the fire in the AMC's Lonesome Lake Hut, which is open year-round.
Cross-Country Ski at Loon Mountain
The Loon Mountain Adventure Center is the perfect destination for all your family winter activities, including cross-country skiing. Loon Mountain has a variety of cross-country ski trails that will get your heart pumping in no time. The Adventure Center offers equipment rentals, instruction, and guided tours. The East Ridge Trail System has over 20 km of groomed trails for beginners, intermediates, and advanced skiers.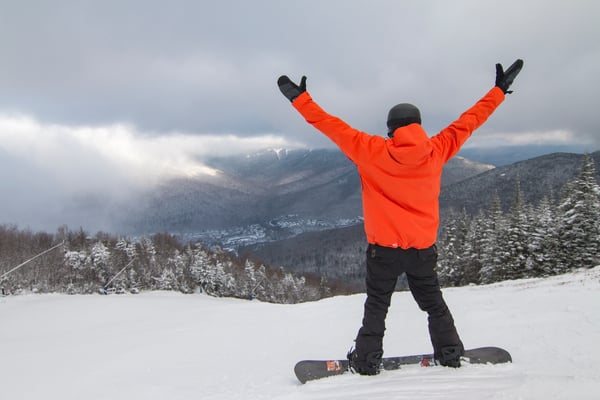 Downhill Ski and Snowboard at Loon and Cannon
The White Mountains offer some of the best snow in New Hampshire for skiing and snowboarding. Located at the base of Loon Mountain and just a few miles from Cannon Mountain, we're in one of the best locations for your family ski vacation. We even offer special ski and stay packages!
Loon Mountain has 61 trails and 11 lifts covering 370 acres and 2,100 vertical feet. With the summit topping out at 3,050 feet, the mountain has incredible views of the White Mountains. Loon Mountain is well known for being an excellent family destination with 80% of the terrain dedicated to beginners and intermediates. The mountain has tons of fun winter activities on and off the hill for the whole family.
Cannon Mountain is New Hampshire's highest ski area with the longest vertical drop at 2,180 feet. Between Cannon Mountain and Mittersill Area, Cannon Mountain offers 285 skiable acres with 97 trails and glades and 11 lifts, including the 70-passenger Aerial Tramway. Cannon is a bit of an old-school, no-frills ski mountain that locals just love. The almost 10-year-old Mittersill Area offers advanced skiers challenging technical glade skiing.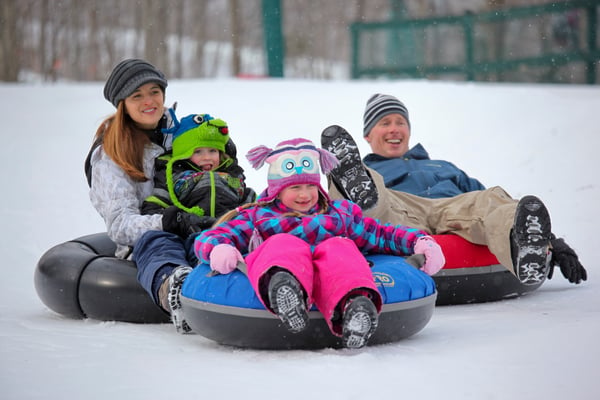 Test Your Speed at Loon on Your Snow Tube
Known for some of the best skiing in the East, Loon Mountain is more than just some ski trails. With its Winter Adventure Center, Loon Mountain offers tons of fun for non-skiers and skiers looking to take a break. Snow tubing is the perfect family winter activity for children and adults of all ages. You'll find the specially-designed tubing hill under the Little Sister chairlift near the Octagon Lodge. Tubing sessions are sold in one-hour slots, and you'll have plenty of opportunities to race down the hill as you get to take the lift to the top!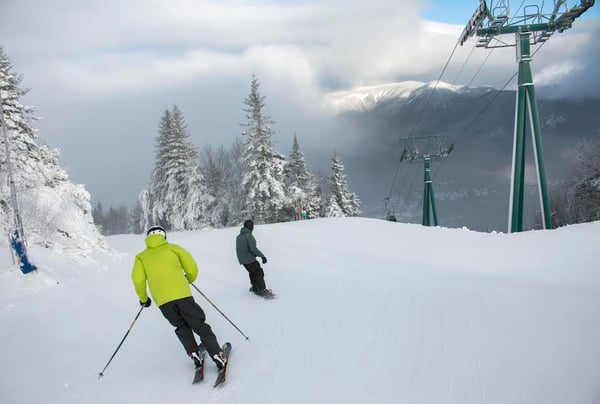 Get a Birdseye View with Loon's Gondola or Cannon's Aerial Tram
Sometimes the best views come from above. Get a birdseye view of the White Mountains from Loon Mountain's Gondola or Cannon Mountain's Aerial Tram. During the summer and fall months, you can purchase a ticket to ride either the gondola or tram. But during the winter months, you can take either option to the top of the mountain and ski down! Each mountain offers easier trail options for young skiers so the kids can enjoy the view, too.
The Loon Mountain Gondola is New Hampshire's longest scenic gondola skyride whisking you up the 2,733-foot summit of Loon Peak. Cannon Mountain's Aerial Tramway is New Hampshire's only tramway. The 70-person car takes visitors up to the 4,080-foot summit of Cannon Mountain in under 10 minutes. The car has 360-degrees of windows offering panoramic views of New Hampshire, Maine, Vermont, New York, and even Canada.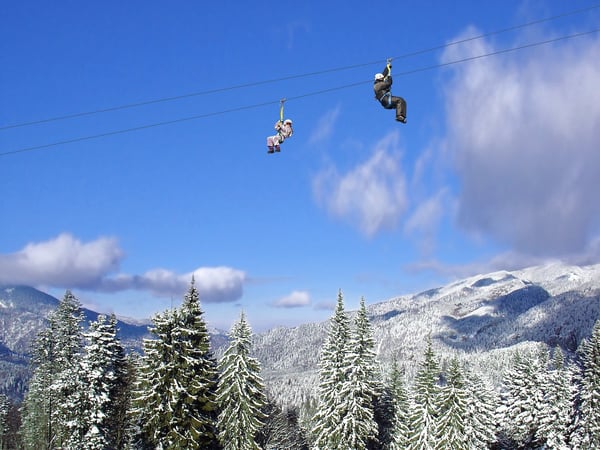 Soar Above the Trees on A Winter Zipline
Did you know that Loon's zipline is open year-round? Bundle up in your warmest clothes and fly through the sky on this ultimate winter adventure in Lincoln. You'll soar over 700 feet across the Pemigewasset River and back again. Take in the epic views of New Hampshire's White Mountains blanketed in Mother Nature's most exquisite gift. Nearby Alpine Adventures is the first zipline company in New England to offer a true "treetop" canopy tour. With six ziplines up to 80 feet above the ground, you can reach speeds of up to 45 mph! If you're seeking the optimum thrill, book the Super SkyRider Tour and ride the "Super White Knuckle" zipline. Are you ready to soar?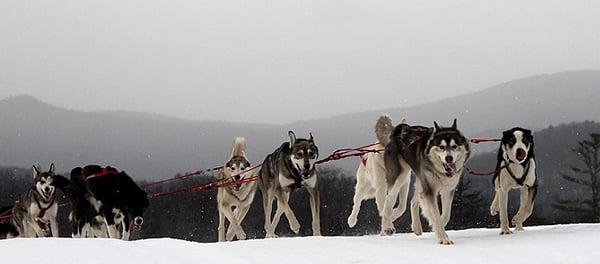 Run with the Dogs
Alaska might be the birthplace of dog sledding, but you don't have to travel over 3,000 miles to give it a go. Valley Snow Dogz is a local company with over 20 years of racing and touring experience in the White Mountains of New Hampshire. Their team of experienced mushers offers tours at Benton's Sugar Shack in Thornton and Waterville Valley. A dog sled tour through the wooded trails of the White Mountains is a unique experience that you'll remember for a lifetime. Of course, a little cuddle with the dogs at the end is just icing on the cake.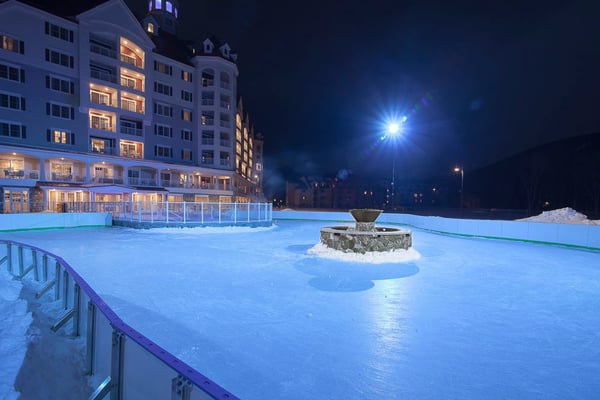 Lace Up Your Skates and Twirl on Our Ice Skating Rink
During the winter months, our outdoor 167,000 galloon lagoon pool converts to an ice skating rink. Our unique ice skating rink is the first of its kind in the country. Under the surface of the perfectly manicured ice is a complex system of pipes that carry super-cooled glycol that ensures the high-quality ice that you skate upon.
All our guests have access to our ice skating rink during their stay. You can bring your own skates or rent them on site. Our rink has a large fire cauldron in the middle to help you stay warm. Throughout the winter season, we host a number of shows on the ice. Whether you're a child or young-at-heart, you'll love swirling and twirling until you see stars.
Check out our special events page to see upcoming events, like National Skating Month Celebration and Adult Skating Camp. You can even skate with Olympic Silver Medalist, Peter Carruthers.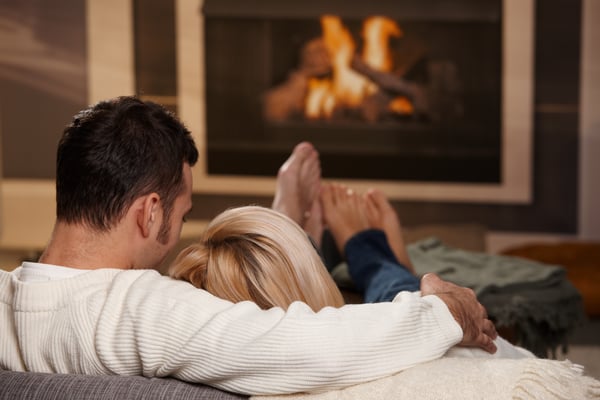 Warm Up by The Fire and Roast Some S'mores
After an hour of ice skating, you might get a wee bit chilly. Plus, you've probably worked up a bit of an appetite. Warm up in your room with the fireplace or satisfy your sweet tooth by one of our many campfires. Grab a marshmallow and roast it to the perfect lightly toasted hue and slap it between a chocolate bar and two graham crackers. S'mores aren't just for summer!

Relax in Our Heated Swimming Pool or Hot Tubs
During the winter months, we turn our lagoon pool into an ice skating rink, but our upper deck remains a heated swimming pool. Since we know it gets very cold outside in the winter, we designed the pool so you can just walk down the steps into the pool from inside the resort and swim outside through our faux wall. Under the starry night sky, you can relax in the warmth of the water and watch our ice skaters twirl in delight. If you're looking to take it up a notch, our two hot tubs will warm and soothe your muscles after a long day of skiing.
Nestled at the base of Loon Mountain and just minutes away from Cannon Mountain, RiverWalk Resort is the perfect base for your winter adventures. Since we know so many of you come here to ski, we offer special Ski and Stay packages during ski season. Give us a call, and we'll help you book your next ski vacation at RiverWalk Resort at Loon.
This blog post is part of "The Guide to Winter Activities in The White Mountains" blog series.