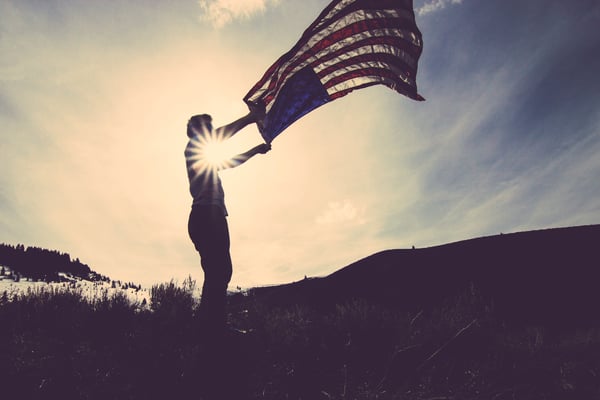 This blog post is part of "The Guide to Summer Activities In The White Mountains" blog series.
Four score and seven years ago…
Well, these days, it would be more accurate to say two centuries, two score and one year ago, our Founding Fathers signed a Declaration of Independence from colonial rule and effectively established a new nation: our home, the United States of America.
The 4th of July is an important holiday to celebrate the birth of our country, with its amber waves of grain, and- our favorite- purple mountain majesties. And as a national holiday that falls right at the beginning of summer, the 4th of July has a grand tradition of neighborhood picnics and family barbeques, swimming in nearby lakes and rivers, and laying out on a blanket in the grass to wait for dusk to fall so the local fireworks display can begin.
Lincoln, New Hampshire has all these opportunities for your 4th of July long weekend and more! A multitude of hiking trails with beautiful mountain views and swimming holes in streams and rivers await you during the day. And at night, you can relax, enjoy a refreshing beverage and have dinner while surrounded by the natural beauty of the White Mountains.
We've put together another itinerary of fun things to do on 4th of July weekend. These are just ideas to get you started… there are plenty more natural wonders and family-friendly things to do in the White Mountains than those listed below! Take a gander at our list and think about jumping in the car to take part in some of the many things to do in New Hampshire for the holiday. True enjoyment of our country's natural wonders- the mountains, the rivers, the lakes, streams, and lush green countryside- with friends and family is very patriotic, after all!
---
Monday
Take a Morning Walk
Not all hikes have to be up a mountain or deep in the woods. In fact, one of the most comfortable scenic walks is right in downtown Lincoln. The J.E. Henry trail starts from a dirt parking area right across the South Mountain bridge. (Take a right out of the RiverWalk Resort parking lot and follow the road past Rivergreen Resort and across the bridge.) This mostly flat walking path follows the East Branch of the Pemigewasset River for a little over three miles to Loon Mountain.
The J.E. Henry trail is great for all ages and abilities- and if it's hot, walkers can dip their toes in the river to cool off. Dogs and cyclists tend to use this path as well.
Have Lunch Atop a Mountain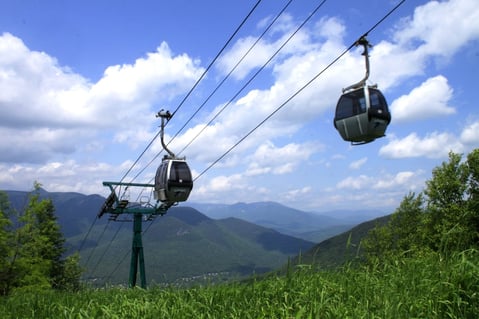 The Loon Mountain gondola is open for trips to the summit every day from 10 am to 6 pm. Purchase a Gondola Skyride & Lunch package for $27 (or $22 for kids). There is a nature walk and an observation tower at the summit to explore and enjoy the awesome views of the Pemigewasset Valley and the White Mountains. There are also glacial caves to crawl through, weather permitting. Lunch can be ordered from the Summit Café, which has a Caribbean-inspired menu as well as more traditional fare.
After the excitement of the morning and afternoon, you can choose to walk the JE Henry trail back to your car or arrange ahead of time with the RiverWalk concierge for a shuttle!
Swimming and Kayaking at Echo Lake Beach
Echo Lake Beach is located off Exit 34C from I-93, right at the base of Cannon Mountain in Franconia Notch. Echo Lake is a small-but-beautiful mountain lake with views of the notch where the Franconia Ridge and the Kinsman Ridge of the White Mountains meet. There is a Day Use fee of $4 per adult and $2 per child. Canoes, kayaks and paddleboats can be rented for $20 per hour. Boat rentals are available until 5 pm, and while the beach is open to the public until dusk, a lifeguard is on duty daily from 9 am to 6 pm. There is also a General Store on site if you forget your sunscreen or bug spray!
Tuesday
Local Parade on Main Street
Celebrate Independence Day with the locals and plan to watch the annual town parade at 2:00 pm through the Main Streets of North Woodstock and Lincoln! This year's theme is "There's No Place Like Home." Hundreds of local residents and businesses go ALL OUT in competition for awards such as…
Best Use of Theme
Most Humorous
Most Patriotic
The annual Lincoln-Woodstock 4th of July Parade starts at Alpine Village in North Woodstock and travels to the Lincoln Town Hall.
Wine & Food Tasting Event at RiverWalk Resort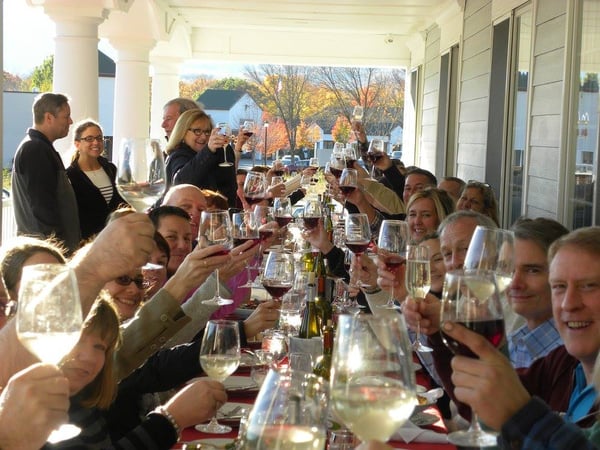 Extend your grown-up festivities in celebration of the 4th with La Vista Italian Restaurant and Seven Birches Winery at a special tasting event on the veranda at RiverWalk Resort. The cost is $20 per adult (no children, please).
Seven Birches Winery will be offering a sampling of five wines while La Vista Italian Restaurant will provide light appetizers and hors d'oeuvres from 6 to 8 pm. The cash bar will remain open all evening so you can stay out on the deck with your friends and family in celebration!
Enjoy the Fireworks on the veranda
The annual fireworks display starts at dusk – usually around 9 pm. Guests of the wine and food tasting event are invited to stay on the veranda to enjoy the display among the backdrop of the Pemigewasset River and South Peak of Loon Mountain.
Wednesday
Entertain the kids with morning Children's Theatre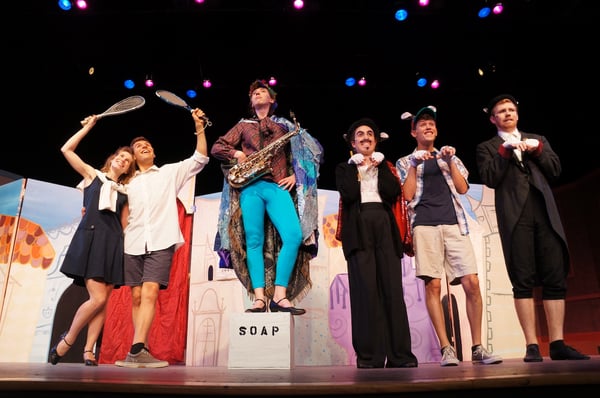 Jean's Playhouse produces IMPACT Children's Theatre every Wednesday and Saturday mornings at 10:00 am throughout the summer. These 45-minute musicals are based on beloved folk and fairy tales from different cultures around the world. The production on Wednesday, July 5th at 10:00 am is Thumbelina. A tiny girl uses her imaginative and ingenious spirit to be true to her own heart, based on the story by Hans Christian Andersen.
The performers come out into the lobby after each performance to meet with the children and sign programs. With just a dash of tongue-in-cheek humor, there is something in each Children's Theatre show even for the adults in the audience. And the kids love the catchy original songs and wacky characters!
Lunch and Brewery Tour at Woodstock Station
The Woodstock Inn, Station & Brewery is a long-time "Best of New Hampshire" winner and local favorite. Housed in an old train depot, the Woodstock Station serves an extensive menu for breakfast, lunch and dinner. The microbrewery crafts more than a dozen year-round and seasonal brews, with new beers coming out every few months. Craft beer enthusiasts will enjoy the daily brewery tour at 12:00 pm. These educational tours are given by a craft brewer and include five samples and a pint glass. The cost is $9 per person and reservations should be made ahead of time.
Catch an Afternoon Play
Jean's Playhouse produces a professional main stage theatre season each summer and fall. The first production of the 2017 season is Kimberly Akimbo, a comedy about a teenager afflicted by a rare condition that causes her body to age much faster than it should. Kimberly is forced to reevaluate her life while contending with a hypochondriac mother, a rarely sober father, a scam-artist aunt, her own mortality and, most terrifying of all, the possibility of first love.
Check out the rest of the main stage lineup if you plan to be in town throughout the summer. Musical productions later in the season are The Addams Family, Annie, and You're a Good Man, Charlie Brown!
Say Goodbye
Depending on your plans, at some point you will have to once again pack up the car and say goodbye. We hope you enjoy the chance to visit our neck of the woods up in the White Mountains of New Hampshire to celebrate the red, white and blue with us! Happy 4th of July!
This blog post is part of "The Guide to Summer Activities In The White Mountains" blog series.