Hit the mountains this Halloween for an all-new holiday tradition. There is Halloween fun for the whole family. The youngsters will enjoy the festivities at the Gathering of the Jack O' Lanterns and Silly Spooky Halloween at Santa's Village. For the older kids and adults, take a walk through the Ghoullog at Cranmore Mountain where you'll be sure to scream. For those who are just looking for a relaxing weekend away, there is plenty of opportunities to do that as well!
This blog post is part of "The Guide to Fall Activities in The White Mountains" blog series.
Luxury Getaway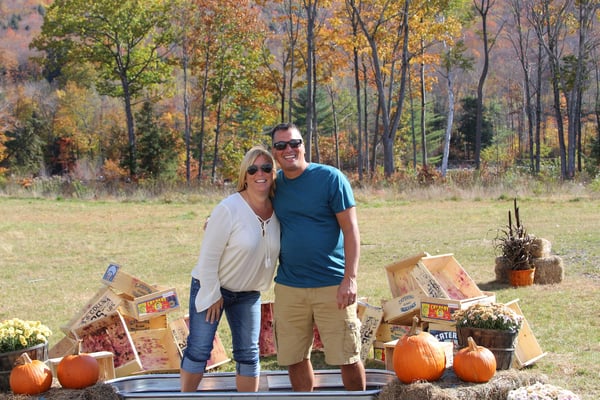 Are your kids all grown up? Or maybe you don't have any trick or treaters where you live? Skip the big bags of candy and head to the mountains instead! Book a long weekend at the RiverWalk Resort at Loon Mountain and enjoy a luxury weekend away. Go wine tasting at Seven Birches Winery. Treat yourself to a day at the spa with Solstice North Day Spa where experts will pamper you from head to toe.
Celebrate Halloween a week early with great wine, delicious food and some grapes between your toes. Dress up like "I Love Lucy" (not required but far more fun!) for the 3rd Annual White Mountains Crush Festival on October 20!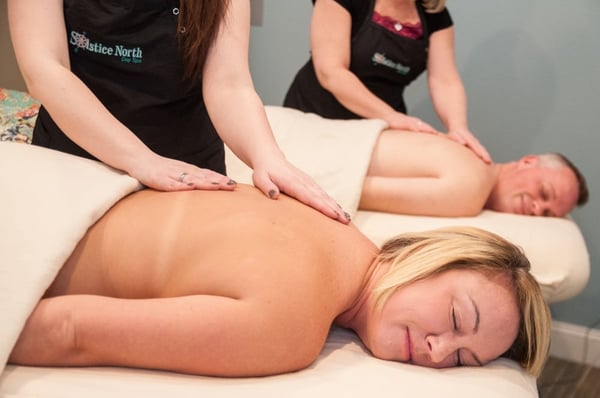 Catch the latest blockbuster at BarnZ's Cinema located just across the parking lot from the RiverWalk. Afterward, relax under the stars in the outdoor hot tub. Sleep in late and enjoy a delicious brunch at the Gypsy Café on Main Street. Whatever you choose to do, you'll enjoy the subtle luxury of the RiverWalk Resort and all its amenities.
Gathering of the Jack O' Lanterns
Just up I-93 past Franconia Notch, the small town of Littleton hosts their annual Gathering of the Jack O' Lanterns festival every October. From Friday, October 26th through Sunday, October 28th this year, you'll find a large selection of Halloween-themed events for the whole family. Carve a pumpkin and drop it off at the Littleton Bike & Fitness before Saturday afternoon to be included in the famous Gathering of the Jack O' Lanterns where hundreds of carved candle-lit pumpkins are lined up in and around the Ammonoosuc River.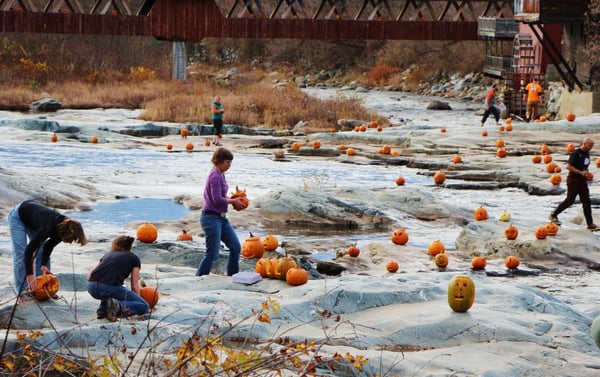 Throughout the weekend you'll also find a live music and costume party at the Loading Dock, a kid-friendly Boofest featuring Marko the Magician, and the Halloween Festival where you can enjoy face painting, pumpkin carving, and more. On Saturday, kids can trick-or-treat along Main Street and the whole family can dress up and enjoy the Zombie Walk down Main Street. If you miss Saturday night's event, you can join in on the Zombie Run/Walk to benefit Parker Mountain Trails on Sunday. No matter what you do, you'll have a ghoulish time!
Apple Picking
Nothing says fall like apple picking. Head to Windy Ridge Orchard in North Haverhill for nature's candy. With over 18 varieties of apples grown on the farm, you'll be able to pick all your favorites like Honey Crisp, Cortland, and Empire. After spending the morning picking apples with your family, visit the onsite Cider House Café for breakfast or lunch. Specializing in homemade pancakes, crepes, apple crisp, and more, you'll definitely find something delicious on their menu. Stop by the gift shop on your way out to pick up some homegrown pumpkins, apple cider, and maple syrup! Depending on the season, the apples may all be picked by Halloween, but enjoy their famous cider donuts, feed and pet the animals and the little ones can enjoy the playground. It's a fall favorite!
Silly Spooky Halloween at Santa's Village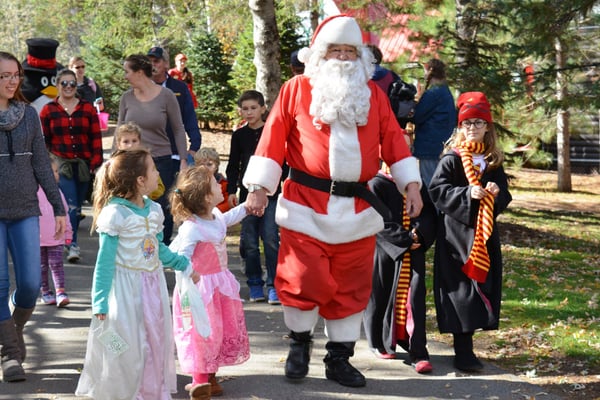 Santa's Village might be all about Christmas, but on Saturday, October 20th and October 27th, the park is all about Halloween at its annual Silly Spooky Halloween. Open from 11 am to 5 pm, Santa does might a special visit to see all his favorite kids in costume. The park transforms from Christmas to Halloween to celebrate the special holiday. There is a "spooky" section for older kids and a "fun" area for those younger kids and those who aren't quite ready to say "boo!" Most of the rides will be open and there is a special Trick or Treat event. Kids of all ages will love this classic, fun White Mountains annual event!
The Ghoullog
If you love a good scare, head to Cranmore Mountain Resort in North Conway for their annual Ghoullog haunted house. Open on Fridays and Saturdays this fall, the Ghoullog at Cranmore Mountain will certainly give you a freak or nightmares for a week. Not for the faint of heart, you'll head deep into 15,000 square feet of indoor space through a maze of dark rooms into the woods for over 50 minutes of scares and screams. The Ghoullog is recommended for people 10 and over.
If you have young kids, they can check out the family-friendly "Haunted Playground." Lit with special lightings and effects, take a spin down the 3,600-foot Mountain Coaster, fly through the air with the Giant Swing, or soar over 750 feet down the mountain on the Soaring Eagle Zip Line. After a good scream, you'll need to relax with a local beer and some fall snacks at the Broken Skull Pub.
Family Halloween at AMC Lonesome Lake Hut
October is a great time to head to the mountains to enjoy the crisp, fresh mountain air. On the weekend of October 27-28th, the Appalachian Mountain Club is hosting a special Family Halloween event at each AMC hut in the White Mountains. The AMC Lonesome Lake Hut is the closest hut to Lincoln and also one of the best. Of course, we might be a bit biased.
Enjoy a fun, relaxing Halloween with a small group of families at the hut. The hike is only 1.6-miles with approximately 1,000-foot elevation gain making it perfect for young kids who like to be active outdoors. You'll have some free time to explore before coming together for a communal dinner around the fireplace. On Sunday morning, there is an optional hike around the lake before heading back home. The Lonesome Lake hut offers incredible views of Franconia Ridge, so you don't want to miss this unique opportunity!
This blog post is part of "The Guide to Fall Activities in The White Mountains" blog series.
Come in costume or not! Whatever you choose, there is something fun for the whole family this Halloween in the White Mountains. Need a family friendly, luxury option for your stay this Halloweekend? Reserve your stay at RiverWalk Resort!