https://www.riverwalkresortatloon.com/riverwalk-health-clubThis blog post is part of "The Guide to Winter Activities in The White Mountains" blog series.
The White Mountains are a well-known ski and snowboard destination during the winter months. With some of the best ski resorts in New England, it's a no brainer when it comes to booking a family ski vacation. But, what do you do if you don't ski or snowboard? Don't fret.
There is plenty of fun indoor and outdoor activities you can do while everyone else is skiing. Ski resorts and surrounding towns are no longer just for skiers. The Greater Lincoln-Woodstock area caters to everyone from the Olympic ski racer down to Grandma snapping photos of her grandbaby skiing for the very first time down the bunny hill.
Lincoln is a year-round destination in itself. Nestled in the western White Mountains, the town has much to offer individuals on and off the slopes. Wake up to a relaxing yoga session followed by a rigorous snowshoe hike in the woods and lunch at one of the delicious local eateries in town. Before you know it, the mountain will close for the day, and you can enjoy après ski at the Woodstock Inn Brewery!
What to Do if You Don't Ski
There are tons of fun things to do and see in Lincoln if you don't ski or snowboard depending on what you like. If you just want to relax, book a massage, go wine tasting, or just relax by the fireplace with a good book. For more active people, there is snowshoeing, ice skating, tubing, and more.
Ice Skating
The RiverWalk Resort at Loon Mountain is home to a one-of-a-kind ice skating rink open to both resort guest and the public. During the winter months, RiverWalk Resort transforms their 167,000-gallon outdoor lagoon swimming pool into an ice skating rink complete with railings and a fire cauldron. Bring your skates or rent right from the resort.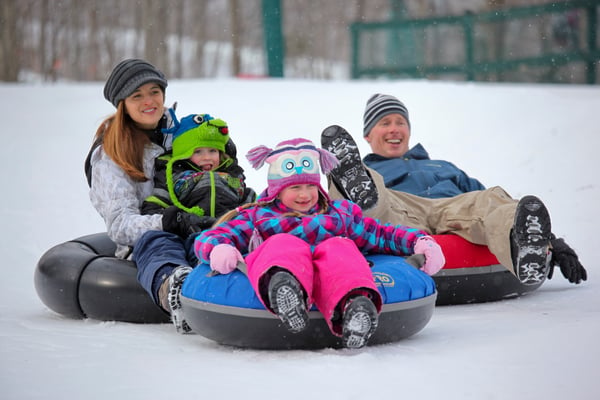 Snow Tubing
Sledding is always a fond childhood memory. It doesn't matter how old you are; you are never too old to hop on a snow tube and fly down a hill! Loon Mountain's Adventure Center is home to Lincoln's only full-service snow tubing hill. Located under the Little Sister chairlift across from the Octagon Lodge, you can ride up the chairlift and slide down the slope without all the work on walking back up the hill! Bring your kids as the hill is open well after the last skier has come down the slopes. There's even a spot for the littlest kids who want in on all the fun.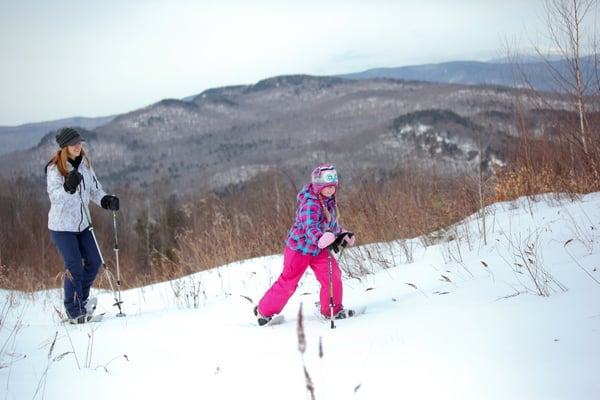 Snowshoeing
Snowshoeing is a great activity to burn some serious calories and enjoy the incredible beauty of the western White Mountains. If you have snowshoes, strap them on and head to one of the local hiking trails in the White Mountain National Forest. The Lincoln Woods Trail is one of the local favorites, and you'll see people hiking it year-round. This 2.6-mile out-and-back trail is built on a former logging railway that runs along the riverbed. The trail is gently inclined, so it's great for beginners.
If you have never snowshoed before, you can enjoy a guided tour at the Loon Mountain Adventure Center or Alpine Adventures. Both centers offer a variety of snowshoe tours based on experience and difficultly of the terrain.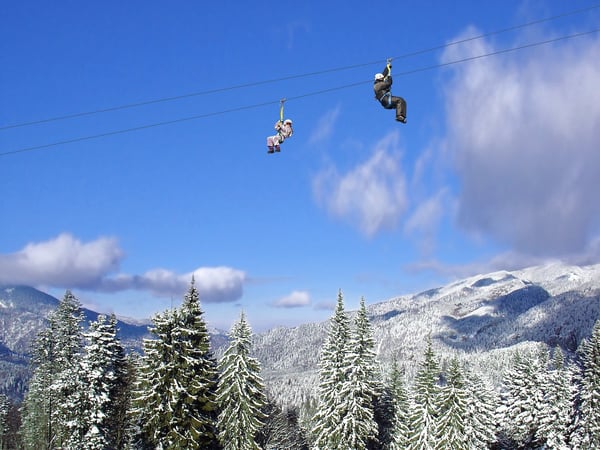 Ziplining
Lincoln is home to two year-round zipline companies. Put on your layers and strap in for a high-flying fun amongst the trees. Alpine Adventures offers two ziplining tours during the winter months. The Tree Top Canopy Tour has six separate ziplines ranging from 250 feet up to 100 feet long. The Skyrider Tour course contains five ziplines and five suspended bridges. You'll finish your adventure off with the "White Knuckle Pine," where you can reach speeds of 50 mph. All tours will take a hot chocolate break in Alpine Adventure's rustic tree house. Loon Mountain also offers a winter zipline across the Pemigewasset River.
Spa and Swimming
After all the fun and active outdoor adventures, you'll need a little R&R time to rest your weary muscles and mind. The Solstice North Day Spa inside the RiverWalk Resort is a full-service day spa offering all the services you need to refresh and relax from head to toe. Start your spa day with a Signature Massage to release all the tension out of your body. Follow your massage with a Signature Relaxing Facial to pamper your face. Top off your spa day with a Solstice Classic Manicure or Pedicure. Better yet? Treat yourself to both! After all, you deserve it.
But you're not done yet. You can still relax in the hot tub or swimming pool. The swimming pool is heated to 80 degrees, so you can still enjoy it during even the coldest day. The hot tubs, both the indoor and outdoor tubs, are a great way to finish your day.
Yoga and Fitness
Even if you don't ski or snowshoe, you can still get a great workout in Lincoln. Live a Little Fitness in downtown Lincoln is a charming little fitness studio offering yoga, Pilates, and bootcamp classes. They even offer beer yoga classes at the Woodstock Station Brewery. It's every beer-loving yogi's dream!
RiverWalk Resort's gym is a state-of-the-art facility if you're looking to burn some calories and pump some iron. Designed by a fitness professional and only open to resort guests, you'll find all the equipment and gear you need to train for a 5K race to a Tough Mudder. This isn't your mother's gym!
ROCK CLIMBING
Located just a short drive away in Lisbon, indoor rock climbing is not only an excellent exercise, but a great family activity after skiing. North Country Climbing Center offers over 6,000 square feet of climbing with varied terrain for all ages and abilities. Never climbed before? No worries. The knowledge staff will teach you everything you need to know to stay safe and have a blast.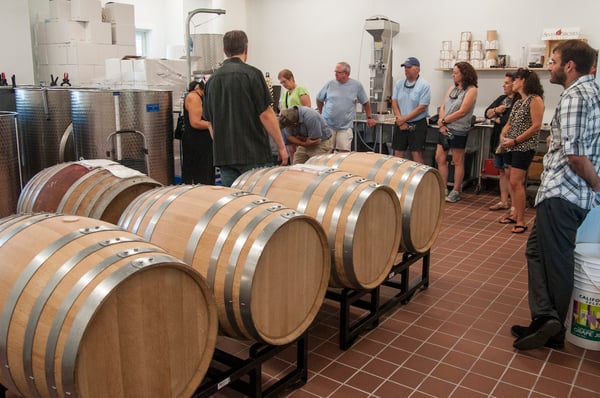 Food and Drinks
For a small town, Lincoln has some pretty fantastic food and drink options. Housed within the RiverWalk Resort, you can enjoy local New Hampshire wine at Seven Birches Winery. Sign up for the "Meet the Winemakers" tour and get an inside look at how they make wine or just sample all their hard work. Either way, you win(e)!
The Woodstock Inn Brewery in North Woodstock, just a short drive away, is New Hampshire's premier brewery. The thirty-barrel brewery produces more than 12 year-round beers and many seasonal beers you can enjoy with dinner at their restaurant and bar. One Love Brewery, across the parking lot from RiverWalk Resort, is a favorite spot for German-style beers. Head north up I-93 and enjoy Iron Furnace Brewery, Schilling Beer Co, and Rek'lis Brewing Company.
For Italian food, La Vista Italian Cuisine is always a good option. The Gypsy Café Restaurant is a local favorite serving unique dishes created from scratch. If you're craving some beef, Black Mtn. Burger Co. is the place to be. Their fried Mac n' Cheese Balls are so good! Don't worry. You just hit the gym, so you deserve a little treat! For breakfast, take a little drive to Sugar Hill and enjoy New Hampshire's best pancakes at Polly's Pancake Parlor.
Movies
Just across the RiverWalk Resort parking lot, you'll find BarnZ's Lincoln Cinema. With four screens, you can catch all the latest blockbuster films. While the kids ski, catch the afternoon matinee of the most recent chick flick that no one wanted to see. Don't forget to treat yourself to some popcorn and chocolate!
SHOPPING
There is lots of great shopping near Lincoln. Head 20 minutes north to Littleton, home to one of the best Main Streets in America. You'll find the oldest ski shop in America, lots of boutiques and local artisans, and of course, Chutters. Head east across the Kancamagus Highway to North Conway. North Conway is home to hundreds of outlet shops, including LL Bean, J Crew, Old Navy, and more. The added bonus – New Hampshire is tax-free!
Just because your family or friends want to go on a ski vacation this winter doesn't mean you can't have fun, too. Lincoln is a beautiful winter destination with lots of fun activities to do inside and out. Spend your time doing things that you love.
This blog post is part of "The Guide to Winter Activities in The White Mountains" blog series.