You don't have to travel to Europe to explore castles this winter! Instead of centuries-old stone fortresses nestled throughout Europe's picturesque countryside, you'll find a one-of-a-kind castle in Lincoln, New Hampshire in a few short weeks.
This blog post is part of "The Guide to Winter Activities in The White Mountains" blog series.
Handcrafted with over 25 million pounds of ice, the colorful and unique frozen structure will draw tens of thousands of people from all over the Northeast to explore its inner labyrinth of mazes, slides, tunnels, and more.
About Ice Castles
Born out of Brent Christensen's front yard in Utah, Ice Castles has been creating ice castles across North America since 2011. Like any father with six stir-crazy kids in snowy Utah, Brent built his first ice castle for his kids in his front yard. As the word spread across the neighborhood, kids from all over town began coming over to play in Brent's "ice castle."
An idea blossomed in Brent's mind and he patented his unique ice castle building method in 2009. Enter Ryan Davis who met Brent through his son's boy scout troop. Both men were looking for a career change from the real estate market that was still recovering from the big crash, so they decided to take a leap of faith and team up to create Ice Castles. With Brent leading the creative side of the business, Ryan runs much of the behind the scenes to ensure each Ice Castle is built every year and the business continues to grow.
Every winter, Ice Castles builds six ice castles across North America in Dillon, CO, Edmonton, Alberta, Excelsior, MN, Lake Geneva, WI, Midway, UT, and Lincoln, NH. This past summer, Ice Castles traveled over 10,000 miles across the Pacific Ocean to Coronet Peak in Queenstown, New Zealand for its first ever ice castle in the Southern Hemisphere. The 4,000-ton ice castle featured slides, turrets, peepholes, and a throne.
Creating an Ice Castle
Handcrafting a 25 million pound ice castle out of water is no easy feat. It takes a team of ice artisans close to two months to build each ice castle before the doors are open to the public. As one can imagine, it takes a lot of water and a little luck from Mother Nature to sculpture an ice castle. "Each day, our ice artisans create a framework to grown between 5,000 and 12,000 icicles every day that is harvested by hand and individually sculptured into existing ice formations. The newly placed icicles are sprayed with water and allowed to freeze overnight. Repeat again for days," says Rain Davis, CEO of Ice Castles.
Not only is the team building the ice castle itself, but it's also installing LED-lights, frozen thrones, and curving tunnels, slides, and fountains. Each ice castle is completely unique, so you'll never see the same castle year after year. As Ryan likes to say, "the visual appeal of each ice castle is all Mother Nature." The Ice Castle crew typically starts building each ice castle in November, but it can vary each year. Daytime temperatures need to be below freezing before construction can start.
About Lincoln's Ice Castle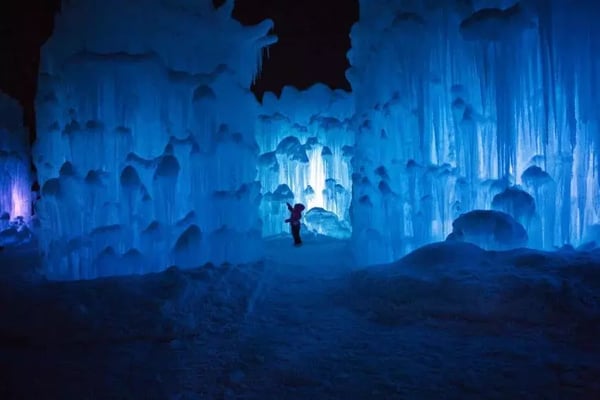 Lincoln's ice castle was one of the first ice castles in the country and is celebrating its fifth season in Lincoln this year. When Ryan and Brent were first looking to expand to the East Coast, they met with several different ski resorts across New Hampshire and then they met Rick Kelly at Loon Mountain. With a great location and a water source, Lincoln's first ice castle was held at Loon Mountain. Due to its immense popularity, Ice Castles moved Lincoln's ice castle to Hobo Railroad where they had more room to build. This year, the ice castle has moved up the road to land purchased by Ice Castles. Opening day has yet to be announced but keep a close watch on their Facebook page and be one of the first in line.
Visiting an Ice Castle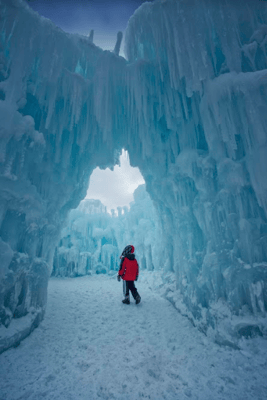 The first thing you need to know about visiting an ice castle is to dress warm! Wear boots as the floor of the ice castle is crushed ice. Bring mittens, hats, and lots of layers, especially when the sun goes down. Nighttime is the best time to visit the ice castle as you'll see thousands of colorful glowing lights illuminating the castle. Your kids (and maybe you) will want to belt out the lyrics to "Let it Go." Throughout the winter, you'll find appearances from the enchanted ice princesses and even fire dancers! Check out the website or Facebook page for the latest events.
While you might plan on coming to Lincoln for a day trip to see the ice castles, we recommend extending your trip and staying the weekend. Especially if you plan on going to the ice castles at night to see the lights display! Spend the weekend or at least the night at a nearby resort and make this magical day trip an extraordinary weekend or overnight getaway. If you're not a skier, don't worry, there's plenty of things to do in the White Mountains.
"You can't really find anything like this anywhere on Earth. It's like a frozen waterfall and glacier mixed together. Climbing waterfalls can be dangerous, and not many people will get to experience hiking on a glacier, so exploring an ice castle is the next best thing!" says Ryan. Each ice castle is very interactive. There are slides, tunnels, peepholes, arches, and more for all ages to enjoy.
Only a limited number of tickets are sold each day to ensure the integrity of the ice castle. Buy your tickets in advance online to ensure your visit to the winter wonderland. Lincoln's ice castle should open around Christmas and stay open until March.
This blog post is part of "The Guide to Winter Activities in The White Mountains" blog series.
During your next ski vacation, make sure you hang your skis up early and head over to the ice castle for a unique experience. It's fun for all ages!