There is nothing more relaxing than arriving at your home away from home and shutting the computer down after a long work week and parking the car for the weekend. The RiverWalk Resort is centered in the heart of Lincoln making it the perfect destination to make your home base. With a shuttle bus service to Loon, luxury amenities at the resort, and tons of food and entertainment options within a short walk come to the RiverWalk Resort to park and play.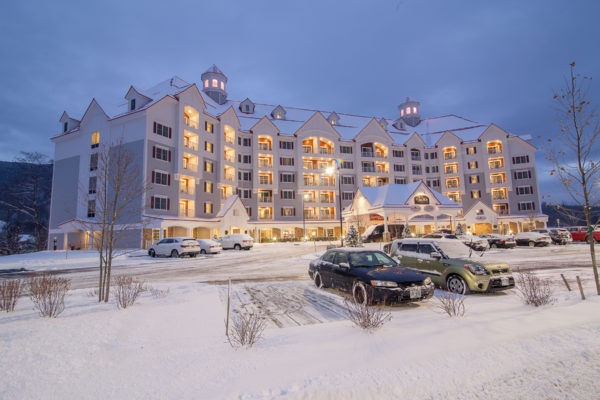 This blog post is part of "The Guide to Winter Activities in The White Mountains" blog series.
Shuttle to the Mountain
After arriving at the resort, park your car and leave it for the week or the weekend. Everything you need and want to do is at RiverWalk Resort, within walking distance, or a short shuttle bus ride away. Shuttle from the grand entrance of the resort to Loon Mountain's lodge for a day of skiing. Just give them a call at the end of the day, and they'll pick you up and whisk you home to the resort so you can relax by the fireplace or in the hot tub.
If you're unsure of what skiing and riding will look like for the 2020/2021 season with safety guidelines in place, visit Loon Mountain and Cannon Mountain's "Know Before You Go" pages on their websites.
Eat and Drink at the Resort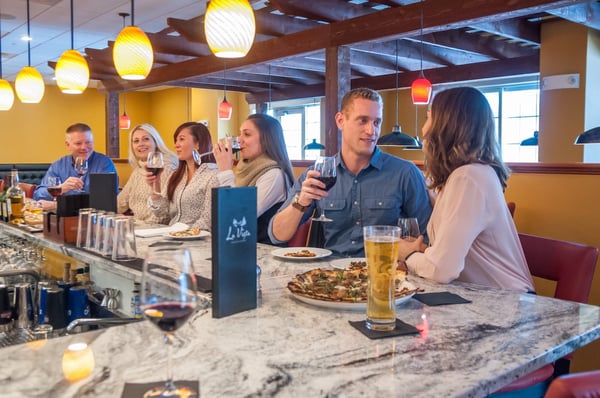 With your own state-of-the-art kitchen in your suite, you can cook all your meals in the comfort of your pajamas if you so choose. For delicious Italian cuisine, head down to the lobby of the RiverWalk Resort to La Vista Italian Restaurant. Open nightly for dinner, the menu at La Vista is extensive with something for everyone. From starters like Seafood Chowder and Pear & Blue Cheese Crostinis to mains like pizza, pasta, lots of meat and seafood, you certainly won't go hungry.
New this year, La Vista is now open for breakfast. There are plenty of sweet dishes like Bananas Foster French Toast and South Mtn. Waffles for the sweet tooth in you. For more savory dishes, you'll love the RiverWalk Burrito, Biscuits & Sausage Gravy, and Papermill Special.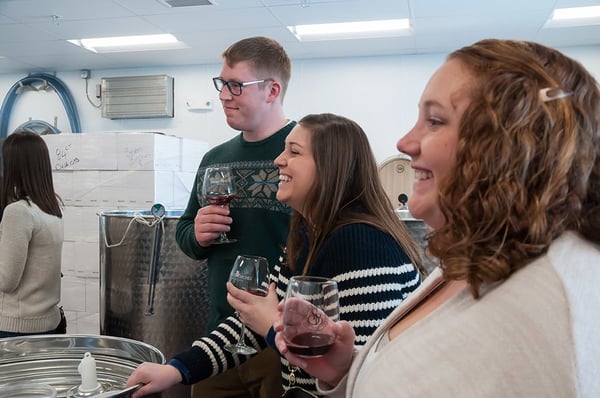 Just down the hall from La Vista, you'll find Seven Birches Winery. Handcrafted within the walls of the RiverWalk, Seven Birches uses locally sourced fruits and classic European grape varietals to create a unique inventory of red and white wines. For a more depth experience, take the "Meet the Winemakers" winery tour where you can ask all those questions about wine that you've always wanted to ask. Alternatively, head over to the wine tasting room for a tasting flight of all your favorite wines.
Eat and Drink Within Walking Distance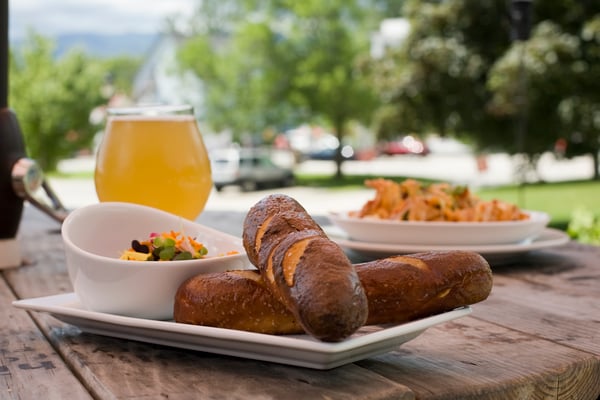 Lincoln is a small, walkable ski town and if you're craving something in town, chances are it's within a short walk from the RiverWalk. One Love Brewery (left) is just a short walk across the parking lot where you can enjoy pub fare and German lagers at the historic Henry Paper Mill. After a day of skiing, call it a little early and hit up Happy Hour for great prices on drinks and snacks. Who doesn't love fried pickles after a solid day of skiing? If you fancy a little competition, head to the pub on Tuesdays for community trivia night. On the other side of Main Street, you'll find a local favorite, the Gypsy Café. With walls covered with color works of art from local artists and an eccentric menu filled with tastes from around the world, you'll quickly find why so many people love the Gypsy Café.
Play at the Resort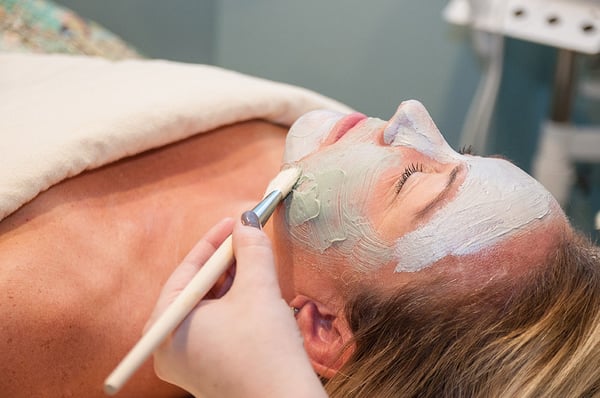 There are not many places in the world that you can visit and never leave the resort because you're having too much fun. With world-class luxury amenities for the whole family, the RiverWalk Resort is truly your home away from home. Spend the day relaxing at Solstice North Day Spa with massages, facials, foot soaks and more. You'll leave glowing from head to toes.
With incredible views of the mountains and the Pemigewasset River, take a dip in the heated outdoor pool or relax in the hot tub. The air might be freezing, but the water is always hot. Of course, you can always enjoy a bubble bath in your soaker tub in your suite.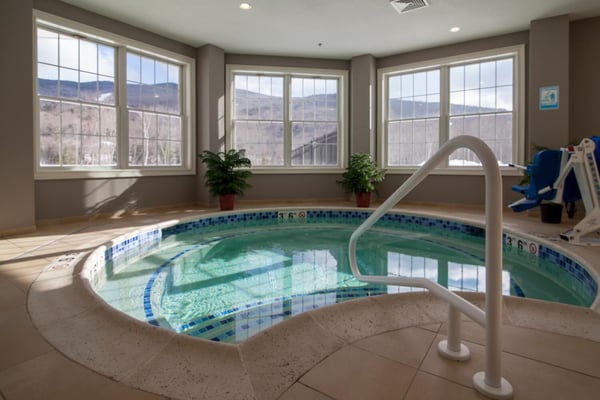 Are you traveling with young kids? Take a few twirls under the stars and around the fire cauldron on the one-of-a-kind RiverWalk ice skating rink. Open evenings during the week and afternoons on the weekends, you can practice your triple axels and spins until your toes go cold. When you get too cold, head inside and check out all the fun and games in the Game Room. Filled with arcade games, foosball, pool tables, air hockey, and more, you'll never want to leave all the family fun.
Play Near the Resort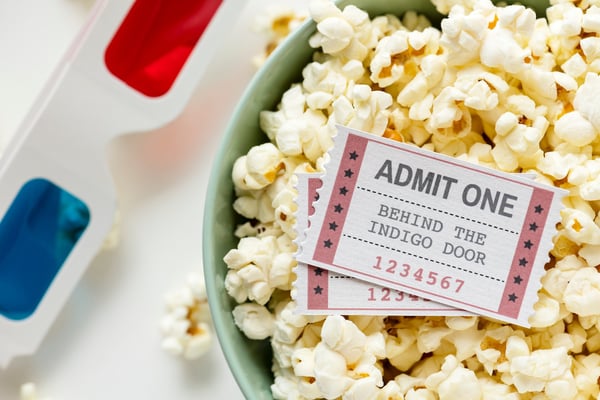 With an abundance of activities available in Lincoln, you'll want to get outside of the resort to play, too. Sometimes Mother Nature doesn't deliver the perfect bluebird ski day we want, but that's okay. Head to Barn Z's Cinema to catch the latest Hollywood blockbuster. Located just a short walk across the parking lot from the RiverWalk, the whole family can enjoy a movie and popcorn.
Want to get your sweat on? Live a Little Fitness, now in a new location on South Mountain Drive, is the perfect place to say Namaste or burn a few calories. With daily classes ranging from Pilates to yoga to strength training classes, you don't have an excuse to miss your workout now! As a bonus, kids are allowed to come to class, too! Live a Little Fitness offers both Beam Playzone and Kids Yoga classes to entertain active kiddos who love to move and play games.
This blog post is part of "The Guide to Winter Activities in The White Mountains" blog series.
If you want to spend more time with your loved ones, stay at the RiverWalk Resort where you can park your car for the weekend or a whole week and enjoy everything the resort and mountain town of Lincoln has to offer you.