Despite being small mountain towns, Lincoln and neighboring North Woodstock have an abundance of stores for all your shopping needs. If you forget your ski gloves at home, Lahout's has you covered! Need last minute gifts? Head to one of the many gift shops in North Woodstock. Perhaps Mother Nature is not cooperating or you just need a shopping day, our favorite stores in town will provide excellent retail therapy.
Outdoor Equipment and Apparel
As a year-round outdoor destination, of course you will find several sporting goods and outdoor apparel stores in Lincoln. If you forget gear or need a new set of skis, the local shops in Lincoln are here to help.
Lahout's Ski Shop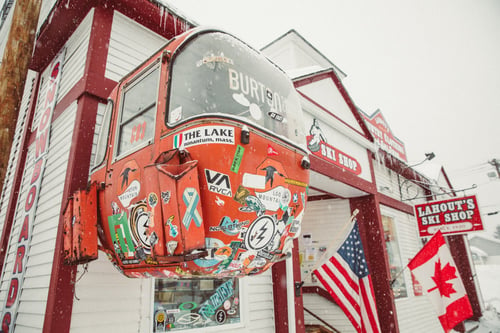 Lahout's Ski Shop is the oldest ski shop in America operating since 1920. The 4th-generation family run establishment has eight stores in Littleton and on Main Street in Lincoln. Lahout's sells all your favorite outdoor brands like The North Face, Burton and Patagonia. Open year-round, you'll find all the latest ski and snowboard equipment, outdoor apparel, camping equipment, and so much more for your wilderness adventures. You can also visit their other Lincoln Main Street locations for even more options.
Rodgers Ski and Sport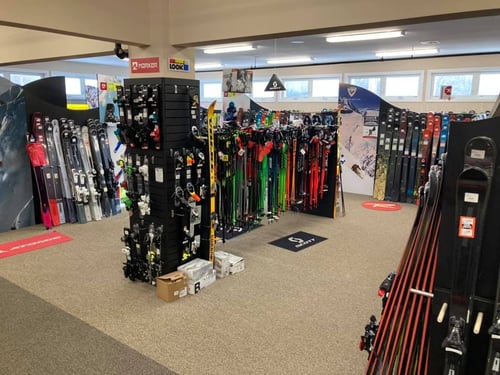 Rodgers Ski & Sport has two locations in Lincoln. Their flagship store is located on Railroad Street, which is opened year-round, while their outlet store on Main Street is open solely during the ski season. Rodgers Ski & Sport carries skis, snowboards, boots, bindings and more. They sell winter apparel from brands like Arteryx, Salomon and Helly Hanson. Looking to get out on a two-wheeled adventure? Rodgers also carries road, mountain, and hybrid bikes plus all the accessories you need.
Village Ski & Snowboard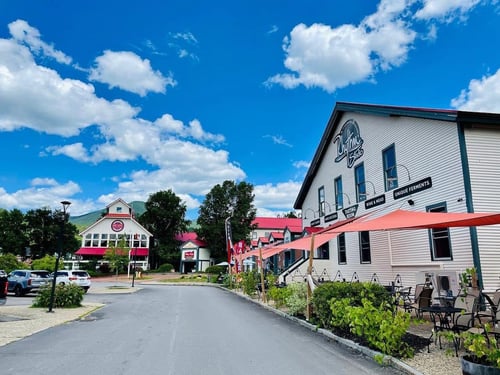 Open during the winter ski season, Village Ski & Snowboard has the largest selection of winter sports rentals in Lincoln. They are also one of the best shops for having your skis and boards tuned according to Skiing Magazine. While they don't typically sell their equipment, they do sell all the essentials so you can browse while waiting for your rental package.
Clothing
Whether you need outdoor clothing or something cute to wearing wine tasting, you're sure to find an outfit that suits your needs at the shops around town.
Burgeon Outdoor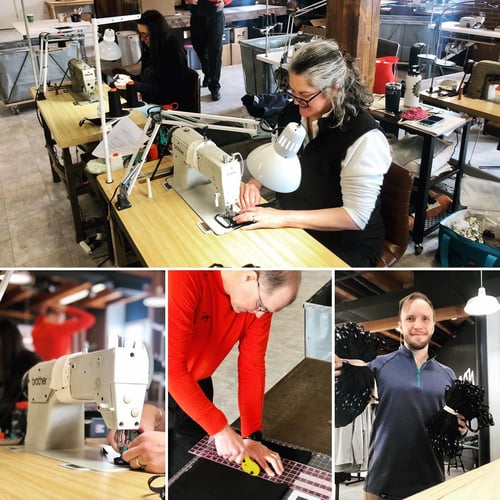 Established in 2019, Burgeon Outdoor is located in The Village Shops. The outdoor clothing apparel company manufactures all its items onsite with a mission to help mountain communities. Offering both men's and women's lines, Burgeon Outdoor has a variety of options to choose from including base layers, tee shirts and outer layers.
Three on the Tree Boutique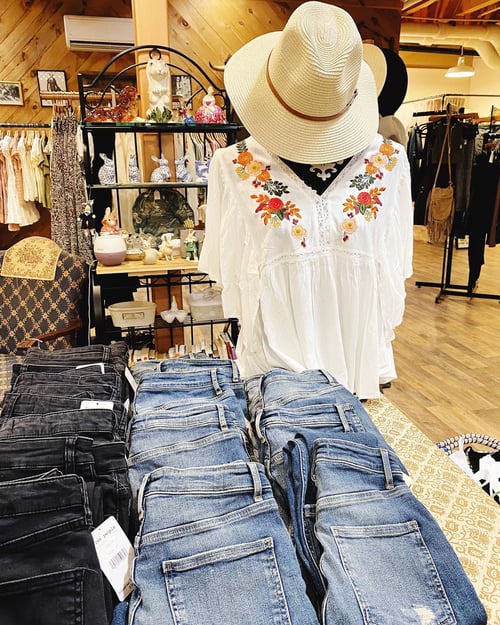 Located in the Village Shops on Main Street in Lincoln. Three on the Tree Boutique is a small family run shop featuring bohemian and unique style clothing, quality thrift items, antiques, and handmade jewelry.
Encore Thrift and Coffee Shop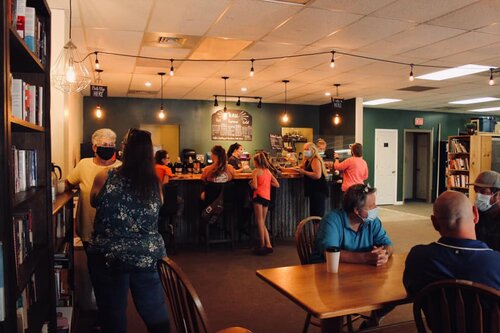 Encore Thrift and Coffee Shop is a non-profit organization that helps support Loon Mountain Ministry and the local community. Their large space contains a plethora of clothing, shoes, sporting goods, jewelry, books, records, and more. Grab a cup of gourmet coffee, shop, and support a local cause.
Home and Gifts
Bring the mountains home when you shop at the many home décor and gift shops in Lincoln and North Woodstock.
Loon Rustics Furniture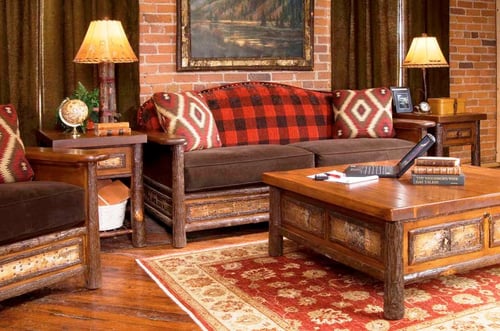 Do you want your home to look like a rustic mountain retreat? Then you'll want to visit Loon Rustics Furniture. They sell unique handcrafted rustic home furnishings and offer custom interior design services. The shop carries everything from furniture to lighting to bedding and more.
Sunburst Trading Co. and The Bear Den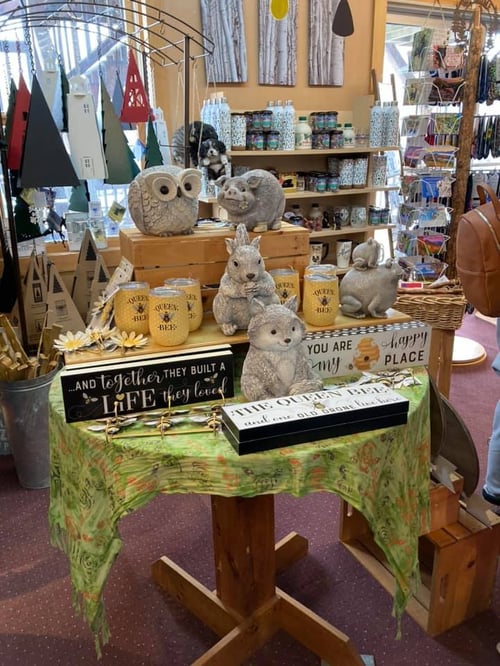 Sunburst Trading Co. in North Woodstock is a charming gift shop where you can find a variety of presents for all your loved ones. You will find everything from home décor to winter hats made in Poland to jewelry. The Bear's Den, Sunburst's newest store, is just a couple of doors away from and offers all the rustic home décor and apparel you could want such as Loon Mountain signs, warm moose print blankets and pottery.
Arnold's Antiques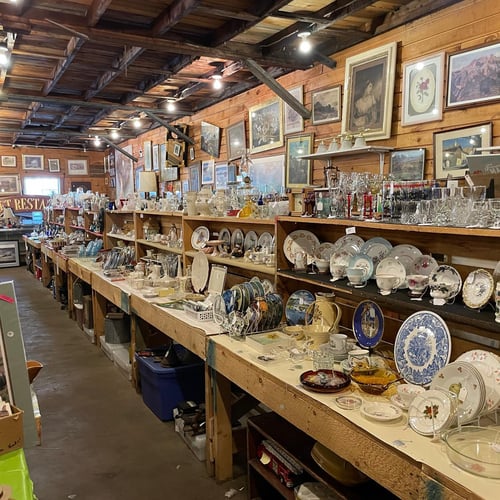 Open from May through October, Arnold's Antiques and Collectibles is a third-generation, family-owned antique shop in North Woodstock. You never know what you may find in the red barn, the possibilities are seemingly endless!
Food and Beverage
Savor your trip to the White Mountains with delicious food and drinks when you're back at home. It will feel like you never left the mountains.
Seven Birches Winery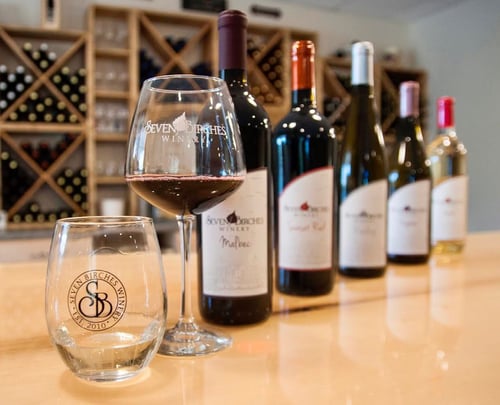 After enjoying a wine tasting at Seven Birches Winery, make sure you take a bottle or 10 home to enjoy later. Seven Birches makes a variety of wine ranging from red, white, and everything in between. You cannot go wrong with a Cabernet Sauvignon or Pinot Grigio, but if you're looking for something a little more unique, try the Oaked Blueberry Wine or Strawberry Wine.
Chutters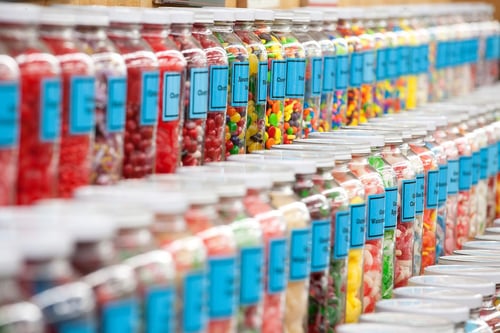 If you have a sweet tooth, then you don't want to miss Chutters. Their Littleton headquarters is known as the World's Longest Candy Counter. Visit their satellite locations on Main Street in Lincoln and at the Governor's Base Lodge at Loon Mountain. Grab the kids and treat them to all their favorite candies. Don't forget to fill your bag, too!
Fadden's General Store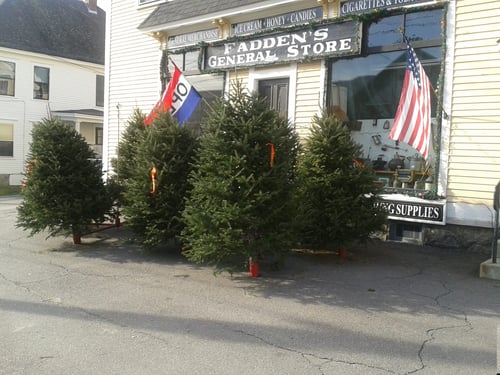 Home to the best Maple Syrup in New Hampshire, Fadden's General Store is your destination for everything maple and New Hampshire made. The small general store sells Fadden's award-winning maple syrup in various sizes, maple candies, gift boxes. Find candles and other New Hampshire-made souvenirs. You can even visit the Sugar House Museum to see how tree sap is turned into liquid gold.
Now it's your turn to tell us your favorite shop in town!