https://www.loonmtn.com/experience/summer-activitiesThis blog post is part of "The Guide to Summer Activities In The White Mountains" blog series
The White Mountains of New Hampshire are one of the best family-friendly travel destinations in all of New England. From hiking to water sports to shopping, there is plenty of family fun to have when the snow melts. While Disney World may be one of the "happiest places in the world," the White Mountains have to be a close second.
The area is home to a high concentration of family-friendly theme parks like Story Land, Santa's Village, Whale's Tale Waterpark and more. Splish splash at the waterparks on a hot summer day and watch the magic in your kid's eyes as they take a ride on Cinderella's Pumpkin Coach. Book a vacation this summer with your family and create memories that will last a lifetime.
Whale's Tale Waterpark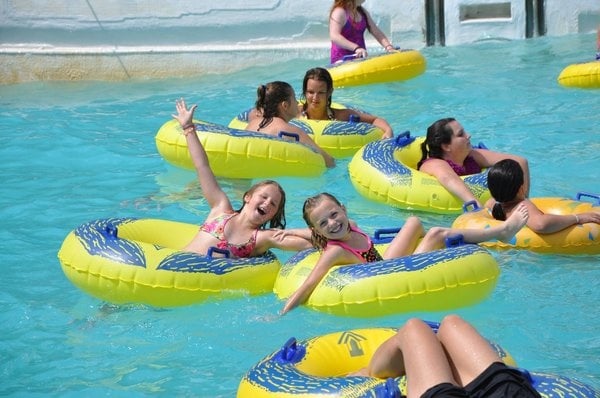 When the temperatures start to climb in the White Mountains, it's time to head straight to Whale's Tale Waterpark in Lincoln for some splish-splashing fun in the sun. Whale's Tale Waterpark has been one of New England's top family fun waterparks for over 30 years. Open to families of all ages, the family-friendly waterpark has 11 waterslides, a huge wave pool, a ¼-mile lazy river, and a special kid's area for the little ones.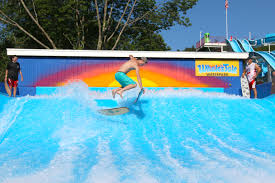 Have you ever dreamed of surfing? Now you can at Akua Beach! Grab a surfboard and hang 10 on the giant wave or give boogie boarding a go. For the adrenaline junkie, try all the slides at Shipwreck Island, Poseidon's Voyage, and the Eye of the Storm. For a more relaxing experience, cruise around Jonah's Escape or enjoy the hot tubs at Castaway Cove. With four waterslides, three fountains, and a water see-saw, the little ones will love the colorful Whale Harbor. There's always plenty of deck chairs, free parking, and you can leave and go as much as you want in a single day.
Clark's Trading Post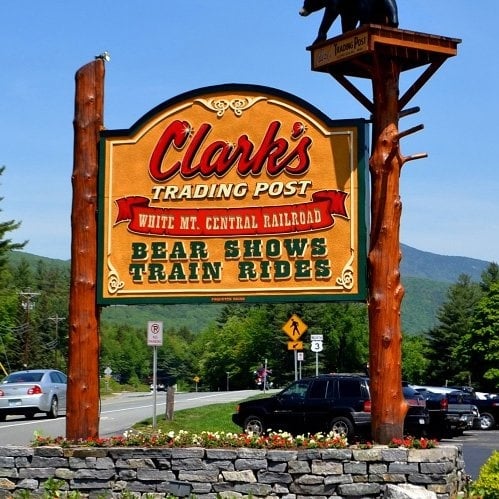 Celebrating 90 years this year, Clark's Trading Post is a perennial fan favorite. The family theme park has something for the whole family from baby to grandma. First opened in 1928 by Florence and Ed Clark as a roadside attraction in Lincoln, the theme park has grown from a simple trading post selling souvenirs to include a black bear show, Chinese Acrobats, a steam train, and more.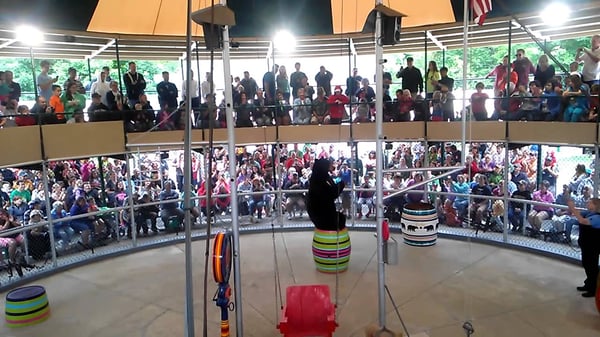 Cool off on a hot summer day on the Water Blaster Boats and the popular 300-foot Anaconda Escape. While the famous Old Man of the Mountain took his final plunge a while ago, he is very much alive and well at Clark's Trading Post. Climb to new heights on the 30-foot tall Old Man of the Mountain climbing tower and pay tribute to New Hampshire's most iconic man. Don't miss the chance to ride the famous White Mountain Central Railroad. You'll travel on a 1943 GE diesel locomotive over a 1904 covered bridge across the scenic Pemigewasset River through the woods for 2.5 miles. Of course, there is always the Black Bear show!
Santa's Village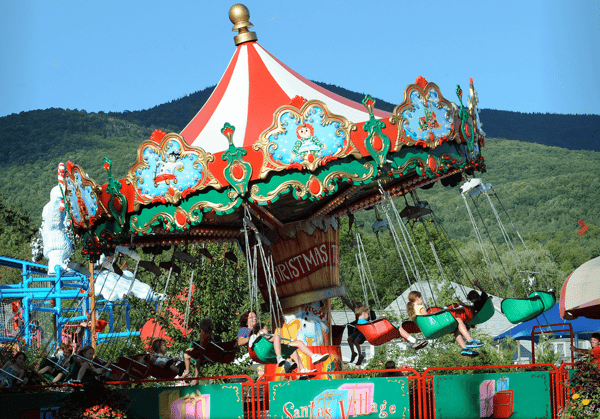 Who says you can't celebrate Christmas in July? Located in Jefferson, Santa's Village is a popular Christmas-themed family theme park in the White Mountains. With a wide range of activities, you'll always have tons of fun at Santa's Village. Play the Elfabet Game and win a prize at the end of your visit! Visit Santa at his summer home and get the perfect photo for next year's Christmas card. Enjoy thrills on classic rides like the Chimney Drop, the Little Drummer Boy, and the Yule Log Flume.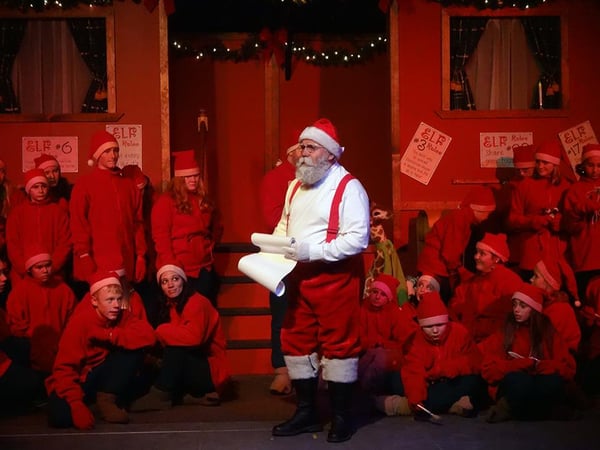 While Santa likes the cold, he does know how to have fun in the sun. Take a splash on the JOY Ride Slides and cool off in the Ho Ho H20. Before heading back home, don't forget to give Rudolph a special reindeer treat at Reindeer Rendezvous. You'll undoubtedly make the nice list if you do!
Story Land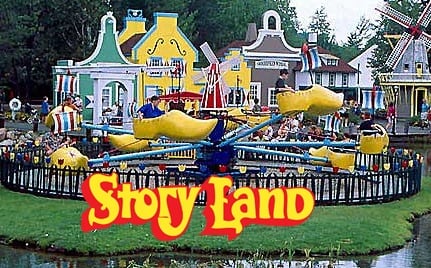 Opening the year before Disneyland in 1954, Story Land is one of the first amusement parks in the northeast. Designed around the dolls of Frau Edith Von Arps, Story Land brings fairytales to life for children of all ages. With rides like the Roar-o-Saurus, Alice's Tea Cups, and the Antique German Carousel, there is much fun to be had at Story Land. Tour the canals of the Netherlands in the flying Dutch Shoes or make all your dreams come true on Cinderella's Pumpkin Coach.
Visit the Three Little Pigs and Baa Baa Black Sheep at Storybook Animals and meet all your fairytale favorites all summer long at Story Land. There's always a kid-friendly show that will sure to leave your little one in giggles. Don't miss a visit to Story Land this summer. After all, it's the "Land Where Fairy Tales Come to Life!"
Loon Mountain Adventure Park

While kids of all ages will enjoy Santa's Village and Story Land, older kids might prefer the high flying fun at Loon Mountain Adventure Park, which is opened year-round for tons of outdoor fun. Unleash your inner Tarzan and swing through the treetops in the Aerial Forest Adventure Park. The park consists of five different courses of varying difficulties for the whole family. Soar 750 feet across the Pemigawasset River on a zipline from the Adventure Center. Enjoy other activities like the climbing wall, the LogJam Maze, and Spider Web.
Alpine Adventures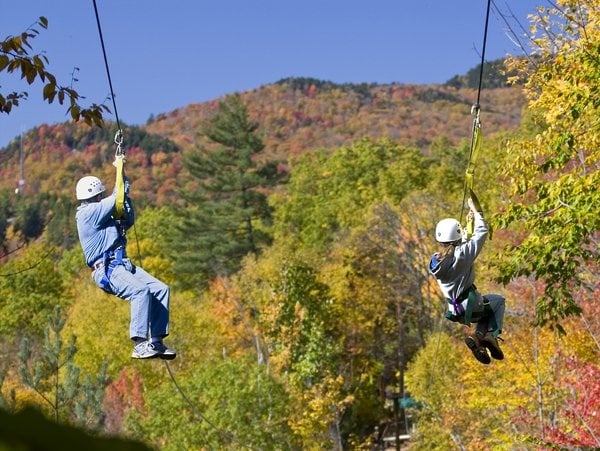 Similar to the Loon Mountain Adventure Park, Alpine Adventures provides plenty of action and family fun. Home to three of New Hampshire's best ziplines in the state, Alpine Adventures is sure to provide you with lots of thrills in their private facility on Barron Mountain. Their Tree Top Canopy Tour is the first of its kind in New England and includes six ziplines ranging from 250 feet up to 1,000 feet long. Speed demons will love the Super SkyRider Tour where you can reach speeds up to 60 mph! Located on Main Street in Lincoln, you can test your fears of height at the Thrillsville Aerial Adventure Park on a self-guided tour. Finish the day off by getting some serious air on the BigAirBag Stuntzone!
This blog post is part of "The Guide to Summer Activities In The White Mountains" blog series
Whatever you may choose to do in the White Mountains, you'll always have a good time if the whole family is involved. And, if you're having a hard time choosing which attraction to visit, why not come for a week and visit all six!