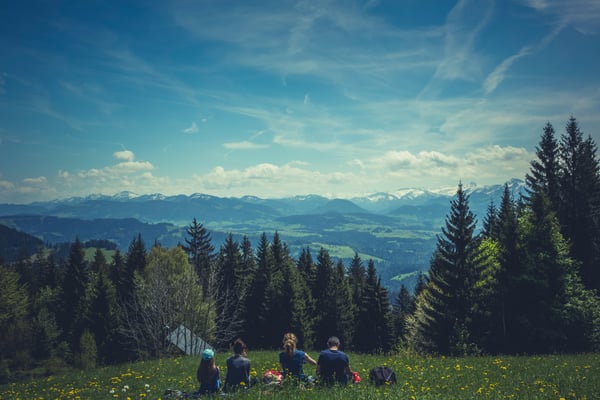 This blog post is part of "The Guide to Summer Activities In The White Mountains" blog series.
If you are headed on a family vacation with teens, one of your top concerns is probably how to get them to disconnect from their phones and reconnect with their surroundings. There is no doubt that we live in a busy world jumping from activity to activity, and with the scope of information accessible at our fingertips, it is growing harder and harder to put the computer away and schedule an hour or two just to take walk, commune with our thoughts, or have an uninterrupted conversation with a loved one.
There are numerous benefits to setting aside "peaceful" time not just for a half hour every day, but for an extended period of a week or two a few times per year. Extended time away from the regular hustle-and-bustle of your weekly schedule is proven to allow you space to…
Recuperate from the stress of work or school, aiding in the prevention of burn-out
Repair a damaged sleep schedule so you can return to the responsibilities of "real life" with the benefit of a regular 8 hours of sleep each night
Learn and experience new subjects and cultures
Communicate actively with your loved ones
Create new memories within the family unit that will become cornerstones in your relationships for years to come
Lincoln, NH and the White Mountains is a hub for things to do with teens and children in the summertime. From hiking mountains to kayaking around a lake to exploring summer swimming holes to chasing waterfalls to working through an aerial ropes course to catching a black bear show to riding a bus on the lookout for moose – the possibilities are endless if you are looking to disconnect on family vacation with teenagers!
Here are three ideas for your next White Mountains adventure of things to do to get the kids to disconnect from their phones and reconnect with the beauty of nature and the rapport of their family.
Challenge your agility at the Aerial Forest Adventure Park
Loon Mountain is home to the newest aerial ropes adventure course in New Hampshire, called the Aerial Forest Adventure Park. Participants are hooked in with harnesses and invited to push the boundaries of their balance and physical abilities by swinging from platform to platform on courses from 9 to over 40 feet off the ground. Courses are divided into five different levels of difficulty, with elements and obstacles for all members of the family aged 7 and up.
This is NOT your standard zip-line! You will be called upon to walk tight rope lines, jump hurdles, climb different kinds of ladders, cross suspension bridges and swing from trapezes. Even teenagers and hardened athletes will feel the burn of a good workout after completing these ropes courses. And the memory of mom jumping from a 35-foot pole to catch a trapeze bar 10 feet away? Well, that's an image that's sure to stick around for some time to come.
Admission to the Aerial Forest Adventure Park is $53 for those aged 13 & up and $43 for those aged 7-12. Your tickets include orientation and a 2-hour park session. Check out the website for more information, including rules and restrictions.
Paddle the Mighty Pemigewasset with a Kayak Tour through Outback Kayak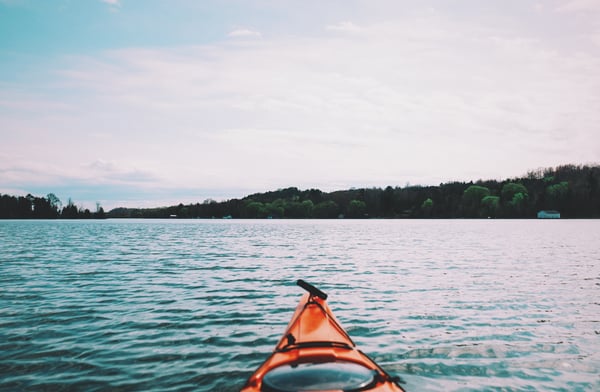 Outback Kayak has been leading tours down the Pemigewasset River for decades, so they know just where to lead you, where to warn you of swirling waters ahead, and when to tell you it's safe to snap a family photo. They provide the option of a two-hour, seven-mile river kayaking adventure, or an unguided rental of kayak boats on Mirror Lake in Woodstock, NH.
The river kayak tours offer a more advanced option with Class I and II whitewaters, or a more relaxed option with a few Class I rapids but more time in between them to practice your paddling and keep an eye out for wildlife and the wonder of the surrounding views.
Outback Kayak offers other summertime adventures besides kayaking. Families with teenagers might be interested in their 1-2 hour guided ATV tours. Larger groups who are vacationing together should look into reserving an exciting paintball game of capture the flag through the woods and alongside the river!
Explore a Summer Swimming Hole in the Mountains
Diana's Baths in North Conway, NH is one of the most beloved family swimming holes in the state, and for good reason. A short, well-groomed ½ mile hike brings you to the river, where waterfalls, pools and rockslides combine to make this natural playground a beautiful and fun spot to spend a summer afternoon.
Hikers are cautioned to bring bug spray as the black flies and mosquitoes can be intense, especially in early summer. Those with a few hours to enjoy should consider wearing bathing suits and bringing towels. This can be a very popular spot, especially on the weekends, so parents with small children will want to keep an extra close watch as other children and local dogs can be quite rambunctious.
The parking lot for Diana's Baths is located on West Side Road in North Conway. From Lincoln, take Route 112 east over the Kancamagus Highway, a nationally recognized scenic byway. At the end of the Kancamagus Highway, right before entering Conway Village, you will take a left onto Main Street, a left onto Washington Street, and a slight left onto West Side Road. Stay straight on West Side Road for six miles until you see the sign for the Diana's Baths parking lot on the left.
There is a $3 parking fee assessed by the state park system. Parking alongside the road is not allowed, so in very busy seasons you may want to look for a short hike to do in the area (there are plenty) before returning when parking spots open up.
---
We invite you to connect with our friendly and knowledgeable Concierge at RiverWalk Resort at Loon Mountain to find out more about these activities and locations, and for even more ideas when planning your family vacation. It might be a challenge – teaching your child to tie their shoes may have been an easier task than getting them to put down the phone – but the adventure of the White Mountains awaits you. Here, you can reconnect with nature and create lifelong memories with your kids and loved ones.
We'll be waiting, ready to welcome you to your home away from home when you get here!
This blog post is part of "The Guide to Summer Activities In The White Mountains" blog series.