Congratulations! You've decided that fractional ownership is right for you and you're ready for the next step. The RiverWalk Resort is indeed a unique place. Nestled amongst the western White Mountains in the quaint ski town of Lincoln, New Hampshire, all of the luxury condominium suites are available for deeded ownership at the RiverWalk.
This blog post is part of "The Guide to Ownership" blog series.
Fractional ownership makes owning a vacation home a reality for many families. For the cost of a monthly car payment, you'll be able to spend about 8-9 weeks annually at one of New Hampshire's best-kept secrets. With close proximity to two ski mountains, miles of hiking trails, and loads of great places to eat and drink, it's time to get the wheels rolling on your dream vacation home in the mountains.
Do Your Homework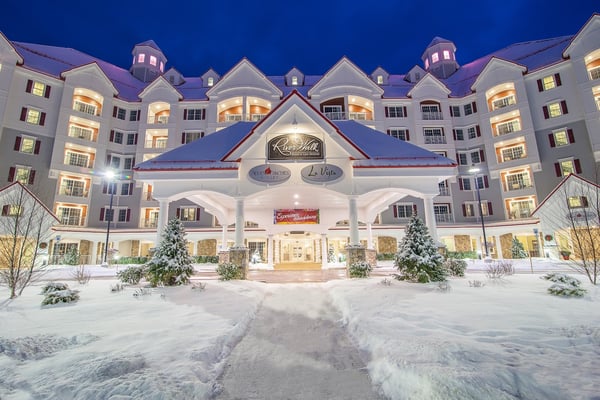 Buying any real estate property is a big decision, but the process doesn't have to be complicated if you do your homework and prepare for the next steps. Once determining that a fraction at RiverWalk Resort is the right fit for you and your family, there are several things to consider. You'll want to explore the long-term benefits of ownership and what it means for your family. The luxury condos at the RiverWalk Resort vary in size from suites to two-bedroom and Penthouse suites.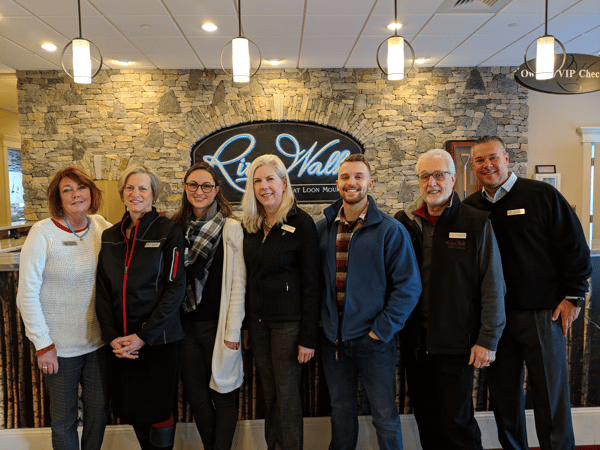 Our sales team would love to show you our suites and help you determine which size and style best fits your family's needs. You'll want to consider how many of your family members and guests will be sleeping in your suite. Are you a socialite who loves to entertain? Certain suite floorplans cater to intimate accommodations while others are geared towards entertaining. Your RiverWalk Resort sales representative can provide you with guidance and recommendations on all your goals and concerns when it comes to ownership. We also suggest that you talk with some of our current owners who will happily tell you about all the little things that make ownership at the RiverWalk so special.
Information to Provide the Real Estate Office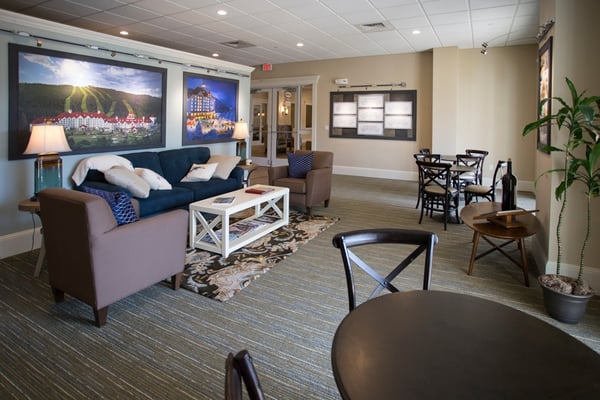 To start the buying process, you'll want to contact our sales team at our in-house real estate office to get the ball rolling. We'll want to know all about you and your family so we can help match you to the perfect condo suite. Have you stayed at the RiverWalk in the past? We'll want to know when, how long, and what type of suite you stayed in, so we get a sense of your tastes and needs. Were you referred by another owner? Many of our current owners were referred by other happy owners. How often will you be staying at the RiverWalk Resort? Some owners buy more than one fractional share. Your sales representative can help you determine the amount of time you need to meet your goals. Do you currently have or plan to adopt a dog? The RiverWalk Resort is dog-friendly!
Experience Extraordinary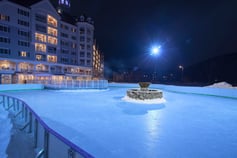 The RiverWalk Resort is one of New Hampshire's best-kept secrets. Many of our owners find out about the RiverWalk through word-of-mouth or the internet. No matter how you found out about our wonderful resort, our staff will welcome you with big smiles. We always encourage our guests and owners, to enjoy our on-site amenities as well as the local attractions. From our innovative ice skating rink to our in-house spa to the many delicious restaurants and bars in town, live at the RiverWalk Resort can be extraordinary.
We always recommend talking to other owners. Our real estate team will gladly set up a meet and greet with like-minded owners so you can speak with and learn their perspective on fractional ownership. If you haven't yet, request an overnight stay and get an intimate look at the RiverWalk and how it will fit in with your family.
Meet with Your Sales Representative
Just like any important business meeting, you want to come prepared. Bring a list of questions if you have any. No question is too silly to ask. We've heard them all and we're here to help you find the best condo for you. Once you've narrowed down which size and style condo is the best fit for you and your family, ask for a tour. Our sales staff is more than happy to show you all your options.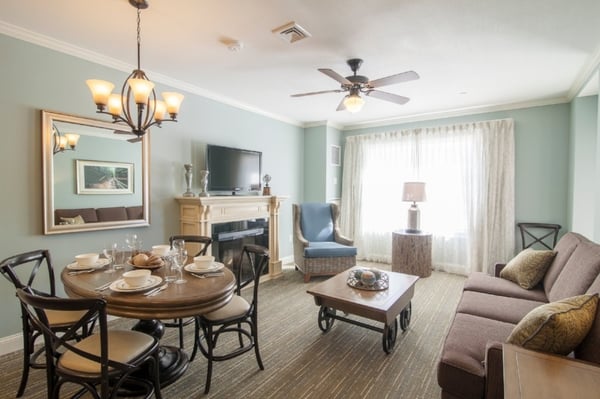 Pricing will be discussed during this meeting. Many people are pleasantly surprised to find out that fractional ownership is more similar to a monthly car payment than it is a second mortgage. Nonetheless, many of our owners use financing to purchase their unit. Our sales team has helped many couples and families through this process before, so they can provide you with some guidance on securing financing for fractional ownership. Our local Lincoln banks are wonderful to work with and we're happy to connect you.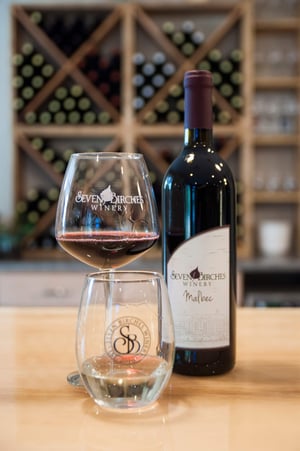 Once you've secured financing, you'll want to determine when you would like to close on the condo and begin use. Our sales team will discuss the ownership calendar and how immediate usage pairs with current plans. Over the course of your ownership, you'll be able to work with the sales team and the other owners to determine your annual schedule, but in the meantime, if we can find a fractional calendar that aligns with your pre-made plans than all the better.
The contract process is very simple. A deposit of 5% of the purchase price will be due at signing and the balance at closing. Paperwork will be completed once the decision to move forward has been made. Upon signing your name on the dot at closing, you'll have access to all the incredible amenities and benefits of ownership at the RiverWalk Resort. Take a twirl around our ice skating rink with the family or celebrate on your balcony with a glass of wine from Seven Birches Winery.
Start Living Your Dream
Winter, spring, summer, fall – it doesn't matter what season, the RiverWalk Resort is your home away from home for all seasons. When you become an owner at the RiverWalk, you become part of the family. If you're interested in learning more about fractional ownership or are ready to take the next steps, contact our real estate office today at (603) 728-6205. Our friendly and professionally licensed sales team is happy to give you a tour, connect you with current owners, and answer all your questions. It's time to turn your dream of owning a vacation home into a reality!
This blog post is part of "The Guide to Ownership" blog series.