Since our grand opening on June 24, 2016, RiverWalk Resort at Loon Mountain has grown in size and recognition, as renters learn and come to appreciate all the amenities that the resort offers.
Just this spring, RiverWalk Resort and developer Dennis Ducharme were recognized with the ACE Domestic Project of Excellence Award from the American Resort Development Association (ARDA).
This blog post is part of "The RiverWalk Guide to Ownership" blog series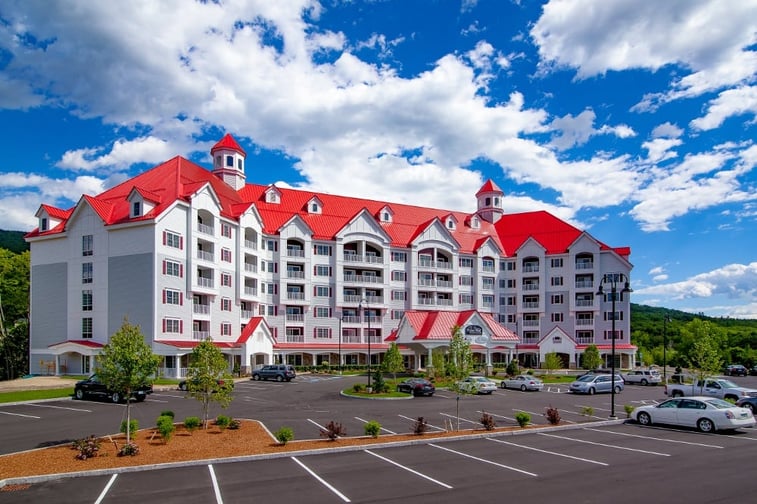 ARDA is the primary association for fractional, timeshare and mixed-use resorts in the United States. The ACE Domestic Project of Excellence is awarded each year to one resort in the United States that is "the best of the best; taking into consideration, design, sustainability, impact on local community, sales and marketing and its day-to-day operations."
In just one year, RiverWalk Resort has opened…
Extraordinary suites to owners and the public.
Suites range in size from studio apartments, 1-, 2- and 3-bedroom lock-off suites, and presidential penthouses. The top two floors are included in RCI's Registry Collection, the tier for elite travelers.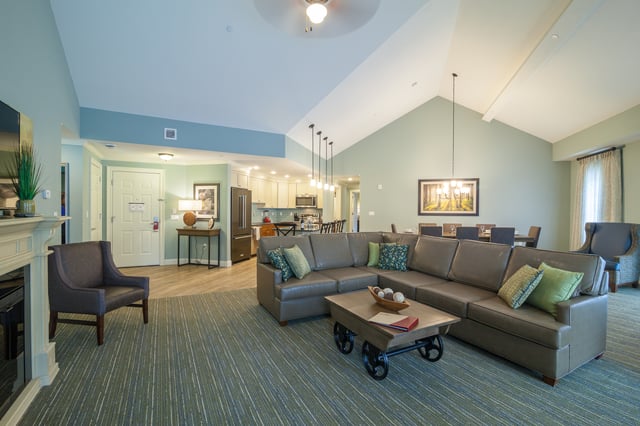 The rooms display a mountain river theme and boast full kitchens with the newest KitchenAid appliances available on the market. Every unit has incredible outdoor balconies with views of Loon Mountain, the Pemigewasset River, and the White Mountains town of Lincoln, NH.
RiverWalk Resort is a hotel in the White Mountains of New Hampshire that complements and appreciates the region's natural beauty. Towering above the town, with its iconic red-roof, it resembles a castle that you can see from miles.
A spa to pamper and soothe you for essential relaxation.
Solstice North Day Spa opened in late fall of 2016. They now provide daily relaxation services to the public.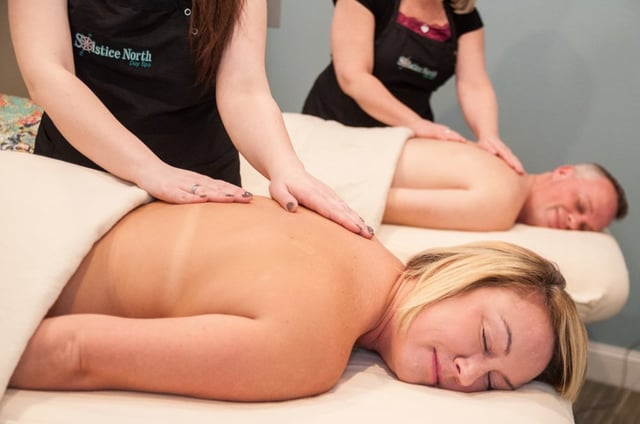 One of Solstice North Day Spa's signature treatments is the Champagne Facial and Spa Pedicure, an hour and a half celebration of your skin! Lemongrass, Vanilla lotion and an Oxygen mask hydrate your skin while extracting impurities.
Or, reserve a His-and-Her massage for 60 or 90 minutes to ease your and your partner's stresses together.
An on-site, growing, commercial winery.
Since the opening of Seven Birches Winery in June 2016, production has doubled in order to meet extensive demand and to begin a longer aging process for some of the wines.
Seven Birches Winery handcrafts classic European grape varietals and locally-sourced fruits into wines of distinction.
Try a bottle of Sunset Red, a 50/50 blend of Cabernet Sauvignon and Merlot inspired by sensational White Mountains sunsets. Bold, smooth, and full-bodied. Best served at sunset.
Or perhaps the Solstice White is more to your taste. This non-traditional Chardonnay is fermented with oak chips in all stainless steel tanks. Light, crisp and perfect on a hot summer day.
Seven Birches hosted the first annual White Mountain CRUSH Festival in the fall of 2016. Almost 200 people from around New England traveled to participate! Activities included a wine-stomping spectacle dubbed "Stomp Like Lucy," tours of the winery production facility, and an outdoor dinner feast with La Vista Italian Restaurant.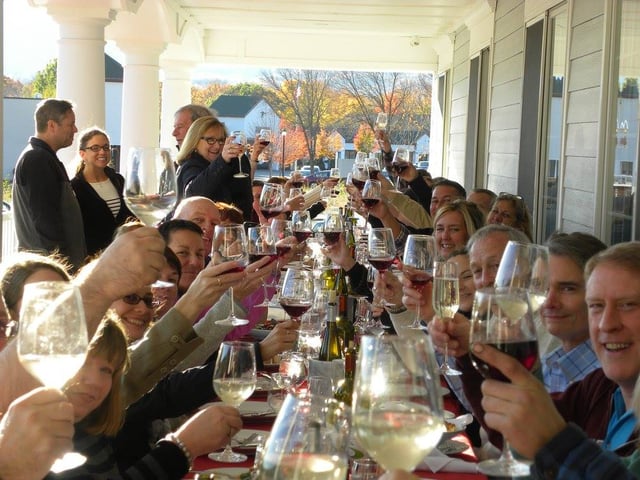 An even bigger and better White Mountain CRUSH is in the works for Saturday, October 14, 2017. Stay tuned!
Adventure concierge - Inside and out
The RiverWak Resort Adventure Concierge has a new space in the lobby for all things fun. The new space will give children of all ages a place to play, create, laugh and learn as you vacation extraordinary. Outside, a space for BBQ grills, horseshoes, cornhole and more just as the outdoor pool is getting its final landscaping. More to come!
Lockers to protect your personal belongings.
Each Owner is provided with a locker to store valuables for when you are not using your suite. No need to pack and unpack the car with bulky skis or other equipment! RiverWalk Resort will keep them safe, waiting for your next adventure.
A first-of-its-kind swimming pool that converts into an ice skating rink in the winter.
RiverWalk's swimming pool opened in December of 2016, just in time for Christmas. This heated pool starts indoors and travels outdoors, so you never need to enter the pool from the outside (which can get pretty frosty up here in the winter!).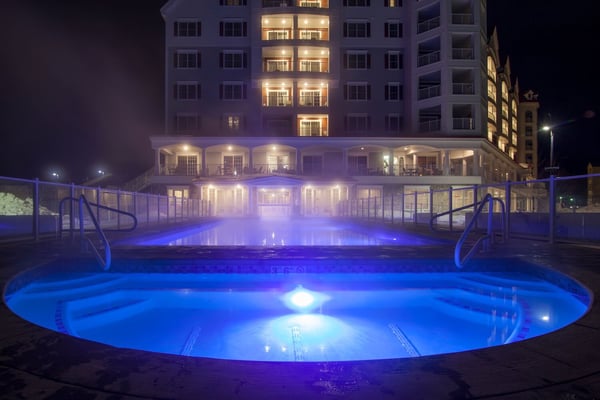 Most incredibly, the outer ring of the pool converts into an ice skating rink using state-of-the-art technology. Figure skating shows, lessons, rentals and skating is open to the public throughout the winter.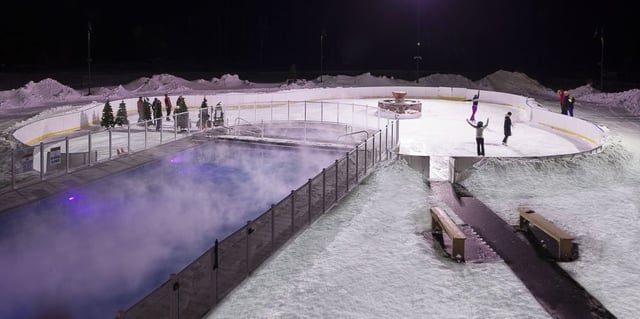 When planning your next vacation or looking for a second home, consider this: Are you looking for just any White Mountains hotels with a bed and a pillow to stay at?
Or are you looking for an experience you won't soon forget?
With condominium-style lodging, on-site amenities, activities, events, surrounding family attractions, and, of course, the beauty of the White Mountains, RiverWalk Resort provides an experience that is nothing short of exceptional.
This blog post is part of "The RiverWalk Guide to Ownership" blog series