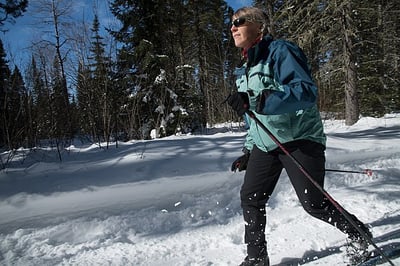 The White Mountains of New Hampshire typically get over 150 inches of snow every winter, making it one of the best places in New England for winter outdoor fun. While many people are drawn to the area for downhill skiing, there is also opportunity to trade the alpine skis in for Nordic ones and experience the mountains from a whole different view. With hundreds of miles of trails across the mountain range, there are trails for all ages and abilities.
Loon Mountain
Available at the Loon Adventure Center, Loon Mountain offers a small network of groomed cross country trails near The Landing on Landing Road. Nestled amongst the trees at the base of the mountain, there's a dedicated beginner's trail plus several intermediate and advanced runs for all levels of skiers to enjoy. Cross country skiing is weather dependent so it's best to call the Loon Adventure Center to check conditions first.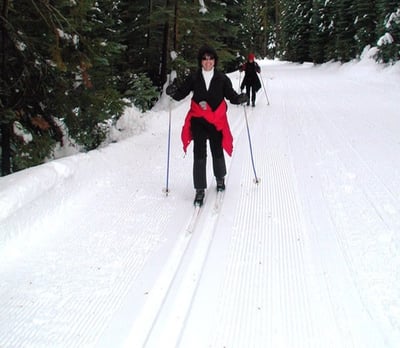 Franconia Village XC Ski Center
A favorite of locals and visitors alike, the Franconia Village XC Ski Center at the Franconia Inn offers some of the best cross country trails in the western White Mountains. The 25-mile trail network offers unparalleled views of the Kinsman Mountains and takes your through native forests and over rivers and streams. It doesn't get more picturesque than that!
The center offers a variety of beginner, intermediate, and advanced trails on two sides of Route 116. In addition to cross country trails, there is also a network for snowshoeing. Day and season passes are affordable and there's even a rental shop if you don't have your own equipment so there are no excuses not to try cross country skiing this winter.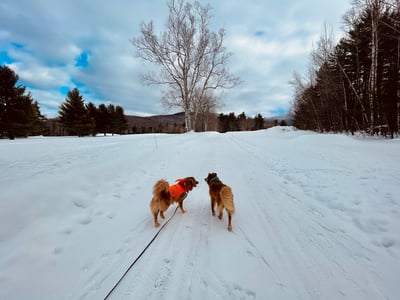 Bretton Woods Nordic Center at the Mount Washington Resort
Bretton Woods Nordic Center at the Mount Washington Resort is one of the largest cross country ski areas on the East Coast and it's located at the historic Mount Washington Resort. Home to over 100 kilometers of classical and skate skiing trails, the network offers 45 trails over varied terrain. Approximately a third of the trails are designed for beginners. There's even lift-serviced terrain with a five-mile Nordic trail located at Bretton Woods!
Cross country skis, including classic and skate skis, pulks (pull sleds for pre-skiers), and snowshoes can be rented at the Nordic Center. Private and semi-private lessons are available as well. Additionally, a selection of trails are dog and fat bike-friendly. Trails are open 8:30 am to 4:00 pm daily.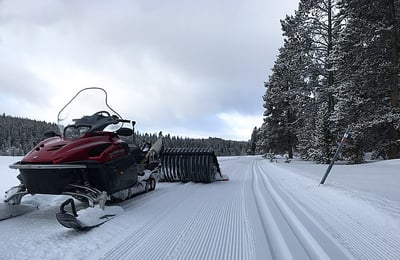 Mt. Washington Valley Ski Touring & Snowshoe Center
The Mt. Washington Valley Ski Touring & Snowshoe Center in Intervale offers 40 kilometers of cross country and snowshoe trails. The trails are groomed for both classic and skate skiing and wind through meadows, spruce and hemlock forests, and rolling hills all complete with incredible views of the White Mountains.
With half of the trails dedicated to beginners, the center is a great place to practice your skills. The Northern part of the trail network in Intervale includes mostly easy trails that connect various inns along Route 16A and the Saco River towards the Village of North Conway. The Central section includes easy trails near the Scenic Vista and heads towards the Village section that includes Whitaker Woods. Whitaker Woods is the only section of the network that allows dogs on the trail. Don't miss the Annual Chocolate Festival, which is known as the "Sweetest Day on the Trails." The annual event includes numerous stops along the trails for delicious chocolate and sweet treats from local area businesses.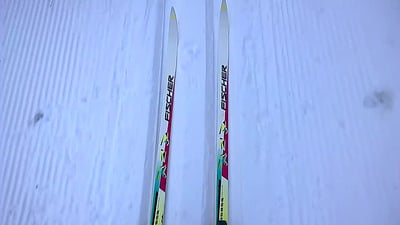 White Mountain Nordic
White Mountain Nordic consists of six cross country ski centers across the Mt. Washington Valley for a total of 400 kilometers. Bretton Woods and Mt. Washington Valley are both parts of the network. The network also includes Bear Notch Ski Touring, Great Glen Trails, Jackson XC, and Purity Spring Resort XC & Snowshoe Reserve.
Bear Notch Ski Touring Center in Bartlett offers over 65 kilometers of groomed classic and skate ski trails. The mixed difficultly trails offer incredible views of the Saco River, waterfalls, rolling hills, and more. Unlike many of the other Nordic centers, Bear Notch allows well-behaved dogs on all their trails so if you're interested in skijoring with your dog, Bear Notch is the place for you.
Great Glen Trails in Gorham is home to 45 kilometers of groomed and ungroomed cross country ski trails for both classic and skate skiers. There is also a ski school that provides private and semi-private lessons along with a rental shop. And there is even an opportunity to learn from the best at Great Glen! Olympian Sue Wemyss is the Ski School Director and offers lessons to both children and adults.
Jackson XC in Jackson is the largest cross country ski trail system in New Hampshire with 96 kilometers of tracked and groomed trails and 61 kilometers of ungroomed backcountry trails for a grand total of 150 kilometers. The trail network is built on White Mountain National Forest and private land in the town of Jackson and surrounding areas. The vast network stretches over varied terrain and difficulty you can really choose your own adventure at Jackson XC. Throughout the winter, there are many opportunities to race as well.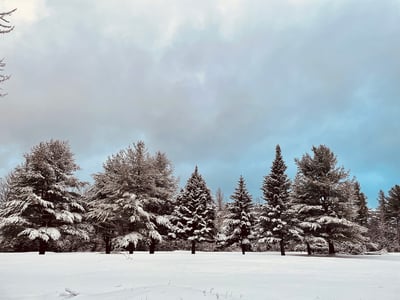 Of course, there are a variety of backcountry or ungroomed trail opportunities dotted throughout the White Mountains. Many of the recreational trails in the White Mountain National Forest and Franconia Notch area can be skied on with good snow conditions. Just make sure you have the right skis... or use your "rock" skis just in case!