Don't leave your dog home when you head to the mountains this winter. There are plenty of fun activities for the whole family, including Fido, in the western White Mountains. If you have a high energy four-legged furball, snowshoeing and cross-country skiing is a wonderful way to tire them out for a day. Your pup will enjoy a good snooze by the fireplace while you enjoy a glass of wine after a fun day in the snow. Lincoln and the surrounding White Mountains offer an abundance of dog-friendly activities, so let your dog ride shotgun as you drive to Lincoln this winter.
This blog post is part of "The RiverWalk Guide to Ownership" and "The Guide to Winter Activities in The White Mountains" blog series.


Best Snowshoeing Trails for Dogs
---
Lonesome Lake Trail
Accessible year-round, Lonesome Lake Trail offers incredible views of Franconia Ridge. The loop trail measures approximately 3.1 miles of moderately climbing until plateauing at the lake. The trail is well marked even under a foot of fresh powder. Stop by AMC's Lonesome Lake Hut to warm up with some hot chocolate. If you're looking for a longer hike, you can continue to Cascade Brook Trail, Hi-Cannon Trail, and Kinsman Ridge Trail.
Mount Liberty via Liberty Spring Trail
If you have an experienced pup with bundles of energy, strap on your snowshoes and head to Mount Liberty. Standing at 4,459 feet, Mount Liberty is one of the four 4,000-footers in Franconia Range. The Liberty Spring Trail is a difficult 8.9-mile out-and-back dog-friendly trail that is often described as "stairs on steroids." You and your pup will undoubtedly earn your dinner on this hike!
Greeley Pond Trail
For a long walk in the woods, Greeley Pond Trail via the Kancamagus Highway is a wonderful relatively flat 7.1-mile out-and-back trail that can be used for both snowshoeing and cross-country skiing during the winter months. Once you reach the ponds, you've earned yourself a little break to enjoy the views of Mt. Osceola and East Osceola.
Lincoln Woods Trail
Lincoln Woods Trail is always a favorite around Lincoln. Just a short drive from town, Lincoln Woods Trail and its network of side trails make up about 5.8 miles of easy trails. You see an abundance of snowshoers, hikers, and cross-country skiers on the trails. For even more trails, head over to Pemi East Side Road Trails.
Mount Tecumseh Trail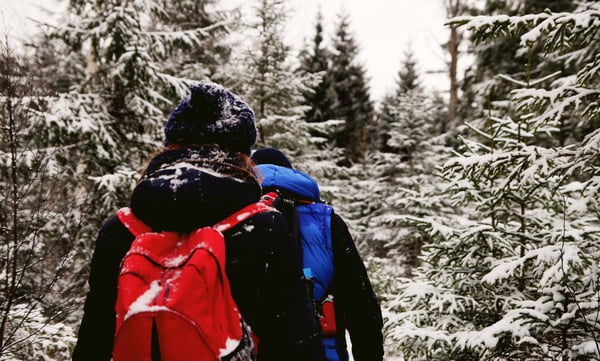 If you're looking to bag an easy 4,000-footer in the winter, look no further than Mount Tecumseh in Waterville Valley. The dog and kid-friendly hike is 4.9 miles up the mountain. The first mile is relatively fast, and flat then the trail turns steep before flattening out again near the top where you're rewarded with lovely views. The trail is quite popular in the winter, so the trail is well packed. Snowshoes might not be needed, but it's best to have micro spikes on your boots.
Best Cross-Country Ski Trails with Dogs
---
If you have a breed that just can't get enough action and loves to run all day long, then cross-country skiing might be the perfect way to tire him out. Skijoring, or cross-country skiing with your pup, is an ancient outdoor sport that has grown in popularity in recent years. You'll want a special harness, like the Omnijore System, that allows you to quickly release your dog from you in case you get stuck in a hairy situation. Plus, a towline will minimize the bounce that you'll get if you simply use a regular leash.
Lincoln Woods Trail
Perfect for hikers, snowshoers, and cross-country skiers, Lincoln Woods Trail is a popular place to enjoy the outdoors year-round. While a bit quieter during the winter months, there is still a lot of action happening on the trail. As a former logging trail, the trail is relatively flat and wide perfect for cross-country skiing with your dog.
Black Pond Trail
If your pup is still not tired from the Lincoln Woods Trail, connect to Black Pond Trail and enjoy another 0.8 miles of trail that connects with Franconia Brook Trail to create the ultimate loop through the White Mountains National Forest.
Ski Hearth Farm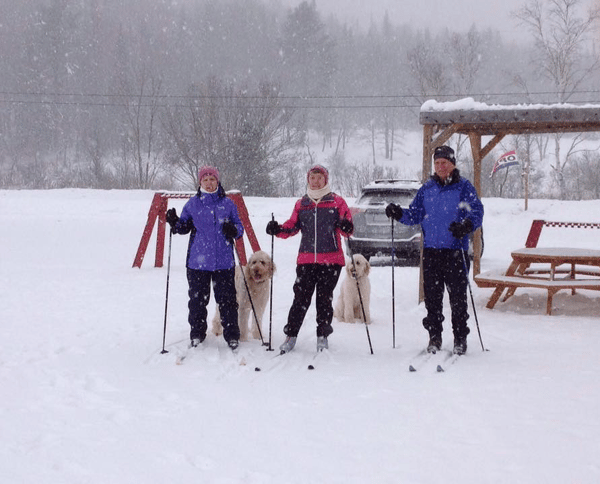 PC: Ski Hearth Farm
Located in Sugar Hill, Ski Hearth Farm is a family run Nordic Center at the base of the western White Mountains. Offering incredible views of Mount Lafayette and Franconia Notch, Ski Hearth Farm has groomed skate and classic Nordic ski trails for the whole family, including your dog. Several of the trails are dog-friendly so Fido can enjoy the views, too!
Tips for Snowshoeing and Cross-country Skiing with Your Dog
---
Just because the temperatures have dropped doesn't mean your dog can't have fun in the winter. Exploring the great outdoors with your dog by hiking, snowshoeing, and even cross-country skiing is an excellent way for both of you to get a little exercise and enjoy the quiet solitude of the winter months in the White Mountains. Just like any outdoor activity, it's essential to keep your pup safe and healthy. Here are a few tips to do just that this winter.
Protect His Paws
Some dogs have super sensitive paws while others may be just fine. If you plan to be outside in the snow for more than a few hours, it's best to protect your furry best friend's paws with some doggy snow boots. Sure, they may hate them and walk funny, but they will thank you later for not having giant snowballs in between their paw pads.
Keep Him Warm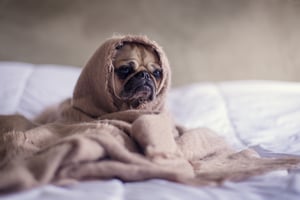 Unless you have a giant hairball for a dog, you may need to protect your thin coat dog with an insulated jacket to keep them warm when the mercury dips into the single digits. If the mercury continues to drop into the negatives, it's probably best for your pup to stay indoors for the day.
Leash or No Leash?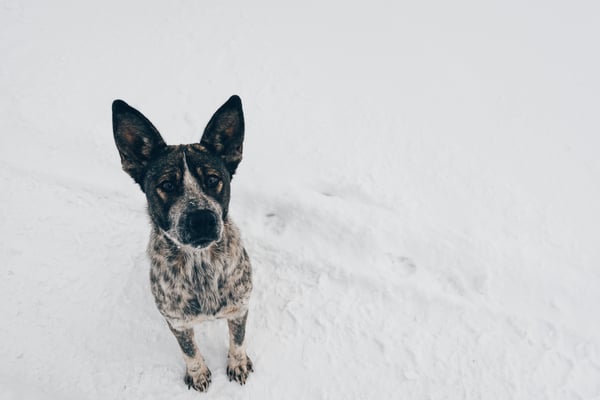 Make sure the trails are dog-friendly before bringing Fido on your adventure. Most trails in the area are, but some are not. Most trails require your dog to be on a leash, but some allow off-leash if they are well-behaved and under voice command. A traditional dog leash may not be best for snowshoeing or cross-country skiing so consider purchasing a special harness for your outdoor adventures. You'll both be more comfortable and safer. As a friendly reminder - dogs must be leashed or crated at all times in the resort other than in your suite!
Learn the Signs of Hypothermia
Even under all that hair, dogs can get hypothermia, too. If your dog starts to shiver uncontrollably, have dilated pupils or slow breathing, it's time to head inside and warm up your pup. Give them a blanket or jacket to keep warm.
Are you ready for your winter adventure now? Pack up Fido and head to the western White Mountains for a little outdoor fun with your dog. The RiverWalk Resort has dog-friendly luxury suites waiting for you with all the modern amenities you've come to love at the RiverWalk.
This blog post is part of "The RiverWalk Guide to Ownership" and "The Guide to Winter Activities in The White Mountains" blog series.
Looking for a new home away from home? RiverWalk Resort is one of the few luxury resorts in the White Mountains that offers pet-friendly accommodations and ownership opportunities! Bring your pet with you on a tour and check out our pet-friendly condo ownership options. Want to know more about pet-friendly activities in Lincoln, NH? Check out this guide to Pet Friendly Ownership at The RiverWalk Resort.