It was just like any Friday morning. I went for my morning walk around the neighborhood. I played with Jane and Anna next door before my mom called me inside for my morning nap. I found my favorite spot in the sun by the window and curled up to catch a few "zzz's" before the mail arrives. I woke up to my mom packing the suitcases. Oh no! I know what this means – I'm heading to the kennel.
Once we were all in the car, I knew it was a matter on time. I knew the route. The kennel was coming up. Just one more block. Wait! We just passed the kennel. Where are we going? I heard my mom say something about a vacation. I'm not sure what that word means, but I think I'm going to like it.
This blog post is part of "The RiverWalk Guide to Ownership" blog series.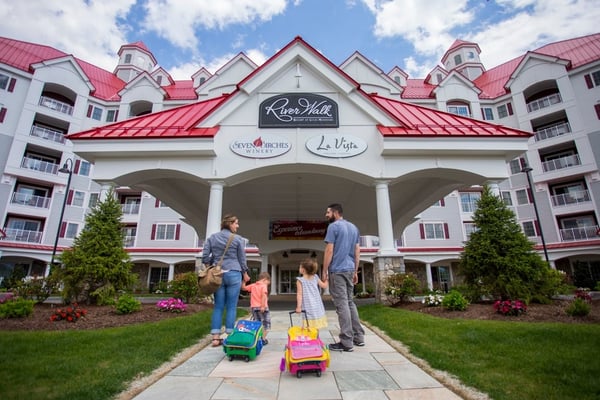 After what seemed like days in the car, we pulled up in front of a castle. At least, that's what my big sister, Ellie, called it. She loves Disney princesses. Sometimes she puts me in a tutu, and we run around the house. My mom put my leash on, and I got my first whiff of fresh mountain air. Boy did it smell good! I think I might have even got a hint of moose.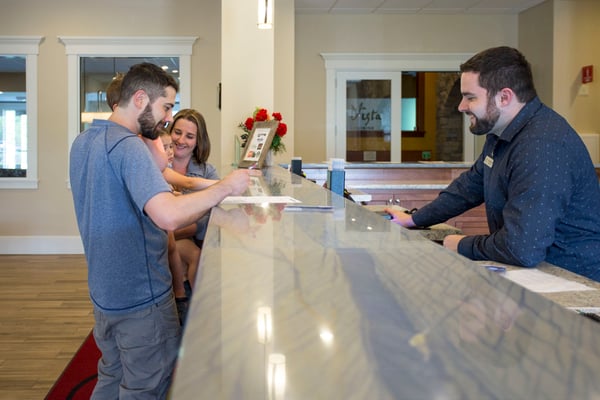 Check-in was super easy. And, the friendly staff gave me lots of belly rubs and even a treat. I'm going to like this place! Our room was huge. It had three rooms. There's a kitchen, a living room with a couch and a fireplace. There are two bedrooms with big beds. I can't wait to give them a try. Mom showed me the big tub in one room and told me if I got dirty this weekend, she was going to give me a bath. Yikes!
After relaxing for a bit, my family and I headed outside to explore the resort. There's lots of green grass and nature around. I can see why my family wanted to come here for the weekend. It's quiet and close to nature. Ellie got excited when she saw not one, but two swimming pools! Unfortunately, I can't swim in them, but the big lagoon pool looked like lots of fun. I heard one of the staff members tell Ellie and my mom about s'mores around the campfire at night. I hope they let me come. Marshmallows are one of my favorite treats!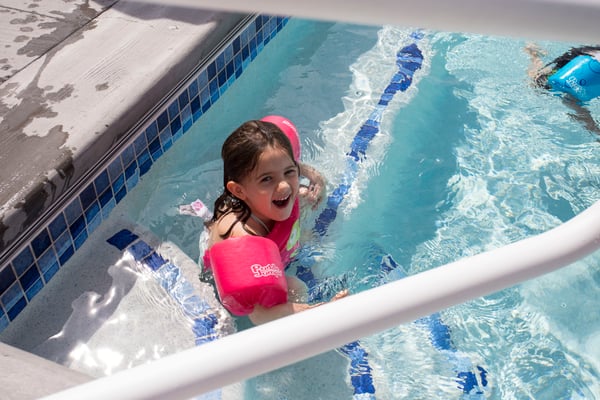 After checking out the resort grounds, we took a nice long walk down Main Street to pick up some food from the Purple Tomato. They sell delicious organic fruits, vegetables, and groceries. The sandwiches are really good, too! As a treat for being a good boy, my family bought me ice cream from Udderly Delicious Ice Cream Shoppe, and it was delicious.
My belly was full when we got back to the resort. Ellie wanted to go swimming, so I stood guard as Lifeguard from our private balcony. As the sun set over the mountains, I got to see the stars start to dot the night sky. I've never seen the stars so bright in the city. So far, this place is pretty special.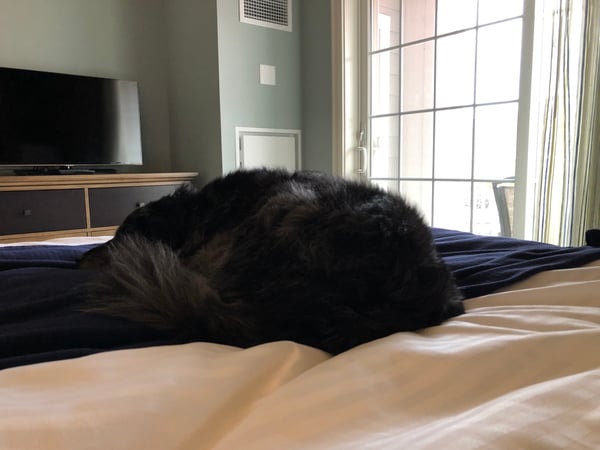 My mom let me pick which bed I wanted to sleep in, so I picked Ellie's bed. There was tons of room for both of us. I woke up the next morning feeling really good. That bed was way more comfortable than my dog bed at home. Can I stay here forever?
Mom fed me my breakfast while my family ate their breakfast on our balcony over looking the mountain. Ellie said something about coming back in the winter to go skiing. I'm not sure what skiing is, but it sure sounds like fun. I hope I can go, too!
Once our bellies were full, he headed outside for some fun. We headed to the Lincoln Woods Trail for a leisurely walk in the woods. My dad found this article on the RiverWalk blog that helped him decide what to do! The trail is nice and flat, which makes it great for Ellie and her little legs. The Pemigewasset River runs along the length of the trail, so I got to go for a little swim and a big long drink.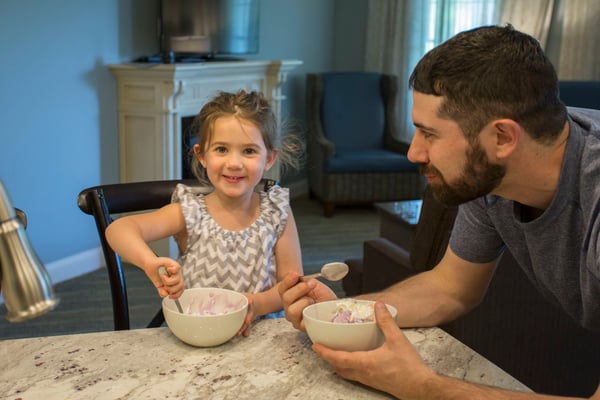 For lunch, we went to One Love Brewery. There are water bowls on the patio, and we were able to quickly grab lunch outside where I got to lay under the table and take a nap while my family ate lunch. Ellie fed me a few pieces from her Brewery Burger. It even had pork belly. Yum! My parents loved the beer.
Since the weather is so nice, Dad brought me down to the Pemigewasset River for a swim while Ellie and Mom went to Whale's Tale Waterpark. Whale's Tale is a kid-friendly waterpark with lots of slides and pools for splish-splash fun. She was pretty tired when she got back, so we took an afternoon nap.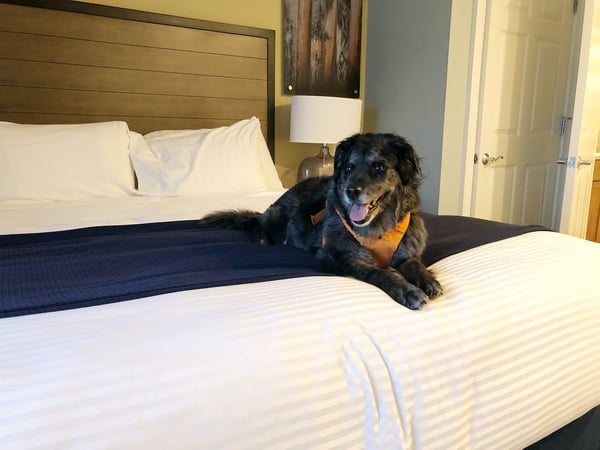 We went for an early dinner at the Gypsy Café where we all got to eat on the patio. I met a sweet little Australia Shepard, and we got to share a water dish. The food at Gypsy Café smelled delicious. The menu is very eclectic with dishes from around the world. After dinner, I got another ice cream as a treat! This place is amazing.
This blog post is part of "The RiverWalk Guide to Ownership" blog series.
After a long sleep on the couch, I woke up to my family packing to go home, I was sad to go but also really excited to go find my bone I buried in the backyard at home. On the car ride home, I heard mom and dad talk about buying a condo at the RiverWalk Resort. They were saying that ownership at the RiverWalk Resort is a great opportunity to spend more time in the mountains, and we get deeded ownership of our unit. I really hope they talk to the real estate team so we can spend more time here. As Ellie gets bigger, we can even do bigger hikes, I heard there are some really tall mountains here. It's way better than going to the kennel! I'm going to sleep for days after that trip, my tail even hurts from wagging so much. Woof!
or